The Big Picture
Timothée Chalamet's upcoming film, Wonka, is a highly anticipated 2023 release.
The movie, directed by Paul King, will explore the origins of Willy Wonka and feature singing and dancing, although it is not classified as a traditional musical.
Chalamet's performance in Wonka is praised by King, who commends his singing abilities and range as an actor.
All eyes are on Timothée Chalamet's upcoming feature Wonka. With the actor's other tentpole release Dune 2 being delayed, his fans will only see him in the upcoming Charlie and the Chocolate Factory prequel this year. The movie is helmed by Paddington director Paul King and will explore the origins of the eccentric chocolatier. As the marketing rolls out, fans are getting a good look at the characters as well as getting an understanding of what the feature might entail.
The movie's first trailer gave fans a tease of what to expect with Chalamet's performance. The fantastical feature will take fans into the colorful, savory world of Willy Wonka as he establishes his chocolate empire. While it feels like there is going to be a lot of singing and dancing in the movie, King considers it less like a musical and more of "a movie with songs." He told Total Film in a new interview, "The Oompa Loompas sing a lot in the book, and Dahl always uses poetry. But I didn't want it to just become a musical where people are singing dialogue to each other for no discernible reason. I felt like it was more like a movie with songs than a musical."
Nonetheless, King praised Chalamet's performance, saying, "[Chalamet]'s got a beautiful singing voice." Adding, "The person it reminded me of was Bing Crosby. There's quite a range, because it does go from a couple of bigger, showstopper-y sort of things, to moments of real, pure emotion and he can do it all… I'm going to sound like a crazed fan." Chalamet has shown his range as an actor throughout his career in features like Dune, Bones and All, Little Women, and Call Me By Your Name, but this is the first time fans will see his singing and dancing skills on full display and by the sounds of it, he absolutely nailed it.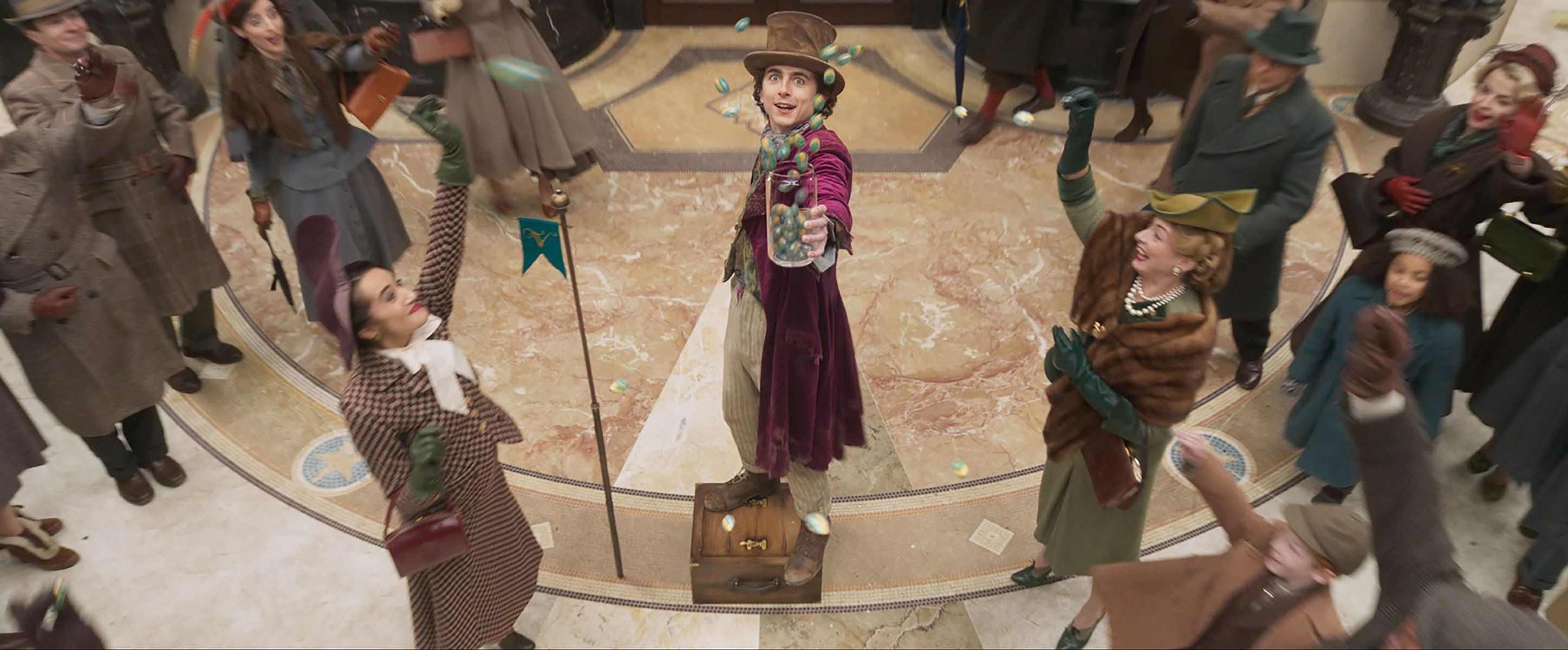 Who Else Is Starring in 'Wonka'?
Along with Chalamet as Willy Wonka the movie also casts Calah Lane as Noodle, Paterson Joseph as Arthur Slugworth, Matt Lucas as Prodnose, Mathew Baynton as Ficklegruber, Sally Hawkins as Willy Wonka's mother, Rowan Atkinson as a priest, and Hugh Grant as an Oompa-Loompa. Further rounding off the cast are Keegan-Michael Key, Jim Carter, Tom Davis, Olivia Colman, Natasha Rothwell, Rich Fulcher, Rakhee Thakrar, Kobna Holdbrook-Smith, Simon Farnaby, Colin O'Brien, Ellie White and more.
Wonka will debut in theatres on December 15. Stay tuned to Collider for updates.