The Big Picture
Wish, starring Ariana DeBose and Chris Pine, tells the story of Asha and her encounter with a magical kingdom ruled by King Magnifico.
The trailer reveals that Asha works as the king's apprentice but later disagrees with him when she realizes he won't grant the kingdom's wishes. Asha then makes a wish of her own and meets a ball of energy named Star.
Wish pays homage to the classic theme of characters wishing upon a star, which has been a recurring motif in Disney's animated films for many years.
Disney fans have a new look at the studio's next animated film. Walt Disney Animation Studios has released a new trailer for the upcoming movie Wish. The film stars the voices of Ariana DeBose and Chris Pine. It is scheduled to be released in theaters on November 22.
In the trailer, viewers learn more about Rosas, a magical kingdom ruled by King Magnifico (Pine). King Magnifico has the ability to grant the wishes of the people in the kingdom. The trailer also reveals that Asha (DeBose) works for the king as his apprentice. However, she later learns that King Magnifico won't make most of the kingdom's wishes come true. After disagreeing with the king, Asha makes a wish of her own on a star. This leads to her meeting Star, who is a little ball of boundless energy. After learning what happened, King Magnifico tells the Kingdom of Rosas that Asha is a traitor, which forces her to go on the run.
In addition to DeBose and Pine, the film will also star Alan Tudyk as Asha's pet goat Valentino. The trailer also shows that Star makes Valentino speak like a human. Angelique Cabral will play King Magnifico's wife Queen Amaya. Victor Garber voices Asha's 100-year-old grandfather Sabino, who has a wish he hopes will someday be granted. Asha's mother Sakina is voiced by Natasha Rothwell. Jennifer Kumiyama is the voice of Asha's best friend Dahlia. The cast also includes Evan Peters as Simon, Harvey Guillén as Gabo, Ramy Youseff as Safi, Niko Vargas as Hal, Della Saba as Bazeema, and Jon Rudnitsky as Dario. Wish was directed by Chris Buck and Fawn Veerasunthorn. Buck previously co-directed 2013's Frozen and the 2019 sequel Frozen II.
A Story a Century in the Making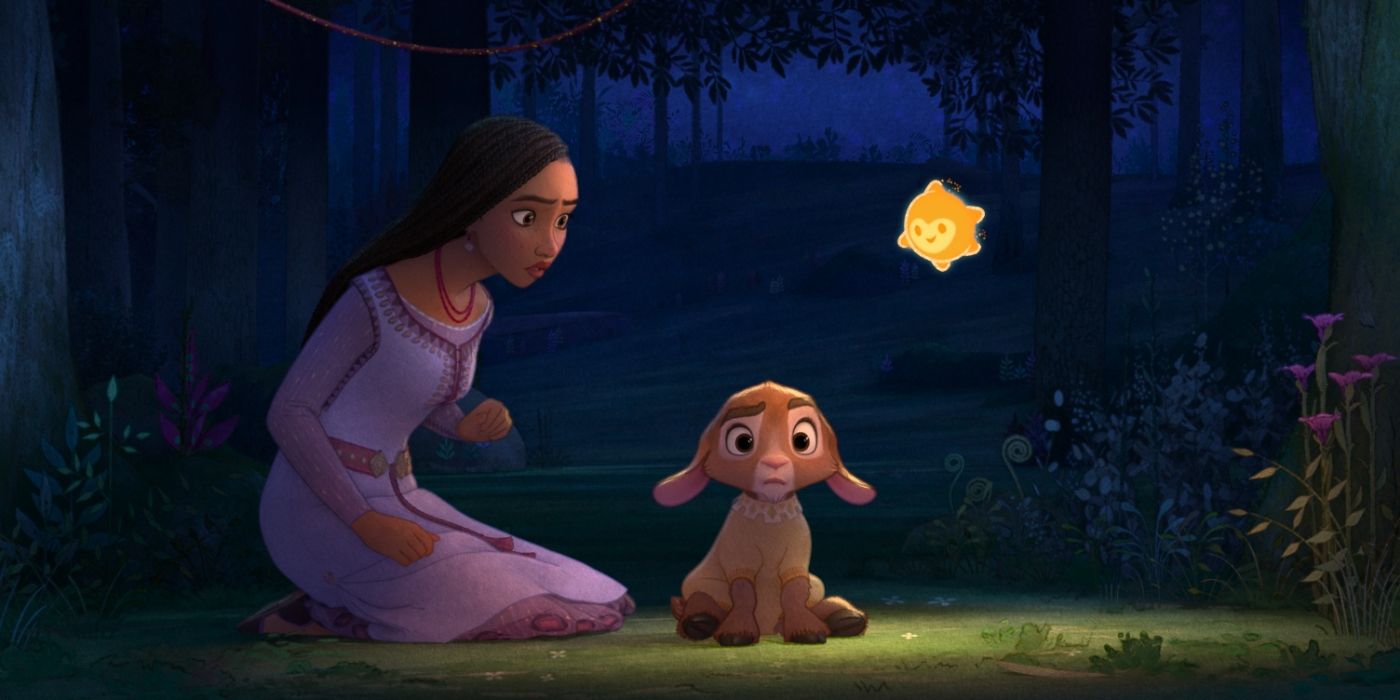 Besides being the studio's latest animated film, Wish will also be notable as being a film released during Disney's celebration of the company's 100th anniversary, after being founded in 1923 by Walt Disney and Roy Disney. Many of the studio's classic animated films have dealt with characters wishing on a star. The studio's second animated feature film, 1940's Pinocchio, showed the puppet coming to life after Geppetto wished on a star. The film also featured the song "When You Wish Upon a Star," which has been used many times by the company, including in Walt Disney Pictures' opening logo.
Wish is scheduled to be released in theaters on November 22. In the meantime, check out the film's new trailer below: