The Big Picture
Willem Dafoe was drawn to the film Gonzo Girl because of its interesting story, complex relationships, and good writing.
He wanted to respect the inspiration from Hunter S. Thompson for his character but also create something new and different.
Gonzo Girl, directed by Patricia Arquette, follows the challenging journey of Alley Russo, a young woman trying to make it in the publishing industry.
Gonzo Girl is an upcoming film directed by Patricia Arquette, adapting the novel of the same name written by Cheryl Della Prieta. In the movie, Willem Dafoe is set to play Walker Reade, someone who could be a mentor to the protagonist of the story, but instead looks like he'll be yet another obstacle in her complicated journey. While the character could only seem to be a certain antagonist for the lead's journey, there was something peculiar about the story that made Dafoe interested in the role. During a recent interview with Perri Nemiroff at Collider's TIFF media studio at the Cinema Center at MARBL, Dafoe spoke about what drew him to Arquette's film:
"I just like the events. I like the world. I don't think so much about character, really. I think about doing things, and there were interesting things to do in this, and there were proposals for interesting relationships. The fact that this character that I play has very distinct relationships with these three different women is interesting to me, the whole world where they're living together is interesting, the party world is interesting. Just good writing. So many things. But the truth is you don't think about character. The only thing I knew was that we wanted to invent some things."
The actor also discussed the inspirations behind his character and wanting to respect that while creating something new. He said:
"Of course, much is inspired by Hunter S. Thompson, and we want to respect that source, but it's like that old maxim, 'You can't do your research,' you know? We had to make something else in order to make it alive and not be just a movie where you recognize something, and you feel satisfied with that. When you dive into something where you don't quite know where you're going, it just allows the audience, and also yourself as you're making it, to participate in a different way than if you're doing a flat-out, let's say, biopic or something where you're doing an imitation, and you say, 'This is who this guy is.' I wasn't so interested in that, and clearly, when I spoke with Patricia, neither was she."
Gonzo Girl tells the story of Alley Russo (Camila Morrone), a young woman who has recently graduated from college a moves to New York with the dream of becoming relevant within the publishing industry. However, as she would soon learn after moving to a big city, the journey isn't as easy as she thought it would be, and it's going to take more than inspiration and enthusiasm to get her to the places where she wants to go. After all, there's a reason why Walker Reade has fired multiple assistants before meeting Alley. In addition to stepping behind the camera, Arquette also stars opposite Morrone and Dafoe.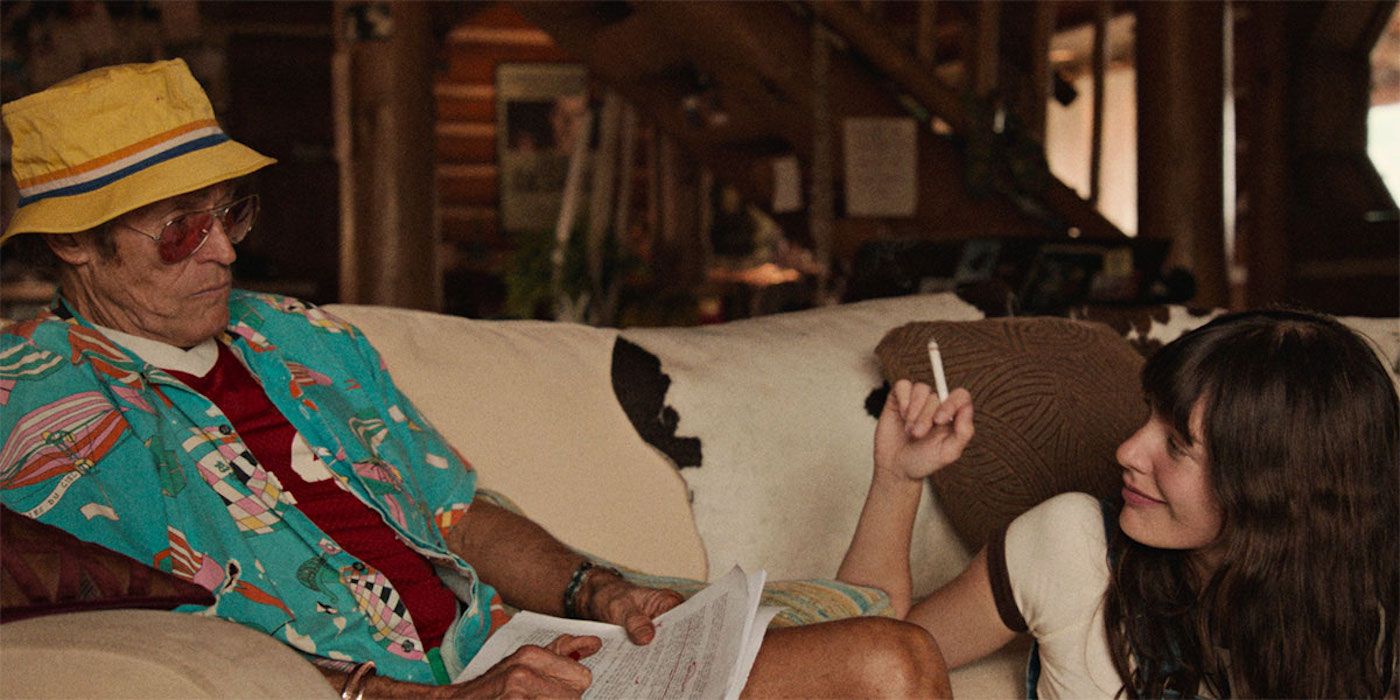 What's Next for Willem Dafoe?
After he's done making Alley's life impossible in Gonzo Girl, Dafoe will be a part of a very different project in Beetlejuice 2, the sequel to the 1988 cult classic. It's been a while since the character played by Michael Keaton helped a couple of ghosts with getting rid of the people who moved into their previous house, but the unpredictable specter is ready for yet another adventure. Since the plot of the sequel is currently being kept under wraps, there's no way of knowing which character Dafoe will play, but the range of the actor will his performance unforgettable, just like every project he has the opportunity of joining. He's also set to star in Robert Eggers' highly anticipated Nosferatu remake.
Gonzo Girl premiered at the Toronto International Film Festival. Stay tuned at Collider for Nemiroff's full conversation with the cast and crew.