The Big Picture
The animated film Wish features a powerful wish made by Asha that captures the attention of a cosmic being named Star, as they work together to stop King Magnifico from destroying the kingdom.
Asha's pet goat, Valentino, wears pajamas as a result of writer Jennifer Lee's love for videos of baby goats in pajamas and the production designer Lisa Keene's own goats in pajamas.
Alan Tudyk, who voices Valentino, was instrumental in bringing the character to life, helping to discover the character's voice and style during early voice recording sessions. Wish premieres on November 22.
Just under two months remain until Disney's newest animated feature Wish releases in theaters. Set in the kingdom of Rosas, the film follows Asha (Ariana DeBose), who makes a wish so powerful that it captures the attention of a cosmic being called Star. Meanwhile, King Magnifico (Chris Pine) has some nefarious intentions in play, forcing Asha and Star to stop him before he destroys the kingdom. But every good adventure needs a cute animal companion, which is where Asha's pet goat, Valentino, comes into play — and he wears pajamas.
When speaking with Collider's Christina Radish, co-directors Chris Buck and Fawn Veerasunthorn, and producer Juan Pablo Reyes Lancaster-Jones revealed how Asha's animal companion wound up wearing pajamas. Buck shared that the idea initially came from writer Jennifer Lee, who loves videos starring baby goats wearing pajamas. It was that love that helped click an important facet of Valentino's personality into place. Additionally, Wish production designer Lisa Keene is a goat in pajamas owner. Veerasunthorn later noted that they approached Valentino with a "dog mom vibe."
"We did have designs for Valentino without the pajamas. We went even further with Valentino and had many different outfits. Like when you go to pet stores, and you get costumes for your pets, Valentino had a little bumblebee costume, a little strawberry costume, and all sorts of things. It was a little much. The story couldn't handle all of that, so we whittled it down to this. One of our production designers, Lisa Keene, has goats, and she has goats in pajamas, so it seemed to be the perfect thing to do."
Alan Tudyk Helped Cement Valentino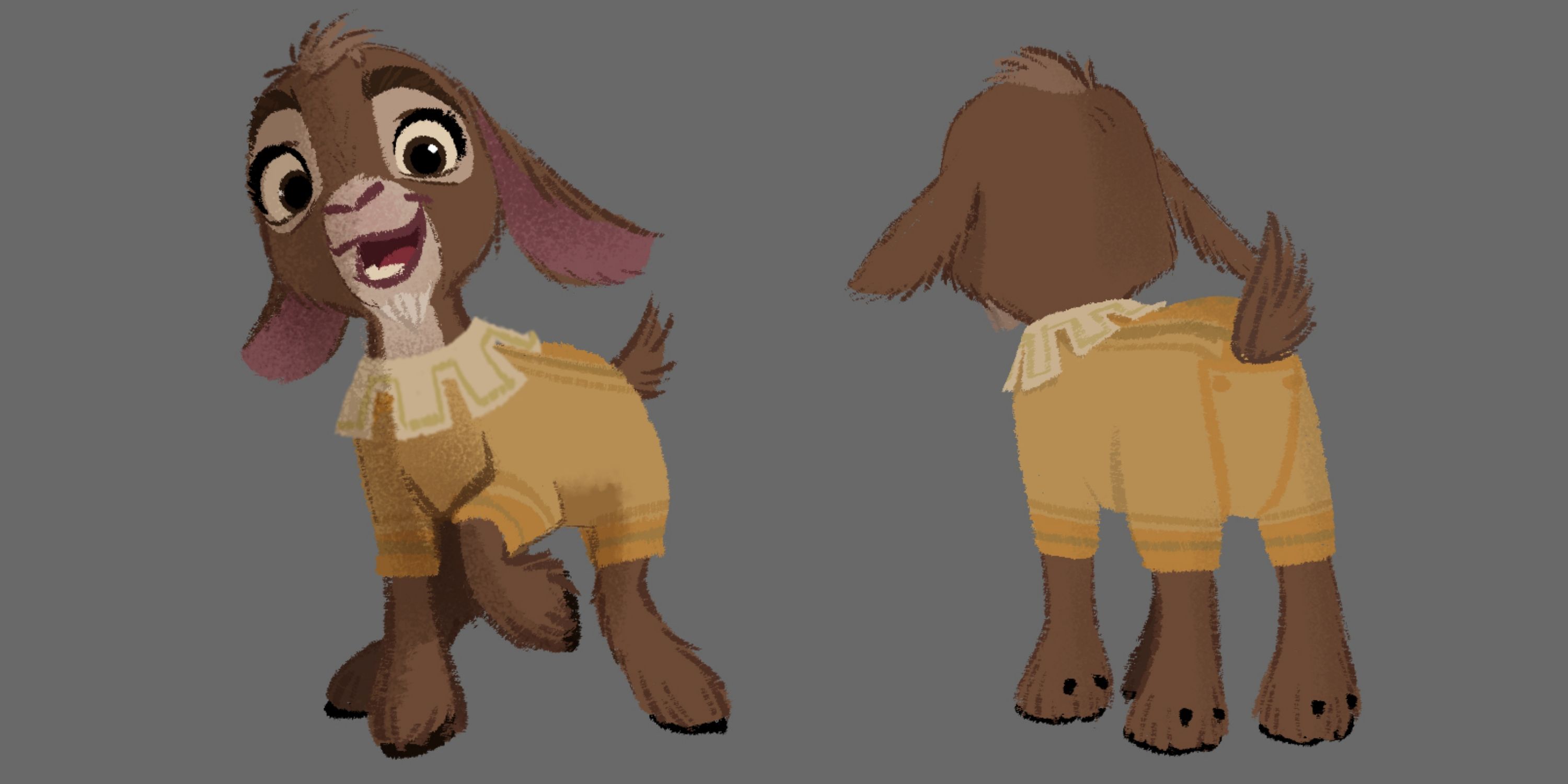 In a separate interview with Radish, Lancaster-Jones further supported the draw of Valentino wearing pajamas, saying it was "a concept that we all gravitated towards. Jen [Lee] always pushes us to make the characters very specific, so not only should it be a goat, but it should have pajamas." However, the pajamas are only a part of what makes Valentino an endearing character. Lancaster-Jones added that Alan Tudyk, who voices Valentino, was integral in discovering the character. During an early voice recording session, Valentino went from a goat with no set voice to a fully realized character: "We chose [Tudyk], and he helped us figure out the voice and style of the character. He tried many different things, and he was a part of that discovery."
Wish premieres on November 22 in theaters.