The Big Picture
Director Antoine Fuqua believes audiences keep coming back for more because they resonate with Robert McCall, a relatable "common man" who could be anyone's friend.
The third installment of The Equalizer showcases McCall's dark past, as he must confront his actions and protect his friends from the deadly hold of the mafia.
The Equalizer 3, the final installment in the Denzel Washington-led trilogy, is now in theaters.
This Labor Day weekend, The Equalizer 3 hits theaters, bringing director Antoine Fuqua's trilogy to a close — though lucky viewers got the chance to see the film early at a Collider-hosted IMAX screening, followed by a Q&A with the director. Led by Denzel Washington, The Equalizer 3 follows a retired Robert McCall as he seeks vengeance one more time. Though Robert himself has quite a brutal way of defending the oppressed, audiences keep coming back for more — and it's not just because Washington looks cool taking down bad guys.
During the Q&A with Collider's Steve Weintraub following the screening, Fuqua shared why he thinks people have helped push the franchise into three movies now. Despite anything in Robert's past or present, he resonates with audiences because "he's a common man." Fuqua adds that, generally, Robert could be anybody's friend, noting that "there's nothing fancy about him or anything. He seems like somebody you sit down and have a tea with or a friend of yours." Fuqua doesn't dismiss Robert's brutality, but even notes people could connect to that in some way as well: "He just happens to be a brutal destroyer when it comes time to do that. But I think that's what people are connecting to. You know, you could see yourself in Robert McCall."
The Equalizer 3 continues to put Robert McCall's relatable qualities on display. In the latest installment, Robert now lives a quiet life in Southern Italy, surrounded by people who have welcomed him into their lives and helped him make a new home. However, his dark past continues to haunt him as he confronts his actions and remembers how he has also helped people. Despite his best efforts, vengeance comes calling when Robert learns that the mafia has a deadly hold on his newfound community. So, he takes it upon himself to protect his friends and stop the mafia from causing any more harm.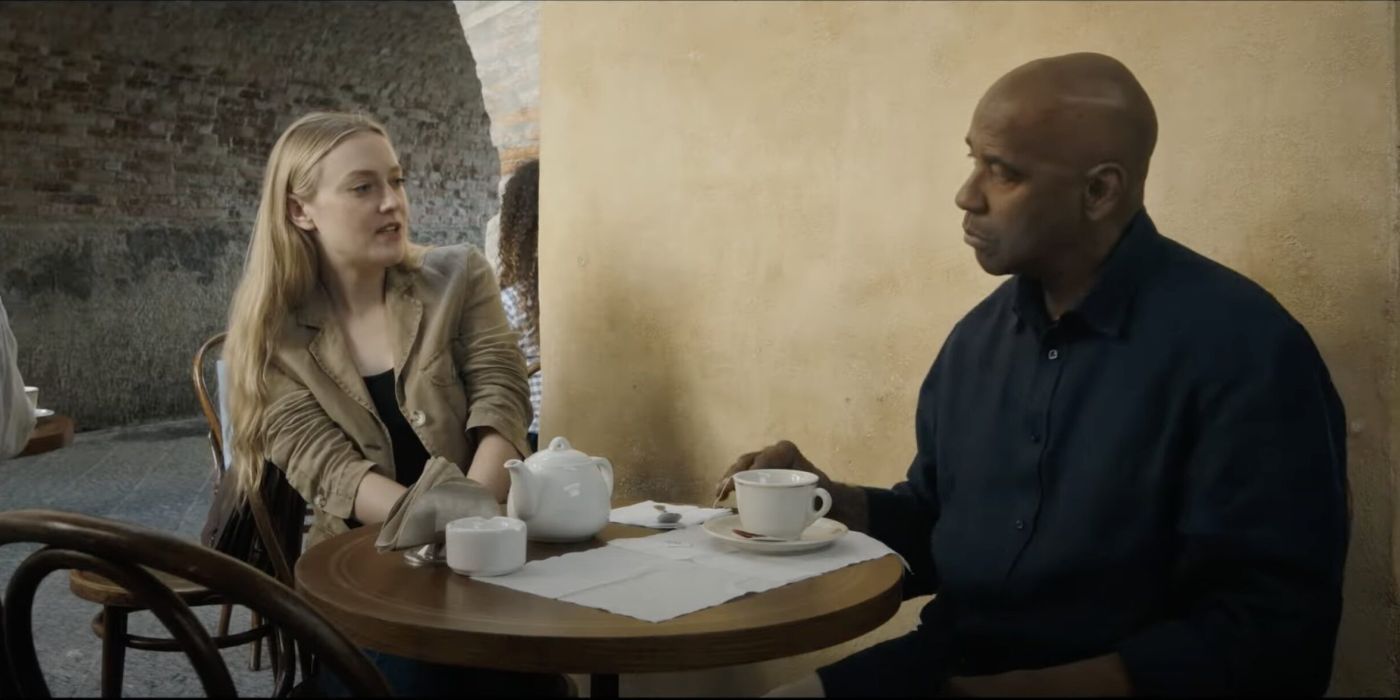 The Team Behind 'The Equalizer 3'
The Equalizer 3 was written by Richard Wenk and directed by Fuqua, both of whom previously worked on The Equalizer and The Equalizer 2 in the same capacities. Fuqua, Washington, Clayton Townsend, Michael Sloan, Tony Eldridge, Alex Siskin, Jason Blumenthal, Todd Black, and Steve Tisch serve as producers. Tarak Ben Ammar, David Bloomfield, and Andy Mitchell executive produced. The Equalizer 3 reunites Washington with his Man on Fire co-star Dakota Fanning 20 years later. The threequel also stars Remo Girone, Eugenio Mastrandrea, David Denman, Bruno Bilotta, Gaia Scodellaro, Andrea Doddero, Andrea Scarduzio, Sonia Ammar, and more.
The Equalizer 3 is in theaters now. Look for our full IMAX Q&A with Fuqua soon.