The Big Picture
Aria Mia Loberti, an unknown actor and Ph.D. student, landed the leading role in Netflix's adaptation of All the Light We Cannot See, impressing the director and casting team with her masterful performance.
Shawn Levy, known for his work on Stranger Things, has a close relationship with Netflix and earned their trust to cast an unknown and visually impaired actress in the lead role.
Levy secured the rights for the novel and assembled a talented cast, including Hugh Laurie and Mark Ruffalo, to create another successful series for Netflix, despite working with a comparatively modest budget.
For an up-and-coming star, landing that big break is everything. Throw in a studio like Netflix backing the production along with the directorial talents of Shawn Levy (Free Guy, Deadpool 3), and it's an absolute dreamlike pinch-me moment. That was undoubtedly how Aria Mia Loberti was feeling when she got the call that she had nabbed the leading role in the streamer's adaptation of Anthony Doerr's novel, All the Light We Cannot See. Taking a chance on a fresh face, Levy shared with Collider's Steve Weintraub at our TIFF media studio at the Cinema Center at MARBL, how the creative team decided on Loberti and why Netflix gave them the okay to give the role to a newbie.
Explaining that the team "just put out a flyer online," Levy says, "Anyone could send in an audition — sighted actors, unsighted actors, low vision, non-actors — and I got this audition from a nonactor. Her name was Aria, and she is a Fulbright scholar, a Ph.D. student in Rhetoric. This is not only her first part, it was her first audition." Nailing her initial audition via a Zoom call, Levy says, "I knew there might be something special there, and with every Zoom, with every callback, that gut feeling was confirmed." Referring to her take of Marie-Laure LeBlanc as a "really masterful performance," Levy gives Loberti massive props for not only picking up the character so quickly but also being able to do it "in front of 300 people."
A childhood dream come true, Doerr and Levy revealed that Loberti had been pushed away from the world of acting at a young age. "She has memories of being a kid and being told by theater teachers and others, 'That's not for you. That's not gonna be your path,'" the director says, adding that it was "kind of miraculous" that she would end up leading a highly anticipated Netflix production. Fighting off the competition, Doerr says that Loberti "Leapt out of, like, 1000, I think Shawn said 'a numbing quantity' of auditions. She lept out. She put on her grandmother's clothes, so she was wearing period clothing, and she just screamed Marie when you saw her."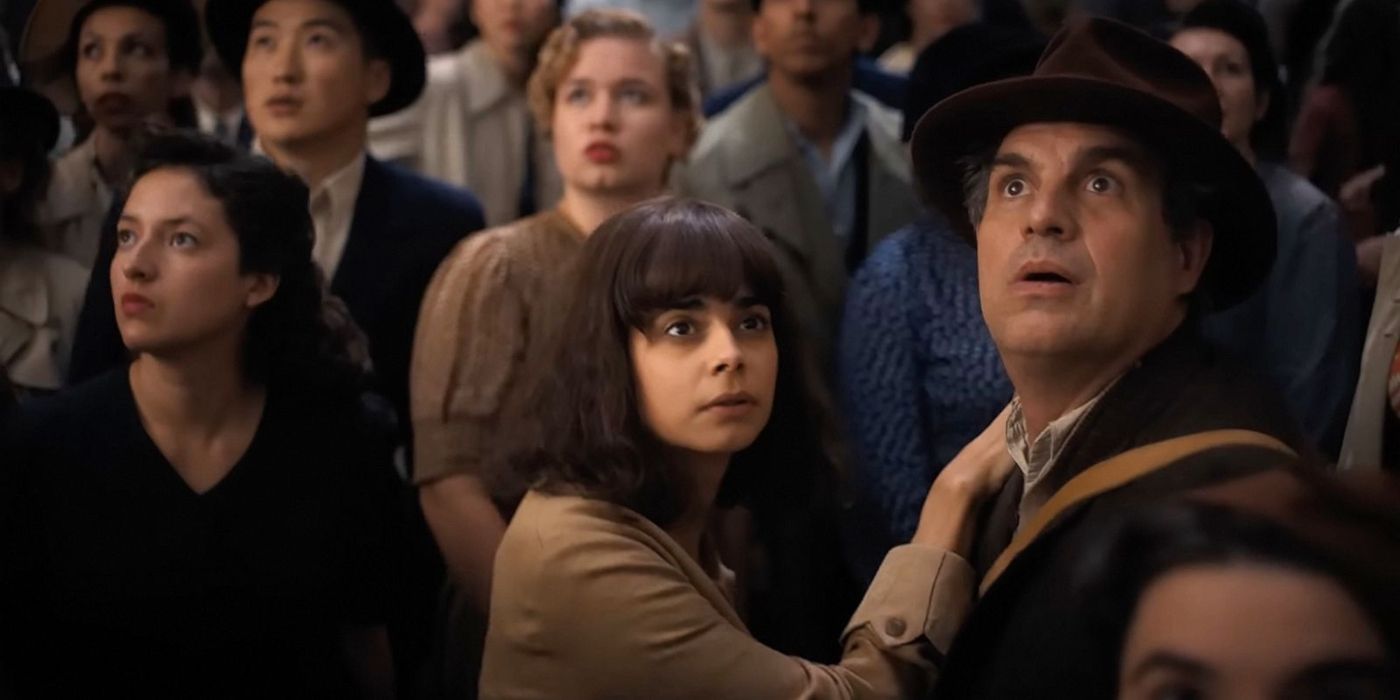 Shawn Levy's Deal with Netflix
A producer for the streamer's mega-series Stranger Things and the director of the Ryan Reynolds-led comedy, The Adam Project, Levy has a tight-knit bond of collaboration with Netflix. When it came to pitching and laying the groundwork for All the Light We Cannot See, Levy says that the studio trusted him as "They're in the Shawn business," adding, "I've tried to earn that faith by rewarding them on the bets they make on me." However, even though those at the top trusted him, Levy revealed that both Ted Sarandos and Bela Bajaria, "were really blunt. They're like 'Look, we're backing you. You want to do this with unknown, low vision, or blind girls playing lead? Okay. We're going to give you enough money to do it.'"
With their blessing, Levy set out to create another, hopefully, successful series for Netflix with a budget that "was not as stratospheric as a lot of budgets we hear on other limited, both in Netflix and other networks and platforms." After securing the rights for the novel, Levy says they got Steven Knight on board to pen the adaptation. Tying things together, Levy brought in the likes of Hugh Laurie and Mark Ruffalo to round out the adults in the cast, which also gave the studio the big names they were looking for.
All the Light We Cannot See hits Netflix on November 2, but in the meantime, you can check out our full conversation with Levy and Doerr below. See the rest of our ongoing TIFF coverage here.