The Big Picture
DreamWorks Animation revealed a new trailer for Trolls Band Together, focusing on Branch's journey and the return of his brother, John Dory.
Queen Poppy will also have to confront her long-lost sister, adding tension to the situation with Branch's boy band arrival.
The trolls' previous adventure saw Poppy and Branch team up to stop Queen Barb from taking over their kingdom with a powerful guitar.
DreamWorks Animation is getting ready for the release of their next film, with a new trailer for Trolls Band Together being revealed by the studio. It's been years since Branch (Justin Timberlake) and Queen Poppy (Anna Kendrick) were seen on the big screen, but their latest adventure is set to directly tackle what happened when Timberlake's character was young. In a world where every story heavily focuses music to express the characters' feelings, one family will have to heal the wounds from their past in order to move into the future together. It's time for Branch's brother to join the fun.
The new trailer focuses on the mystery that was revealed in the previous one, setting the stage for Branch's journey within the third installment of the franchise. Even if the character is comfortable with his new role alongside Queen Poppy, he never expected his brother, John Dory (Eric André), to step back into his life. Branch and John used to be in a boy band together, with four siblings sharing their love of music through different styles, outfits and catchy melodies. However, when issues caused them to go on separate ways, Branch was left dealing with losing his bond with his family.
Branch won't be the only protagonist from the franchise who will have to deal with unexpected family members in Trolls Band Together, as Queen Poppy will also have to confront a sister she hasn't seen in a very long time. Voiced by Camila Cabello, the character could add tension to the situation the main duo will already be going through with Branch's boy band arriving in town. Hopefully, the music produced by the trolls will be enough for everyone to express how they feel, bringing the family together before any more damage can be made.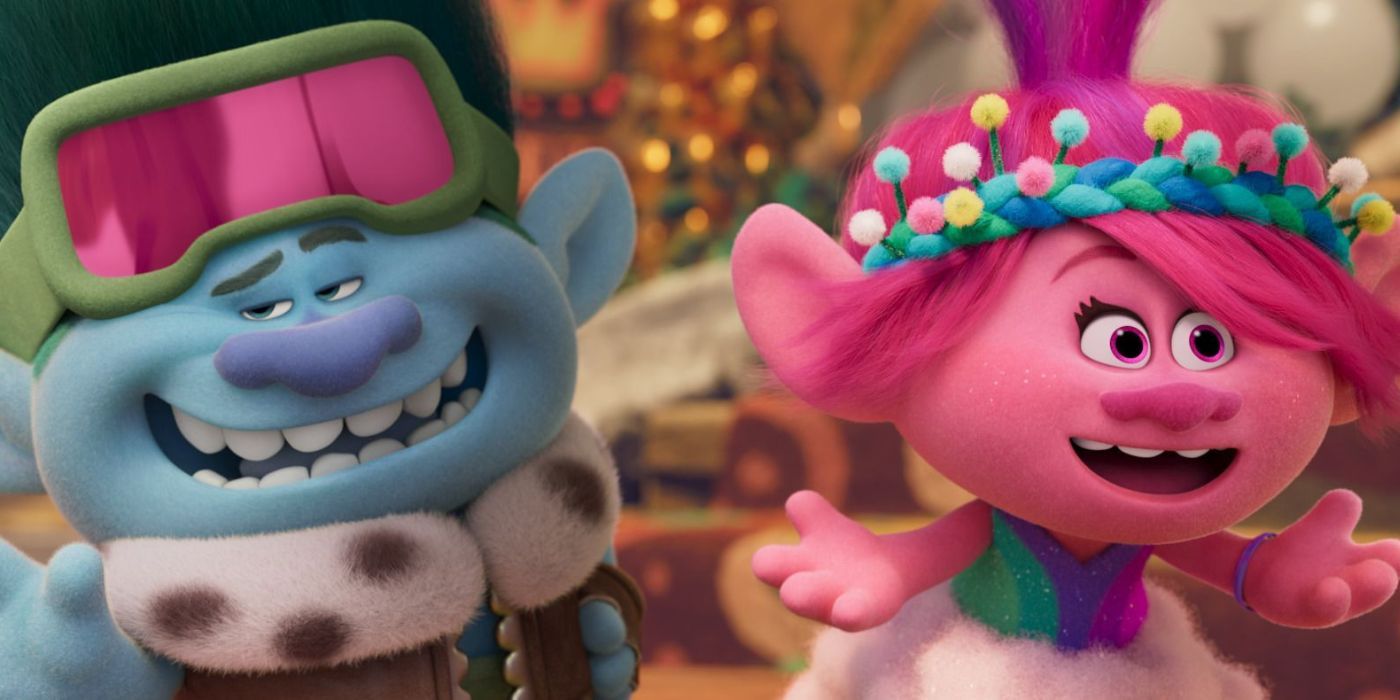 The Trolls' Previous Adventure
The last time Queen Poppy and Branch were singing in theaters together was when Trolls World Tour premiered in theaters right before the pandemic was about to shake the entire entertainment industry. In the first sequel to the 2016 hit, Poppy wasn't queen of her world yet, and Queen Barb (Rachel Bloom) was threatening to take over the entire kingdom with a powerful guitar, threatening to eliminate any music genre that wasn't hard rock. Poppy and Branch had to team up to stop her, before the colorful magic of their world was lost forever to somebody who didn't want to share the power of music.
You can check out the new trailer from Trolls Band Together below, before the film opens in theaters on December 17: