The Big Picture
The long-awaited Trick 'r Treat sequel is finally underway, with director Michael Dougherty working on the script.
Sam is a unique and beloved character in the horror genre, serving as an enforcer of Halloween traditions.
Dougherty will be returning to direct Trick 'r Treat 2, and he has brought back the original team behind the first film, as well as his co-writers from Krampus.
The long-awaited Trick 'r Treat sequel is finally escaping development hell and Michael Dougherty has big plans for his adorable little demon Sam. Back in 2022, the director announced at Beyond Fest that the follow-up was in development, though he didn't give away any details of what to expect in the new anthology. During a screening of his Halloween classic and Q&A session for Scary Perri's Horror Series at Landmark Theaters, he was able to dish on one particular detail regarding his burlap sack-donning trick-or-treater. He revealed to Collider's Perri Nemiroff that this time around, Sam will have a mortal enemy to square off against.
Technically, Sam already had one foe whom he scrapped with in the original film – Brian Cox. The Succession star played Mr. Kreeg, the old and grouchy next-door neighbor to Dylan Baker's murderous principal Steven Wilkens. He fails to obey the rules of Halloween, scaring kids off with his dog rather than giving them candy which is enough to land him on the wrong end of Sam's sharp Jack-o'-Lantern lollipop. The rub is that he's not much of a challenge for the little demon in the end and Sam ultimately threatens him into handing out treats and respecting the holiday. Dougherty says that Trick 'r Treat 2 would feature someone who's an even more formidable foe for Sam. "The working title is Trick 'r Treat 2, and we came up with a proper nemesis for Sam that would give Brian Cox a run for his money," he revealed.
Sam is the connective tissue that helps make Trick 'r Treat so special. Rather than be a malevolent force in the vein of other slasher villains like Michael Myers and Jason Voorhees, he's a good boy working as an enforcer of Halloween and Samhain traditions as the citizens of Warren Valley encounter real monsters. If you respect him and the Halloween spirit, he respects you. Thanks to the adorable design with the creepy edge of brutal holiday punishment, Sam's become a fan favorite and is practically associated with the season. A Halloween hater capable of going toe to toe with him would have their work cut out for them, though, as Kreeg proved he's also nigh immortal and unrelenting when it comes to holiday tradition.
'Trick 'r Treat 2' Hails From the Team Behind 'Krampus'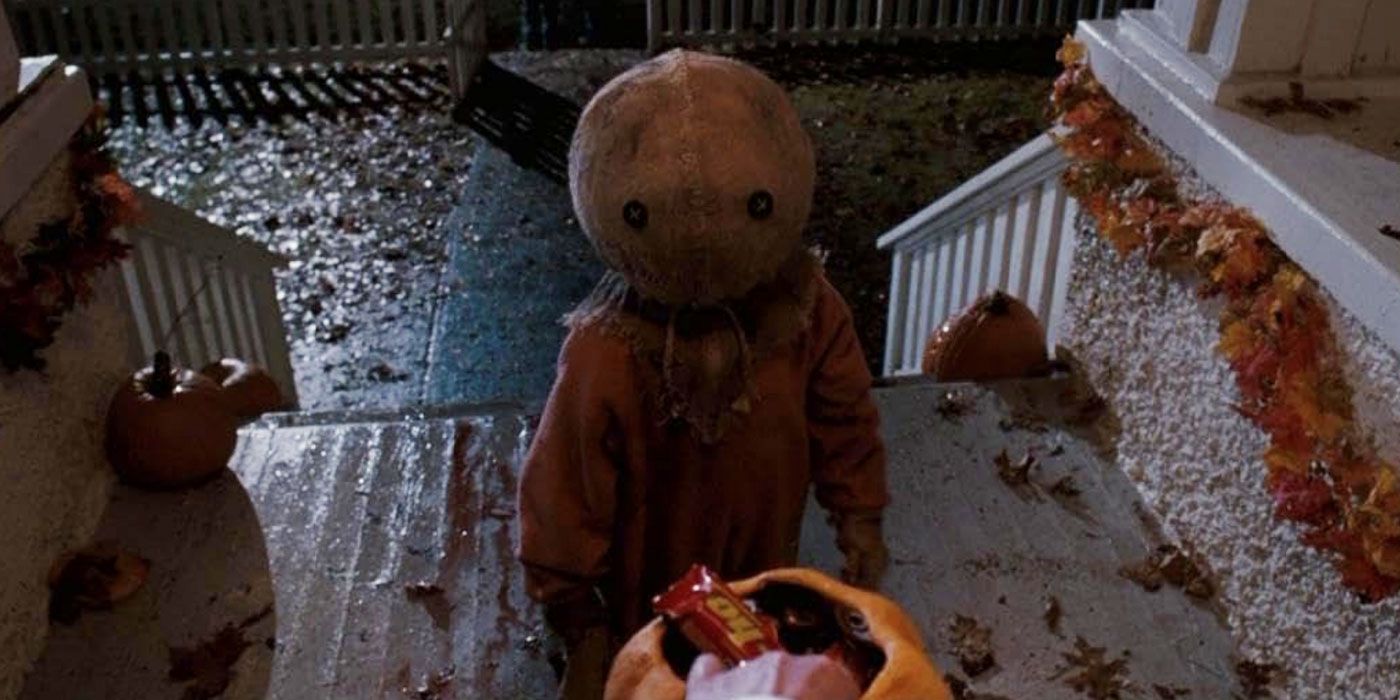 Dougherty will be behind the camera once again to capture Sam's new adventures and inevitable battle with a new grumpy Halloween foe, and he's bringing back much of the team that helped design the original Trick 'r Treat. Additionally, he's brought aboard his Krampus co-writers Todd Casey and Zach Shields to help pen the script for the anthology sequel. Although it's in active development, don't expect to see Trick 'r Treat 2 anytime soon as Dougherty still needs to hash out production details with Legendary before they can even consider casting. The sequel will have a lot to live up to in that department considering the original had Cox and Baker alongside Anna Paquin, Leslie Bibb, and Rochelle Aytes.
Stay tuned here at Collider for more on Trick 'r Treat 2 as it continues development. For this Halloween season, however, you can stream the original exclusively on Max.