The Big Picture
Director Michael Dougherty confirms that a sequel to Trick 'r Treat is in active development with a "really good script" in the works.
Dougherty is assembling the same team from the original film, but acknowledges the process to getting it made is still quite long.
Trick 'r Treat was released with very little fanfare in 2009, and has since gone on to become a Halloween classic.
For years, fans have been hoping for director Michael Dougherty to bring his adorable little Halloween mascot Sam back for a sequel to the spooky season favorite Trick 'r Treat. He's teased a follow-up as far back as 2009 in an MTV interview and even previously talked with Collider about the possible sequel a decade ago! The film has languished in development hell for about as long as it's been on the table, but that appears to be changing. At BeyondFest 2022, Dougherty announced the sequel was in active development with all parties interested in finally reawakening Sam on the big screen. Now, during a Q&A with Collider's Perri Nemiroff for a Scary Perri's Horror Series screening of Trick 'r Treat, the director reaffirmed the state of development and teased the fantastic script he had at the ready.
"I will say this, because we said it last year at the Beyond Fest screening, the sequel is in active development with Legendary," Dougherty confirmed. "I'll go so far as to say that we have several drafts of a script." As work ramps up, he's also got the team back together. "I brought back the same storyboard artist I mentioned before, Simeon Wilkins, so we have a stack of storyboards and a good fat stack of concept art done by Breehn Burns as well. So it's inching along." Things are starting to get real for the sequel, though there's still much to accomplish before casting can be considered and cameras can start rolling.
Dougherty acknowledges that the process ahead is still quite long, but he's been thankful for the help of Legendary in bringing it all together. "I'm hoping to talk to Legendary," he added. "They've been wonderful, like great collaborators. But so much of it is timing, and as you know, we just got out of a strike, so the next step, fingers crossed, would be looking at budget, of course, schedule, and all the rest." One thing that really excites him about Trick 'r Treat 2 more than anything is the script which he and his Krampus collaborators teamed up on. "But we have a really, really great script for a sequel. And I brought in my co-writer from Krampus to do it with me. So Zach Shields and Todd Casey who do Krampus with me also helped me write Trick 'r Treat Part 2."
'Trick 'r Treat' Remains a Halloween Classic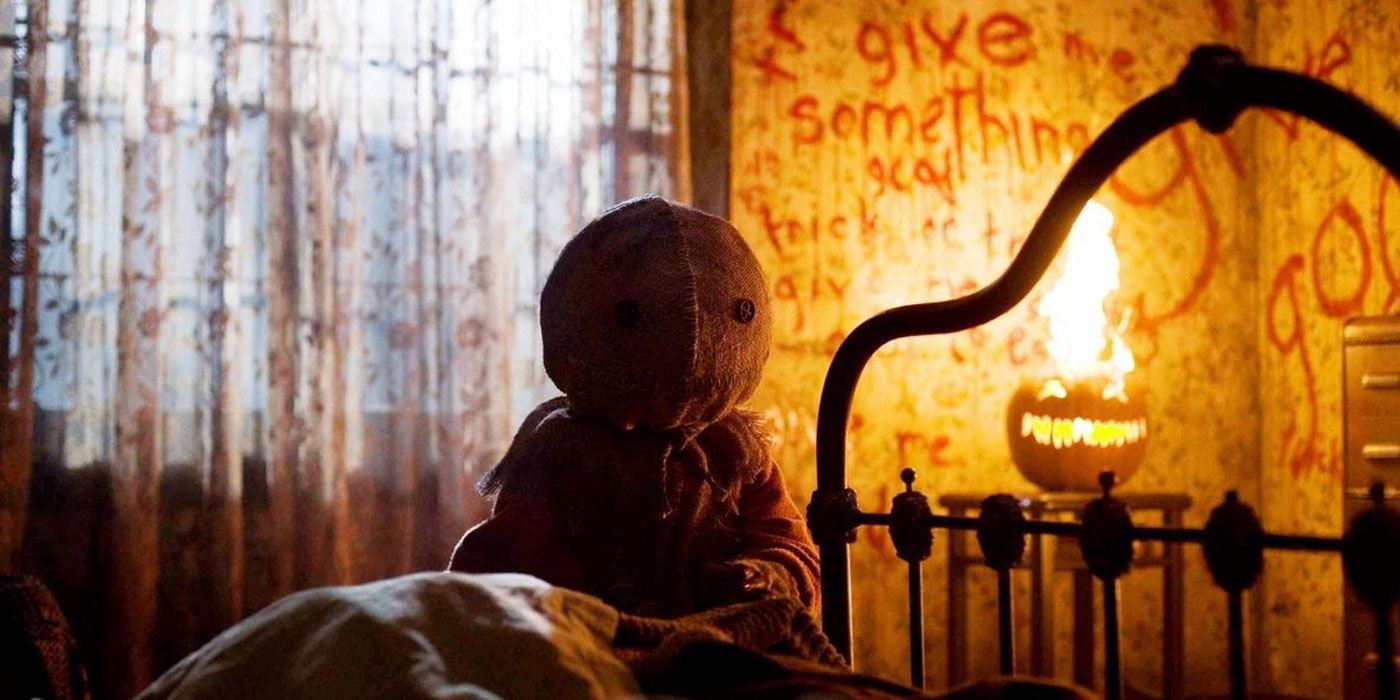 While it's reassuring to hear that the gears are finally turning and Dougherty truly loves the script, it'll be hard to top the classic that is the original Trick 'r Treat. Originally released to very little fanfare on home media in 2009, the film has since become practically synonymous with Halloween while its burlap sack-wearing trick-or-treat demon Sam is a favorite among horror mascots. The film is told nonlinearly as an interconnected anthology involving the residents of a town on the spookiest night of the year as they encounter very real ghouls throughout their night. At the center of it all is the adorable Sam who ensures the rules of Halloween are always respected.
To go with that classic story written and directed by Dougherty, a starry cast was brought on board to play the townsfolk of Warren Valley, Ohio, including Emmy winner and Succession star Brian Cox alongside Anna Paquin, Dylan Baker, Leslie Bibb, and Rochelle Aytes. When the time comes, it's likely the Trick 'r Treat team will seek similar talent to ensure Sam's return is a grand one indeed.
Stay tuned here at Collider for more on the development of a Trick 'r Treat sequel. The original is available to stream exclusively on Max.