The Big Picture
Handsome men can be terrifying too – the Sweet Sixteen Killer brings a new face to iconic horror villains, with his cheeky smile and perfectly coiffed hair setting him apart.
Totally Killer is a mix of classic horror films and a bloody version of Back to the Future, following Jamie as she time travels back to 1987 and faces off against the sadistic slayer.
Nahnatchka Khan's sophomore feature, backed by Blumhouse Television, combines dark comedy and horror for a thrilling and nostalgic ride, with an all-star cast including Kiernan Shipka and Olivia Holt.
Handsome men can't be trusted in Nahnatchka Khan's upcoming dark comedy horror flick, Totally Killer. An exclusive to Collider image shows off the first look of the masked killer who's back after 35 years to wreak havoc on a small town. A mix of The Purge-meets-The Brat Pack, the slayer's cheeky smile and perfectly coiffed hair sets his mask apart from the likes of Michael Myers and Leatherface. Darkening his next victim's doorway, a single dangling earring is giving us some major Kiefer Sutherland in The Lost Boys vibes.
Pulling inspiration from hotties of the past, Khan says that she teamed up with legendary special effects, puppeteer, and makeup artist Tony Gardner (Hocus Pocus, Seed of Chucky) "and the team from Alterian to pull some 1980s heartthrobs references and then create an amalgam for the Sweet Sixteen Killer" – the dubious nickname of the film's antagonist. After trying out a handful of selections, Khan said:
"I liked the idea of a handsome man being terrifying. The Sweet Sixteen Killer adds a new face, literally, to the iconic killers and Blumhouse villains who have been the stuff of nightmares. That was the beginning of the idea for the mask design, we worked with Tony and the team from Alterian, alongside the producers from Blumhouse and Divide/Conquer to pull some 1980s heartthrobs references and then create an amalgam for the Sweet Sixteen Killer – also for some reason, after looking at a bunch of different options, we all felt it was important that he be blonde. Who knows why, sorry blonde, handsome dudes (you'll be fine)!!"
A mix of classics like a bloody version of Back to the Future and even Prom Night, Totally Killer follows the story of Jamie (Kiernan Shipka), a 17-year-old who shrugs off her mother's (Julie Bowen) warnings and goes out for some good old-fashioned fun on Halloween night. After all, it's been 35 years since the "Sweet Sixteen Killer" slashed his last victim so Jamie and her friends have nothing to worry about – right? When she mysteriously time travels back to 1987, Jamie is put directly in the path of the sadistic slayer but with the help of her teenage mom (Olivia Holt) she hopes to put his bloody and brutal reign of terror into an early grave before time runs out, and she's forever stuck in the '80s.
Who's Behind 'Totally Killer'?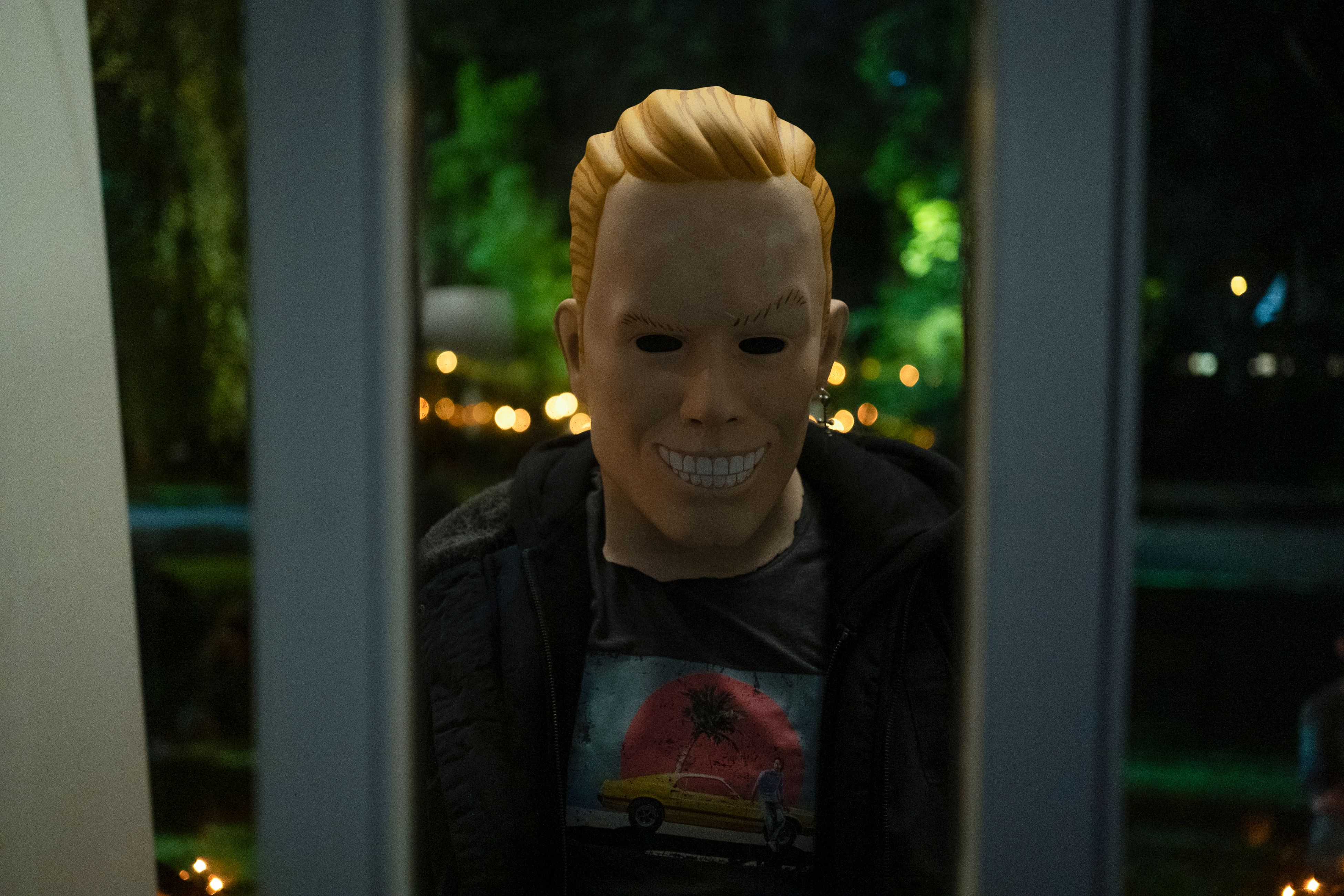 The comedic slasher serves as Khan's sophomore feature following Netflix's 2019 film, Always Be My Maybe. She's also the creative brain behind TV hits including Don't Trust the B—- in Apartment 23, Fresh Off the Boat, and Young Rock. Backing the Prime Video production is producer Jason Blum on behalf of Blumhouse Television in partnership with Divide/Conquer's Greg Gilreath and Adam Hendricks. The film also features performances from Randall Park (Fresh Off the Boat), Liana Liberato (Scream VI), Lochlyn Munro (Scary Movie), and Charlie Gillespie (Julie and the Phantoms).
Check out Totally Killer when it slashes onto Amazon Prime Video on October 6, 2023. Check out the video below: