The Big Picture
Nahnatchka Khan teamed up with Blumhouse for upcoming horror film Totally Killer, impressed by their passion and love for making movies.
The energy and support from Blumhouse during the filmmaking process of Totally Killer is evident, making Khan confident in their collaboration.
Blumhouse Productions, known for their success in the horror genre, has a rich history of backing notable films and is releasing more spooky offerings soon.
Nahnatchka Khan is no stranger to using all the tools in her toolbox to craft the perfect on-screen story. Understanding how all the pieces need to come together to make a successful hit, Khan is the creator behind such critically acclaimed shows as Don't Trust the B—- in Apartment 23, Fresh Off the Boat, and Young Rock. After making her feature-length directorial debut via Netflix's 2019 film, Always Be My Maybe, Khan is returning to filmmaking through Amazon Prime Video's upcoming horror flick, Totally Killer. To do so, she's teamed up with one of the biggest production companies in the genre – Blumhouse Television. During an interview with Collider's Perri Nemiroff at Fantastic Fest, Khan spoke about how the Blumhouse crew got involved and when she knew they'd make a terrific pairing.
"I think Blumhouse and everybody who works there, the great thing about them is they make movies. They love movies, and they make movies," Khan says of the first thing that jumped out to her about the production company. "I think a lot of times certain companies, it's almost like when they make a movie, they're forced into making a movie, where it's like Blumhouse is ready. They're like, 'Let's go! Let's make something,' and they've got a real passion for it."
From that very first meeting, Khan says that the energy shared between her and Blumhouse was palpable, noting that she walked away from their conversation thinking, "'Oh, these people are down to play and have a good time and make something cool.'" The further she dived into Totally Killer with Blumhouse by her side, the more Khan realized just how dedicated they were. "They were just so supportive," she says, "We have this big set piece in Act Three with this Gravitron, and we had to go find a Gravitron in Canada and shoot that practically, and they were down." And, even beyond traveling out of the country to film with the Gravitron, Khan says, "They were down for all of it. They were like, 'We get it. This is it.' So, they're very supportive that way because they like to make movies."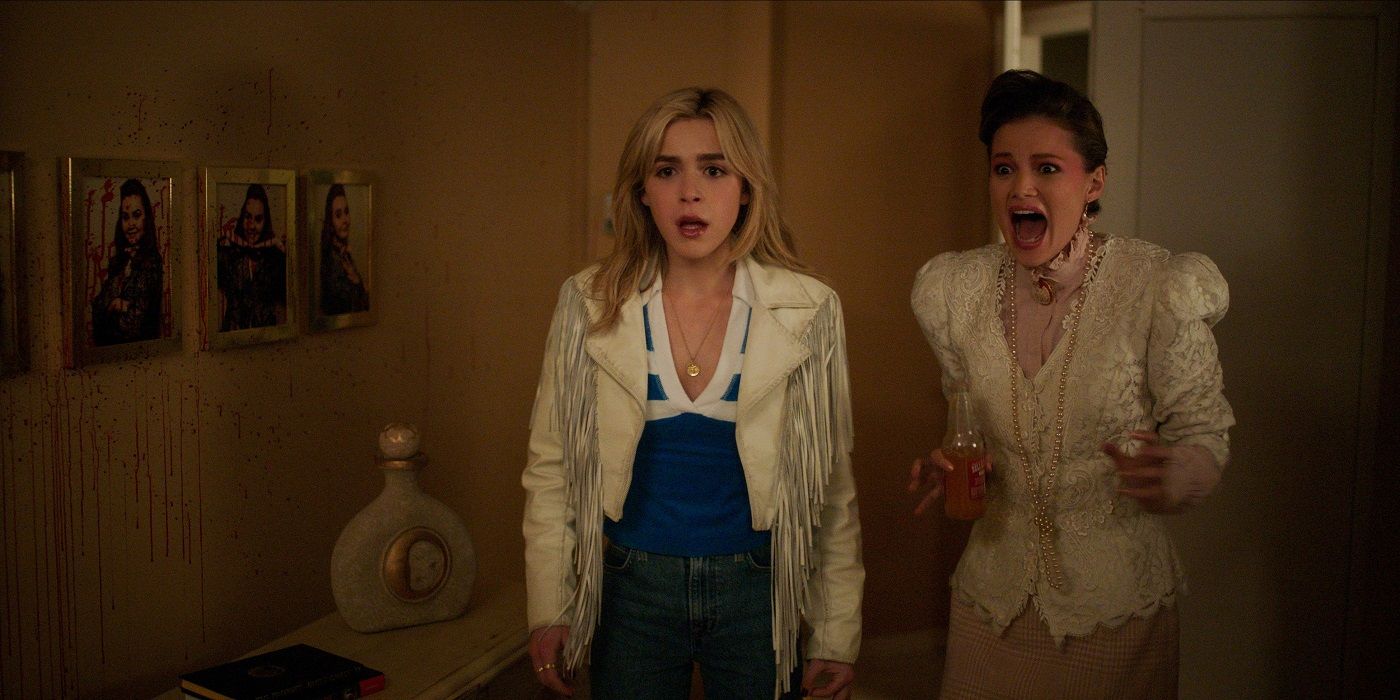 The History of Blumhouse
Founded by Jason Blum, Blumhouse Productions has been a force to be reckoned with for over 20 years. Leaning heavily into the horror genre, the team has backed such titles as the Paranormal Activity and Insidious franchises, Mike Flanagan's Hush, David Gordon Green's Halloween franchise, and more, with the company also dipping its toes into the world of drama through productions like Whiplash and BlacKkKlansman. Along with Totally Killer, Blumhouse also has two other spooky offerings coming out just in time for the Halloween season through The Exorcist: Believer and Five Nights at Freddy's.
Catch Totally Killer on Amazon Prime Video on October 6.