The Big Picture
Director Nahnatchka Khan explains the careful process behind creating the slasher's mask in the film Totally Killer, emphasizing the importance of nailing the iconic look.
Khan and the creative team drew inspiration from '80s heartthrobs and worked with renowned artist Tony Gardner for mask molding assistance.
The final design features a handsome blonde man with a touch of camp, in line with the film's blend of horror and time travel.
Jason Voorhees has his hockey mask, Michael Myers has his Captain Kirk mask, and Ghostface has – well – his Ghostface mask. One of the necessary building blocks of any slasher flick is the face covering that will keep the killer's identity hidden and their lore alive for a multitude of installments to come. Totally Killer director Nahnatchka Khan fully understood the assignment when she took on the job for the Amazon Prime Video film. In an interview with Collider's Perri Nemiroff at Fantastic Fest, where the title celebrated its world premiere, Khan shared how she and the creative team came up with the concept for their slasher's mask.
Explaining that a lot of thought and care went into the process, Khan says, "We went through a lot of iterations because, as you know, in slasher movies, you really got to nail that mask." Knowing that she wanted the killer to have the face "of a handsome man," Khan continues, "'Okay, what does that look like?' Then, once we landed on that idea, then it was sort of this compilation of, 'Let's pull all these references of these '80s heartthrobs.'"
Getting assistance from one of the best artists in the biz, Khan turned to Tony Gardner for mask molding assistance. From Hocus Pocus to the Child's Play franchise, Gardner's work can be seen in an incomprehensible amount of Hollywood productions. "Then Tony Gardner and his team at Alterian, they just started to composite stuff," Khan says, "And so seeing all those versions of everything and then leaning into the fun of it a little bit with The Lost Boys element, like that earring, so it's like a little like a touch of camp, you know, but still scary. And just a handsome man smiling like that with like the chin thing? I don't know, it all sort of started to evolve." Although forming the mask was a group effort, with everyone tossing in their two cents, Khan says there was one piece in particular that everyone agreed on. "He had to be blonde," she says, "For whatever reason, everyone was like, 'That makes sense.'"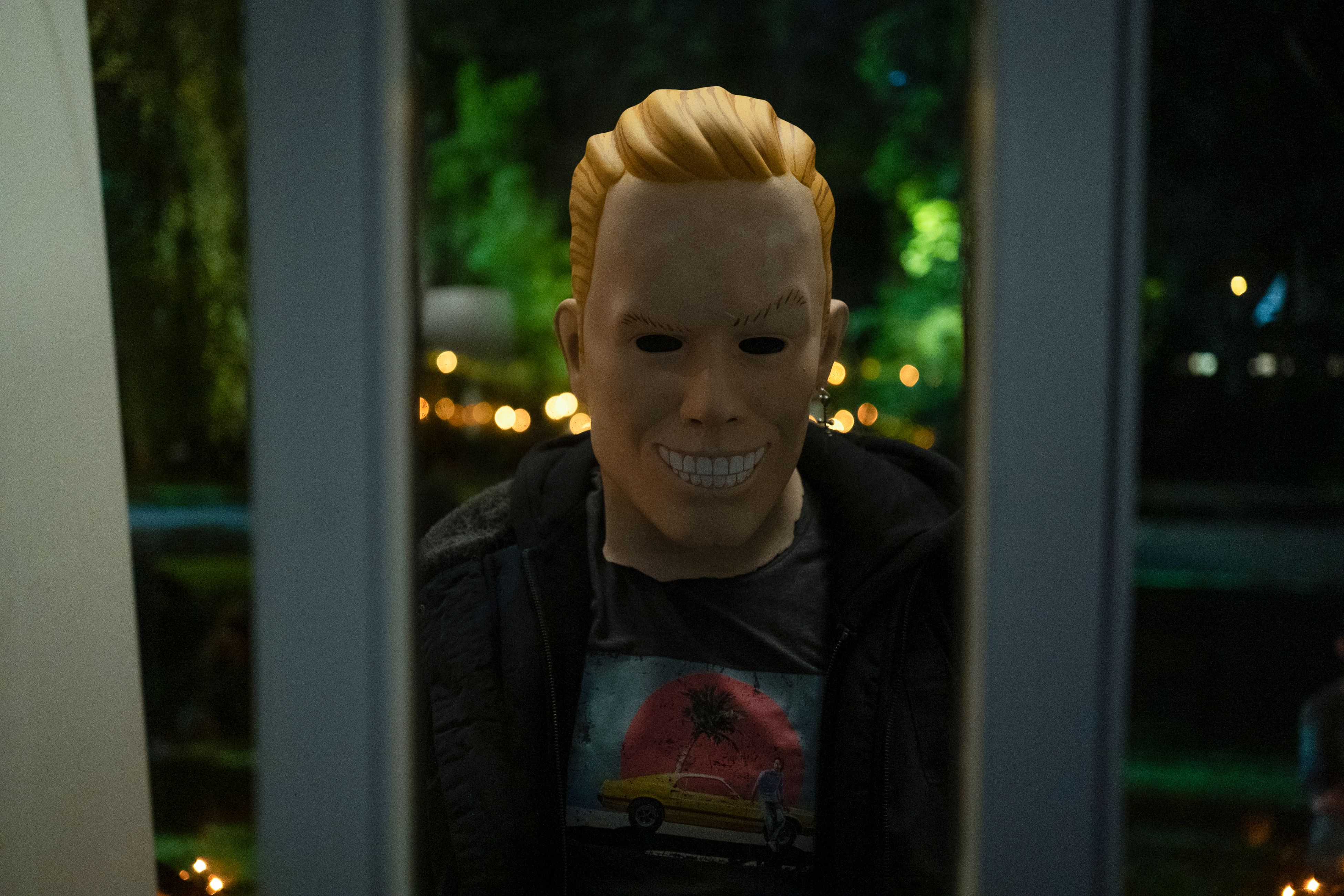 What's Totally Killer About?
Blending horror with time travel, Totally Killer follows Kiernan Shipka's Jamie, a teenager who, despite being warned by her mother (Julie Bowen), goes out on Halloween night. While it's been decades since he took the lives of a handful of teens, Jamie's mom is worried that the Sweet Sixteen Killer will return for more bloodshed. When Jamie travels back through time and comes face-to-face with a teenage version of her mom (Olivia Holt), she knows that it's her job to stop the murderer dead in his tracks all while getting back to the future before it's too late.
Totally Killer arrives on Amazon Prime Video on October 6.