The Big Picture
Kiernan Shipka shines in Totally Killer, a time-traveling slasher flick where she plays a Gen Z character navigating the 80s.
Director Nahnatchka Khan emphasizes the importance of keeping the emotional thread intact amidst the intense plot and action, and how Shipka helped shape that.
The star-studded cast also includes Julie Bowen, Olivia Holt, Randall Park, Liana Liberato, Lochlyn Munro, and Charlie Gillespie.
Kiernan Shipka is no stranger to stealing the spotlight. First fully bursting onto the scene on AMC's Mad Men nearly two decades ago, the actress has gone on to star as the titular character in Netflix's Chilling Adventures of Sabrina (a character that she would reprise during the sixth season of Riverdale) and appear in films including The Silence and Wildflower. Jumping back into the same spooky scary vibe, Shipka's next role will see her take on a murderer in Nahnatchka Khan's (Always Be My Maybe) time-traveling slasher flick, Totally Killer. During an interview with Collider's Perri Nemiroff at the Fantastic Fest, Khan opened up about how perfect Shipka was for the role and how the duo worked together to flesh out the character.
"I think Kiernan is such an integral part of this movie," Khan says, "Obviously, she's the lead, but she's playing so many things at once. So she's got the fun of this time travel element, she's back in '87, and she's got to navigate that world as a Gen Z person from 2023. But she also has had this – without giving too much away – this very tragic event happening in her life." From what we know about Totally Killer, audiences will meet Shipka's character, Jamie, a teen who, despite her mother's (Julie Bowen) warnings, goes out on Halloween. When she's transported back in time to the '80s, it's up to Jamie to stop a string of killings before they happen and safely get back to the present.
Ensuring that all these moving pieces of the plot came together was Khan's top priority for the film saying, "And so, keeping that, not losing that thread, I think that was the thing that she and I, as we went through the script, were sort of like, 'Where are we here? There's all this fun going on, all these balls are in the air, we're keeping everything alive, and you're literally trying to run for your life, but like, emotionally where are you?' I think those were the things that were kind of tracking." Having a pro like Shipka by her side, Khan was able to move seamlessly from one scene to the next. "She's so good. Kiernan Shipka, legend," Khan says, praising her leading star, "I mean, already. She's gonna be all the things one day."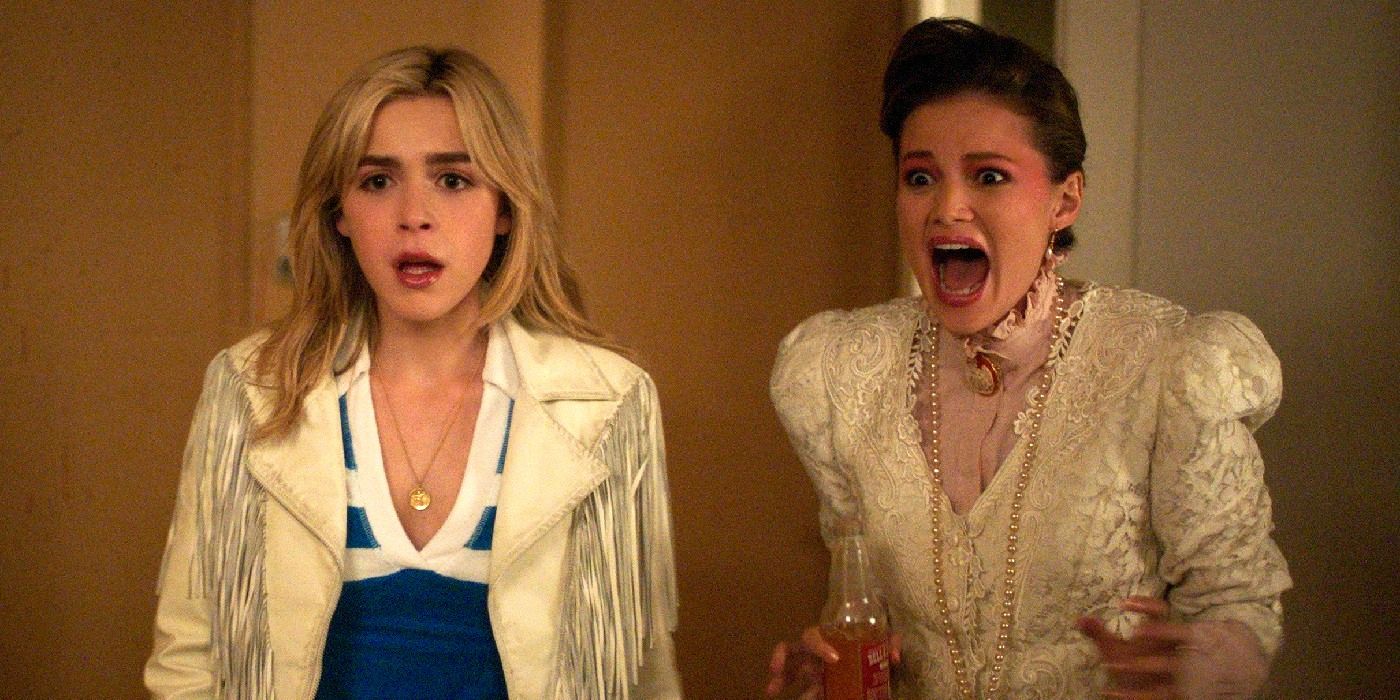 Who Else is in Totally Killer?
Along with Shipka and Modern Family alum, Bowen, Amazon Prime Video's upcoming slasher flick also stars Olivia Holt (Cruel Summer), Randall Park (WandaVision), Liana Liberato (Scream VI), Lochlyn Munro (A Night at the Roxbury), and Charlie Gillespie (Julie and the Phantoms). Known for his excellence in the horror genre, Jason Blum serves the film as a producer on behalf of Blumhouse Television.
Totally Killer arrives on Amazon Prime Video on October 6.