The Big Picture
Netflix's upcoming feature film Old Dads showcases the struggles of three best friends who become fathers later in life, navigating the challenges of parenthood and facing modern technology and millennial trends.
Comedian Bill Burr, known for his work on The King of Staten Island, makes his directorial debut with Old Dads, which he also writes and produces. The film also stars Bobby Cannavale, Bokeem Woodbine, Katie Aselton, and more.
It's a rough world out there for dads, what with the rapidly changing technology, young Gen Z slang, and what have you. In Netflix's upcoming feature Old Dads, that becomes especially true as a group of three friends try to navigate fatherhood. Today, Netflix offered a glimpse at the fatherly struggle with a first look image at the upcoming comedy. It will debut on the streamer on Friday, October 20.
As mentioned, Old Dads centers on three best friends, all of whom become fathers later in life. Now out of their depth, the trio finds themselves navigating the challenges of parenthood. Along the way, they will face "preschool principals, millennial CEOs, and anything created after 1987." As long as they're armed with dad jokes, they should be fine though… right?
Old Dads is written, directed, and produced by comedian Bill Burr (The King of Staten Island), who stars in the feature. Though Burr has previously written and produced specials and television series, Old Dads will mark his directorial debut. He co-wrote the screenplay and produced alongside documentary filmmaker Ben Tishler. Additional producers include Monica Levinson, Bill Block, and Mike Bertolina. Along with Burr, the feature stars Bobby Cannavale (The Watcher), Bokeem Woodbine (Fargo series), Katie Aselton (The Morning Show), Reign Edwards (The Wilds), Miles Robbins (Halloween 2018), Jackie Tohn (GLOW), and Rachael Harris (Lucifer).
What Else Is Heading to Netflix in October?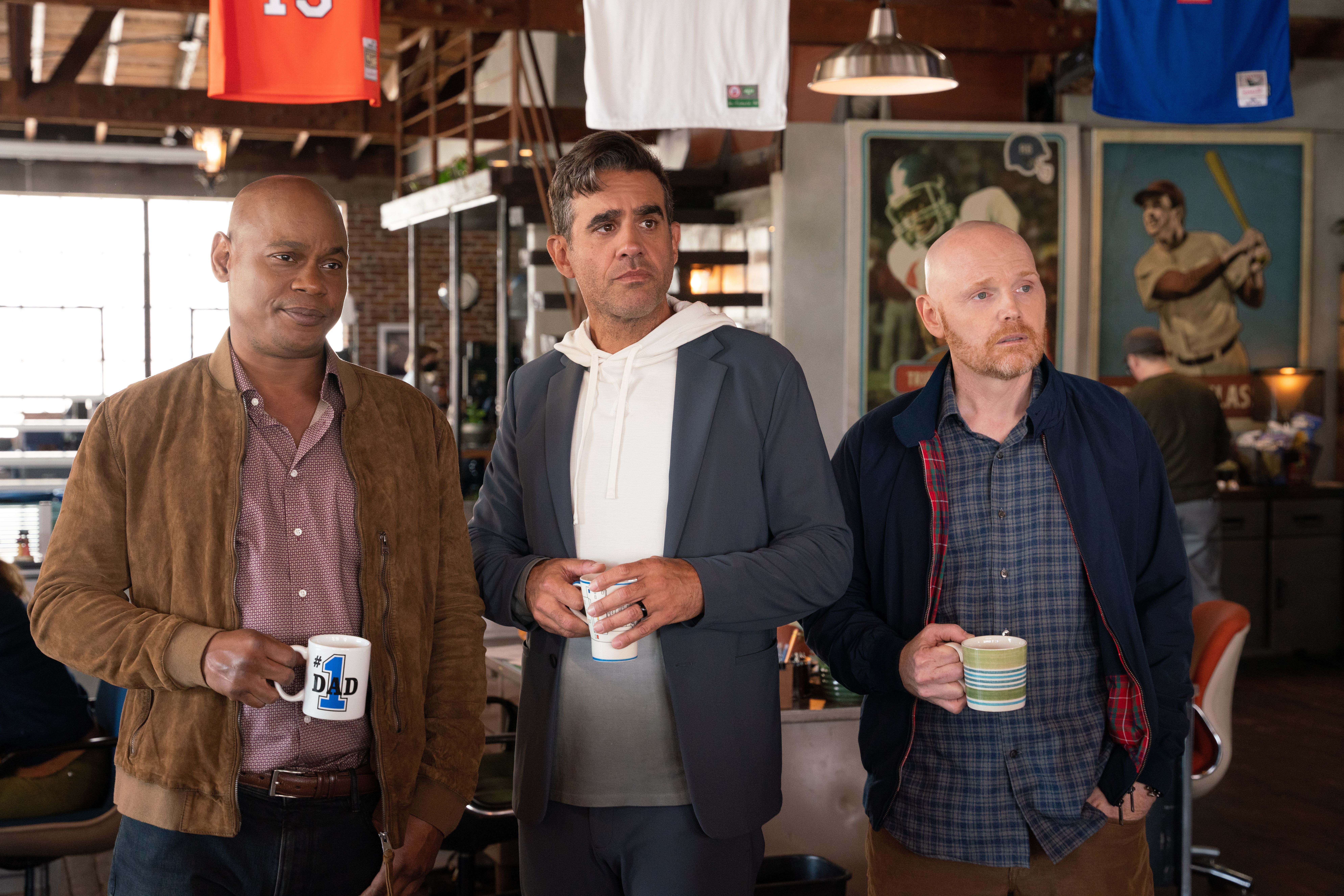 Along with Old Dads, Netflix has a hefty content slate for October, kicked off by Part 3 of its original series Lupin on October 5. The following day, the Benicio del Toro and Alicia Silverstone-led Reptile releases. Additonally, Mike Flanagan returns with his latest and highly-anticipated adaptation of The Fall of the House of Usher, a new series debuting on October 12 and just in time for the spooky season. Elite (October 20) and Last One Standing (October 10) return with new seasons, and the film Fair Play starring Phoebe Dynevor and Alden Ehrenreich premieres on October 13. Docuseries Life on Our Planet is set to premiere on October 25.
Old Dads premieres on October 20 on Netflix. Revisit our interview with Cannavale about Nine Perfect Strangers below: