The Big Picture
Disney's upcoming film Wish features a powerful wish granted by a cosmic being named Star, who is a key character in Asha's story.
Co-directors Chris Buck and Fawn Veerasunthorn are excited for audiences to meet Star, a pantomime character that people will embrace and make their own.
Another notable character in Wish is Sabino, a 100-year-old man with a significant role in the film's celebration of Disney's centennial anniversary. His story explores the idea of giving away wishes and the fear of pursuing dreams.
This November, Disney is bringing the magic back to theaters with the release of its latest animated feature Wish. The musical film centers on Asha (Ariana DeBose), a young woman who makes a powerful wish answered by a cosmic being called Star. However, King Magnifico (Chris Pine) poses a great threat to Asha and her community. So, she and Star work together to stop him. While Wish tracks Asha's story, co-directors Chris Buck and Fawn Veerasunthorn revealed which supporting characters they're most excited for.
During an interview with Collider's Christina Radish, Buck and Veerasunthorn agreed that they can't wait for audiences to meet Star, one of the core characters in Wish. So far, much of what audiences know about Star is that it is exactly what the name entails, with a dash of Disney magic, of course. However, Star is an integral part of Asha's story in the feature with even more to come. Buck said that Star is "one of those great characters that people will really embrace," taking care to acknowledge how the animators helped give the character life.
"As we whittled down the design down to this very simple design, which is the essence of animation, it's basically a bouncing ball. And then, there's the nod to Mickey with the mask around Star's face. There are a lot of great, wonderful nods to legacy, with Star itself. Star doesn't speak, so there's great pantomime that our animators would do. People will see what they wanna see in Star sometimes, because Star is only pantomime. I think people will embrace Star and make Star their own. In one of our previews that we had, an audience member said, 'I just want a Star in my life.' I mean, doesn't everybody?"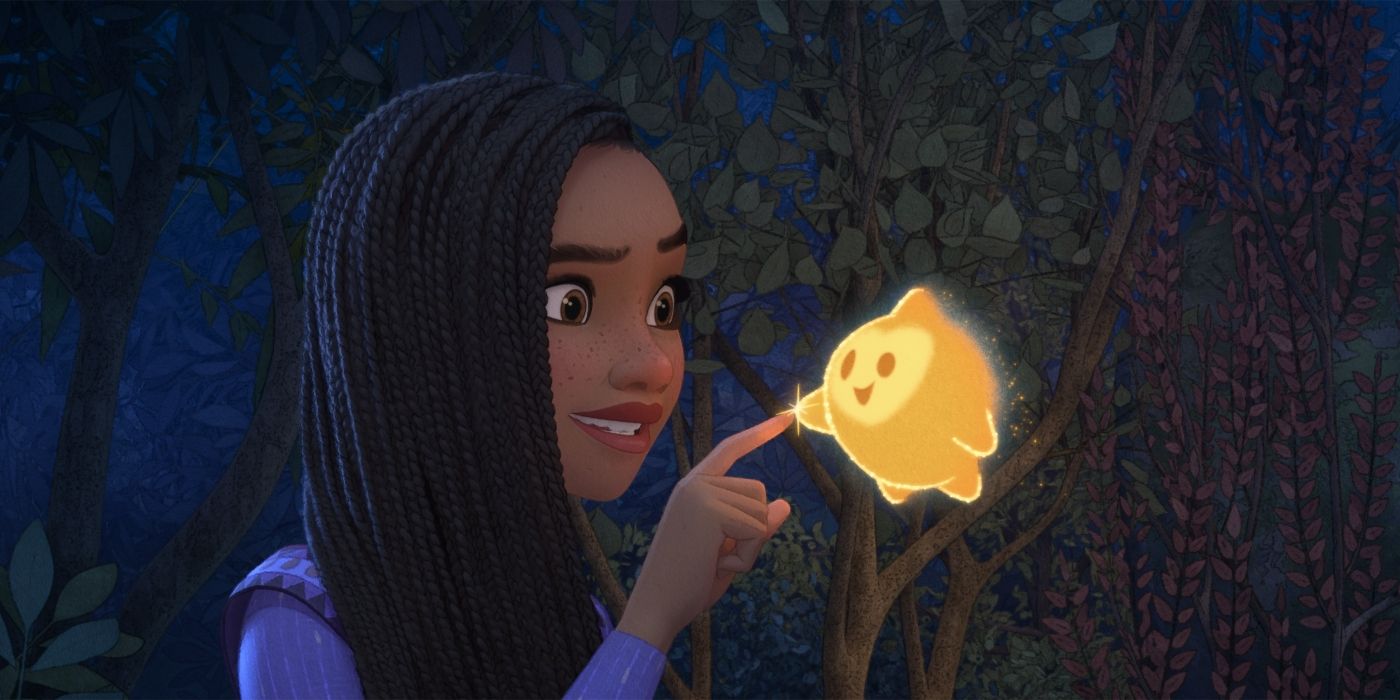 Star Won't Be the Only 'Wish' Scene Stealer
Though Star is already a promising addition to the Disney repertoire, Veerasunthorn shared that another character she holds dear is Sabino, a 100-year-old man. To start, Sabino's age is significant in and of itself as Disney celebrates its centennial anniversary this year. Veerasunthorn continues by noting how the centennial of the company and Sabino goes deeper than the milestone:
"For it being a centennial film, I thought there was a lot of interesting nuance within that character. He's someone who has lived a full life but decided to give his wish away and not remember it for such a long time. I think that speaks to a lot of people where life gets in the way and sometimes you forget, or you are too afraid to pursue it. I'm excited for people to see his story in this film."
Wish premieres November 22 in theaters. Watch the trailer below: