The Big Picture
The Marvels is the shortest film in the Marvel Cinematic Universe, clocking in at 105 minutes, beating the previous record held by The Incredible Hulk and Thor: The Dark World at 112 minutes.
Only 7 out of the 31 movies preceding The Marvels have a runtime of less than two hours, making it a shorter-than-average entry in the franchise.
The film follows Captain Marvel, who teams up with Ms. Marvel and Captain Monica Rambeau to stabilize a universe in turmoil, requiring them to combine their powers and learn teamwork.
Higher and further are yet to be confirmed, but faster definitely has been. The Marvels hasn't even been released yet, but it's already broken one Marvel Cinematic Universe record, and that's for the shortest film in the 32-movie franchise. A listing on AMC Theaters has the Captain Marvel team-up running at one hour and 45 minutes (105 minutes total), meaning the
This is notably shorter than the previous joint-record holders, namely The Incredible Hulk and Thor: The Dark World, both of which ran for 112 minutes. In fact, out of the 31 movies to precede The Marvels, only seven have a runtime of less than two hours. These seven include Thor (115 minutes), Doctor Strange (115 minutes), Ant-Man (117 minutes), Ant-Man and the Wasp (118 minutes), and Thor: Love and Thunder (119 minutes). It's also a far cry from Avengers: Endgame, which was a behemoth of a film and clocked in at a staggering 181 minutes—just a notch over three hours.
The film's plot sees Carol Danvers (Brie Larson), also known as Captain Marvel, continuing to help in liberating the galaxy having reclaimed her identity from the oppressive Kree regime and sought vengeance against the Supreme Intelligence. However, unforeseen consequences thrust Carol into the role of stabilising a universe in turmoil.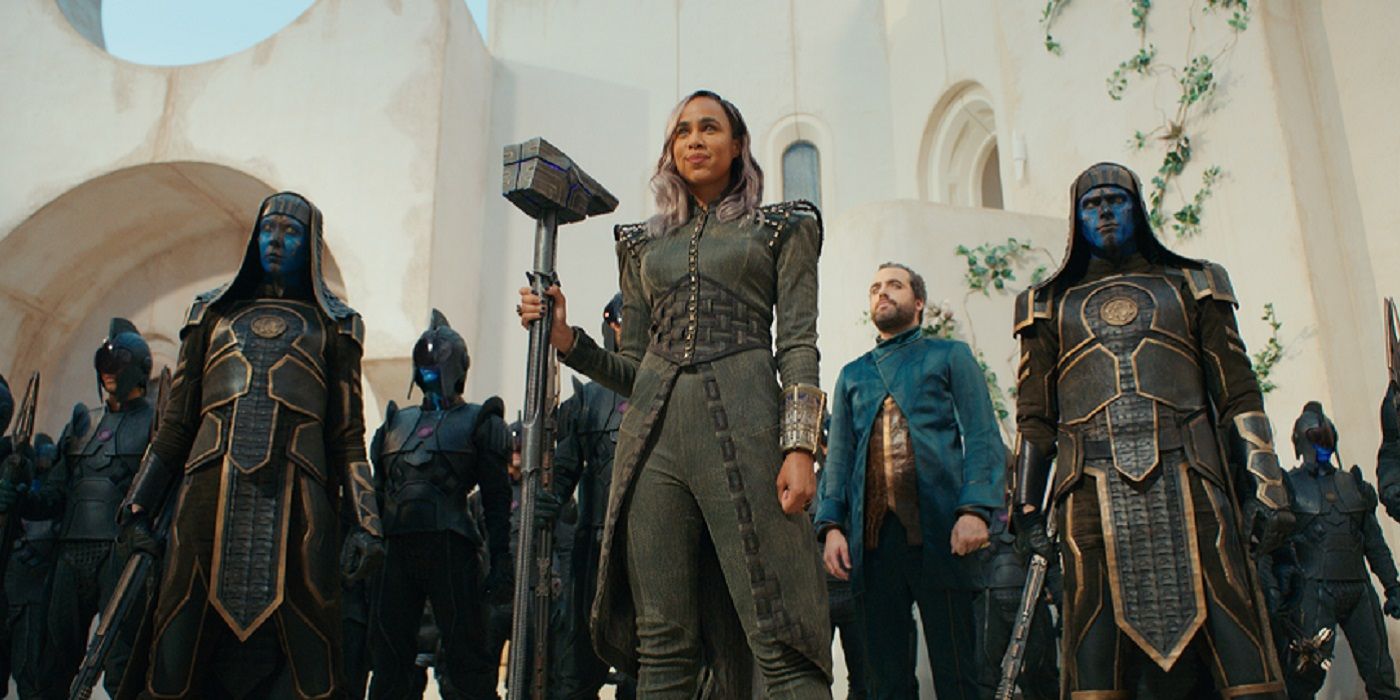 Her responsibilities lead her to an enigmatic wormhole tied to a Kree revolutionary, intertwining her powers with those of Kamala Khan (Iman Vellani), the devoted Ms. Marvel from Jersey City, and her estranged niece, now serving as the S.A.B.E.R. astronaut Captain Monica Rambeau (Teyonah Parris). The trio need to combine their powers and learn the spirit of teamwork and cooperation to stand any chance of rescuing the universe, becoming "The Marvels" in the process.
Who Else is In 'The Marvels'?
Along with the three leads, the movie features Zawe Ashton as the antagonist – Dar-Benn, Park Seo-Joon as an ally of Carol, and Samuel L. Jackson returning as Nick Fury. Further rounding off the cast are Ms. Marvel's family from the Disney+ series Zenobia Shroff, Mohan Kapur, and Saagar Shaikh. Randall Park will make a return as Jimmy Woo while Daniel Ings takes on the role of Ty-Rone, alongside Colin Stoneley who will play Kree scientist Papp-Tonn. Cast in undisclosed roles are Jessica Zhou, Gary Lewis, Caroline Simonnet, Shamier Anderson, Abraham Popoola, and Ffion Jolly.
The Marvels flies into theatres on November 10. You can check out the most recent teaser below: