The Big Picture
The director of The Marvels, Nia DaCosta, hopes to have her own voice and vision reflected in the upcoming superhero movie despite the challenges of working within the constraints of Marvel's overarching theme and storyline.
DaCosta didn't want to give up too much control over The Marvels, as she wants the film to reflect the quality of her previous work and be something she can be proud of.
The Marvels is set to arrive in theaters on November 10.
In recent years, the MCU has pulled in a murderer's row of filmmakers to create their big-budget blockbusters. Taika Waititi, Chloé Zhao, Scott Derrickson, and Ryan Coogler are just a few of the auteurs who have worked with the superhero giant in recent years. Enter Nia DaCosta who will see her own MCU project The Marvels hit theaters in less than two months. During an interview with Vanity Fair, the director explained how she hopes to have her voice heard in the upcoming feature.
The Marvels is looking to end a lengthy slump for the MCU that has seen films like Waititi's Thor: Love and Thunder and shows like Secret Invasion earn far more scrutiny from audiences and critics alike. Part of the struggles comes down to how much control is exerted on the people behind the camera. It wasn't long ago that Marvel was seen as not "director friendly" with a clear need to give directors more space to make their superhero movies sing. DaCosta, who primarily lived in the indie world before taking on her Candyman legacy sequel, knew from the get-go that she would likely have to sacrifice a bit of her vision to fit Kevin Feige's plans. "That's where most of the real pure stress as an artist came from," she told Vanity Fair.
The last thing she wanted, however, was to give up too much control for The Marvels and make something that didn't reflect the quality of the rest of her work. "People are like, 'Oh, it's a Marvel film. Cool, cool, cool,' but I also have my name on it, so I want to be able to be proud of it too." Regarding making her voice heard, she turned to Coogler who twice found success in Black Panther and its sequel Black Panther: Wakanda Forever. He told DaCosta to be herself which, initially, didn't resonate with her. "I said, 'Ryan, what are you talking about?'" she continued. Over time, however, the director realized the importance of bringing her distinct vision every day, even if not everything made the cut. "You can't do anything but be yourself, so bring that to the table. They can choose to take some and leave some, but that's what your job is."
Nia DaCosta Is Confident 'The Marvels' Can Buck the Trend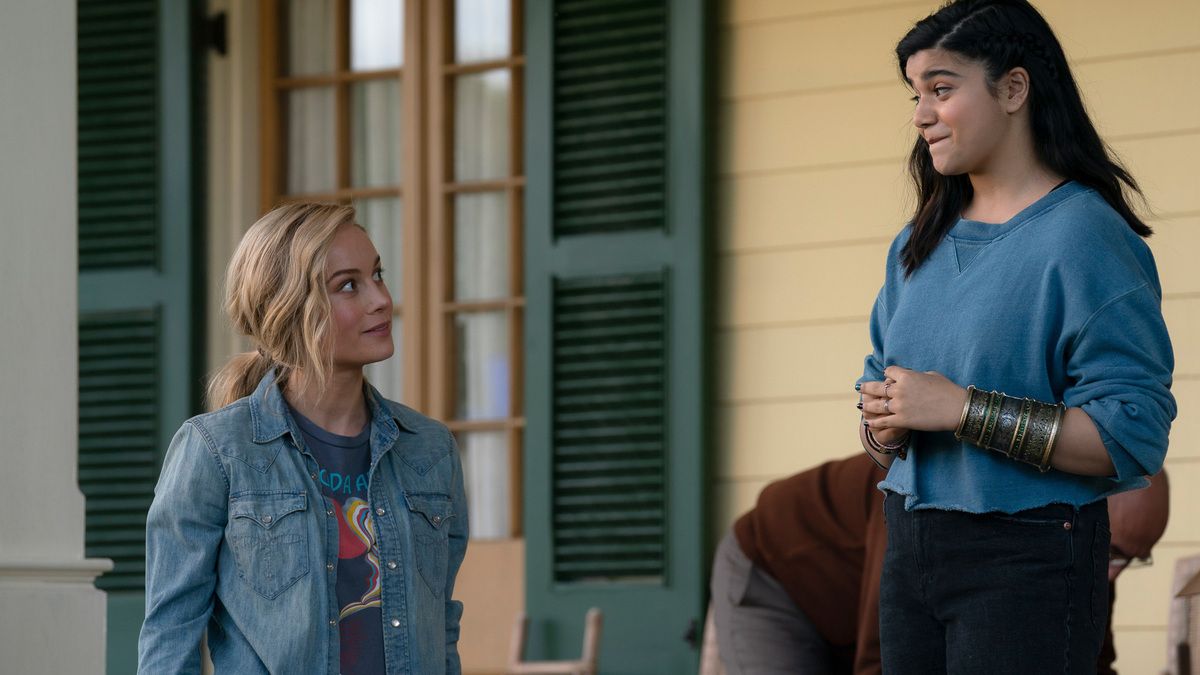 Now that everything's said and done, DaCosta has a lot of confidence in The Marvels to win over audiences. Her film embraces the wackiness of its story surrounding Captain Marvel (Brie Larson), Ms. Marvel (Iman Vellani), and Monica Rambeau (Teyonah Parris), something that she says gives it an edge overall. On top of that, Parris felt DaCosta was given more room to play around with the expansive world than Candyman, promising some true creativity from the auteur on this Marvel feature.
The Marvels sees Carol Danvers trying her best to keep the universe together before a wormhole causes her, Ms. Marvel, and Monica Rambeau to start swapping places. Their strange circumstances force them to reluctantly work together to search for a solution and face down a new Kree threat in the revolutionary Dar-Benn whom DaCosta takes a much different approach to than the comics. Samuel L. Jackson, Park Seo-joon, and Zawe Ashton are also set to star.
DaCosta's entry into the MCU will hit theaters on November 10.