The Big Picture
The Kill Room is a darkly comedic crime thriller that reunites Uma Thurman and Samuel L. Jackson after their Academy Award-nominated performances in Quentin Tarantino's Pulp Fiction in 1994.
Director Nicol Paone hastily rewrote the script in just one day to accommodate Jackson's particular style of performing, which involved a few extra takes than he usually does.
Thurman's suggestion to cast Jackson in a role originally written for a 72-year-old Jewish man led to a fortuitously-timed rewrite, giving the film an unexpected opening.
The Kill Room, the darkly comedic crime thriller by director Nicol Paone, brings together Uma Thurman, Joe Manganiello, and Samuel L. Jackson. The film also marks the first time Thurman and Jackson have teamed since their Academy Award-nominated performances in Quentin Tarantino's Pulp Fiction in 1994. The movie tells the tale of a contract killer, his employer, and an art dealer whose attempts at money laundering inadvertently transform the assassin into an unexpected cultural phenomenon. As the realms of organized crime and the art world collide, the story takes a captivating turn.
Sitting down for a one-on-one chat with Collider's Emily Bernard, Paone admitted that the chance to add Jackson to the cast was a thrilling one, but it was also a race against time. The script was hastily rewritten over the course of a day, just prior to Christmas, in order to make it more suitable for the actor and his particular style of performing.
Although Jackson is known for only wanting to do three takes for any given scene, Paone revealed he was having enough fun that he went as far as six — although that was definitely his limit! She added that the role of Gordon Davis, a man who orchestrates mob hits, was written entirely differently before Jackson joined the movie, but a fortuitously-timed text from Thurman gave the film an opening that was entirely unexpected.
"That role is really interesting because it was written as Herschel, a 72-year-old Jewish man. And when we were discussing the casting, Uma texted me, 'Is Sam Jackson an option?' And I was like, 'Are you kidding? Of course.' And so Jonathan and I had a day to rewrite the script before the Christmas break to get it to Sam.

I was also meeting my fiancée's family that day over Christmas, and so I basically had to go in, say hello, and while they were off doing Christmassy things, I had to take over their bedroom and rewrite the script frantically for Samuel L. Jackson to give it to before the break. It's a great problem to have."
Who Else is in 'The Kill Room'?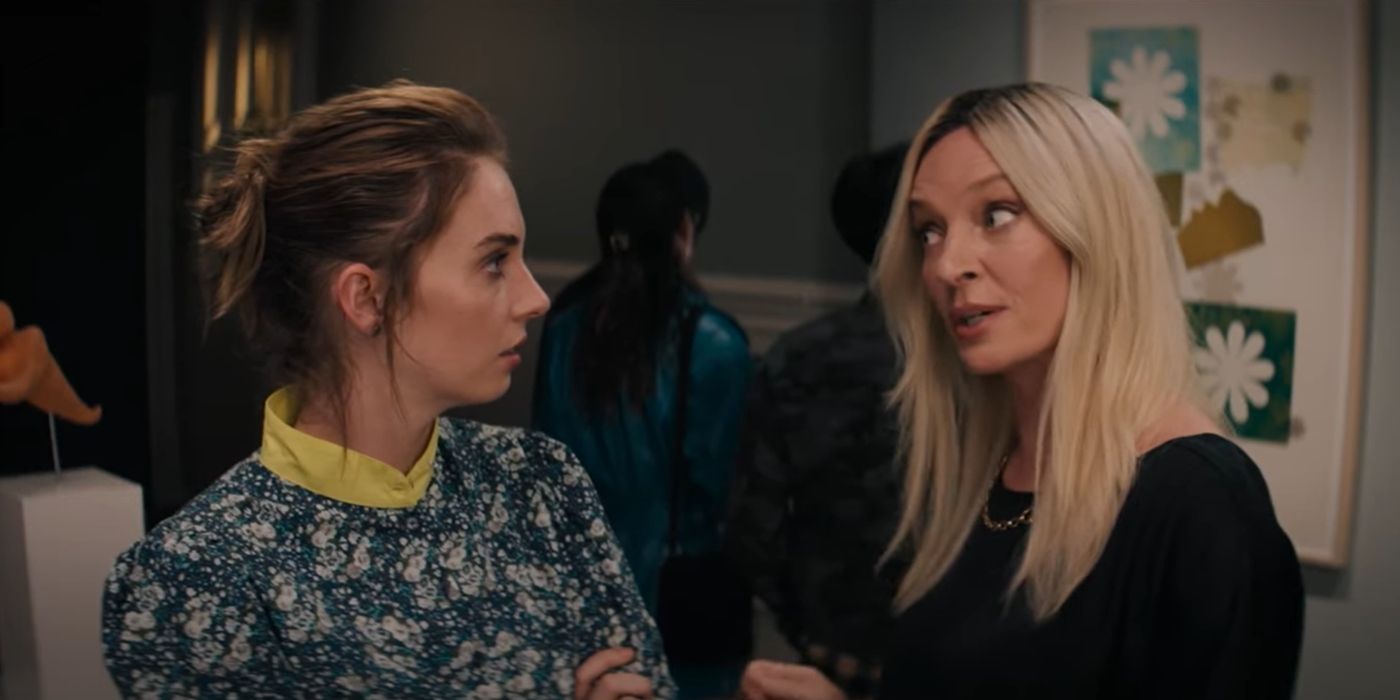 The film is notable in that it also marks the first time Thurman will share the screen with her daughter, Maya Hawke (Stranger Things). The outstanding supporting cast for the film includes the likes of Debi Mazar (Younger, Goodfellas), Dree Hemingway (The Unicorn, Starlet), Amy Keum (Honor Society, Evil), Candy Buckley (Rare Objects, Bachelorette), Larry Pine (Succession, The Royal Tenenbaums), Jennifer Kim (Mozart in the Jungle, The Bourne Legacy), Matthew Maher (Air, Captain Marvel), Tom Pecinka (The Survivalist), and Alexander Sokovikov (For All Man Kind, The Americans).
The Kill Room is currently playing in theaters nationwide.