The Big Picture
Nicol Paone's film, The Kill Room, reunites Uma Thurman and Samuel L. Jackson for the first time since Pulp Fiction – an exciting feat in itself.
Paone had Thurman in mind for the role of Patrice from the beginning, considering her perfect for the art dealer character.
Thurman's casting in the film happened because of Paone's persistence and connection with Thurman's representative, who loved the script and suggested Uma for the role.
Nicol Paone stepped behind the camera for the second time with The Kill Room and managed to do something that hasn't happened in film in nearly 30 years – reunite Uma Thurman and Samuel L. Jackson. Her dark comedy about the art world has a strong cast all the way down, including Joe Manganiello and Thurman's daughter Maya Hawke. Getting Thurman and Jackson back together for the first time since Pulp Fiction is quite the feat, however, and something that excited her, especially considering she had at least one of them in mind from the get-go.
Paone sat down for an interview with Collider's Emily Bernard where she was asked about the casting process and who signed on first. Naturally, there was a focus on Thurman as the co-lead with Jackson. Thurman plays Patrice, an art dealer who takes a walk on the dark side with a money laundering scheme involving a hitman (Manganiello) and his boss (Jackson) that inadvertently popularizes the killer as the art world's new avant-garde sensation. Patrice is left with no choice but to keep up the charade and ensure "The Bagman" keeps delivering new pieces. It was a role Paone thought Thurman was perfect for and one that, from early on, she envisioned the actress in as her dream casting.
Landing the Kill Bill star happened in part because Paone contacted the right person at the right time. After conducting re-writes with The Kill Room writer Jonathan Jacobson, she tried to get the script out there and it just so happened that one of the people she kept in touch with over that time was Thurman's representative. She explains, "As Jonathan and I, while we were working together on the rewrite, we had signed an option deal with Anne Clements of Idiot Savant Pictures and Yale Productions. When the option was up with Anne, Jonathan asked if I would produce, and I said absolutely. And then three months later, we had Uma on board." Further adding:
It was because I was hounding Danielle Thomas, who is a partner at Untitled, to read the script. I just was bothering her for about a year thinking it's right up her alley. I know she'll love it, she's an art collector, she's a big Broadway fanatic. It was her sensibility. And I was right, she loved it, and she happened to represent Uma Thurman and asked me if she could send it to Uma. But before, while I was on a walk, my partner asked me who I thought would be the ultimate Patrice, and I blurted out, 'Uma Thurman.' And then a week later Danielle Thomas calls me and she was like, 'This is Uma Thurman,' and I was floored."
Uma Thurman Is Back in the Spotlight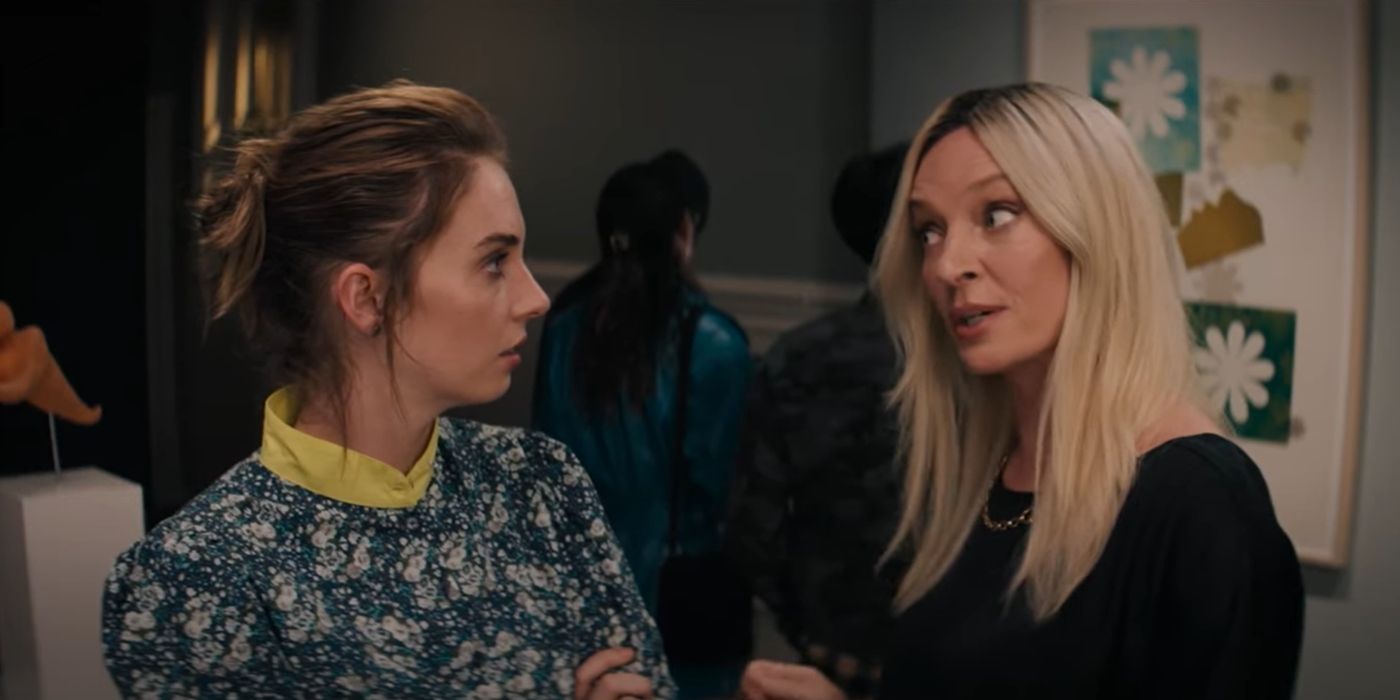 As The Kill Room heads to theaters, Thurman is still lighting up screens years after her team-up with Jackson and Quentin Tarantino. She most recently enjoyed a key role alongside Nicholas Galitzine and Taylor Zakhar Perez in the wholesome queer rom-com novel adaptation Red, White & Royal Blue from Prime Video. Her talents have also been taken to television in recent years with series like Suspicion and Super Pumped. Alongside Thurman, Jackson, Manganiello, and Hawke, the movie features a strong supporting cast which includes Debi Mazar, Dree Hemingway, Amy Keum, Candy Buckley, Larry Pine, Jennifer Kim, Matthew Maher, Tom Pecinka, and Alexander Sokovikov.
The Kill Room is in theaters now.