The Big Picture
Taylor Swift: The Eras Tour is a massive success both critically and commercially, with a worldwide debut of $130 million and positive reviews on Rotten Tomatoes.
The concert film has broken records, becoming the top-grossing concert film of all time domestically and surpassing Michael Jackson's This is It in global opening numbers.
The film is creating a global party atmosphere in theaters, with fans singing and dancing along to Swift's biggest hits and generating $13.13 million in IMAX format alone.
It makes sense that this week's Taylor Swift: The Eras Tour is doing gangbusters in overseas markets, considering just how accessible the film has made the pop-superstar's smash hit concert to audiences that perhaps didn't get the chance to watch it live. In addition to its record-breaking performance at the domestic box office, The Eras Tour did equally excellent business worldwide, as it began the first leg of its international rollout.
The movie grossed around $96 million in its opening weekend at the domestic box office, narrowly missing out on the $100 million benchmark but closely challenging the all-time October record of $96.2 million, set by Joker in 2019. The film still has a chance to break that record once actuals are reported later today. Internationally, The Eras Tour is said to have made between $31 million and $33 million in its first weekend, which takes its worldwide debut to a spectacular $130 million (on the higher end of projections). The Eras Tour will begin a second leg of international release on November 3.
Directed by Sam Wrench, the concert film gives fans front-row seats to Swift's career-defining global tour of the same name — a celebration of her many "eras" as the biggest pop-star of her generation. Distributed by AMC and Cinemark, the film's release transformed theaters across the world into mass parties, with fans of all ages singing and dancing with each other to their favorite songs. Excitement hit fever-pitch with cameo appearances by Swift and Kansas City Chiefs tight end Travis Kelce on this weekend's Saturday Night Live.
The Film Has Proven to be a Critical and Commercial Smash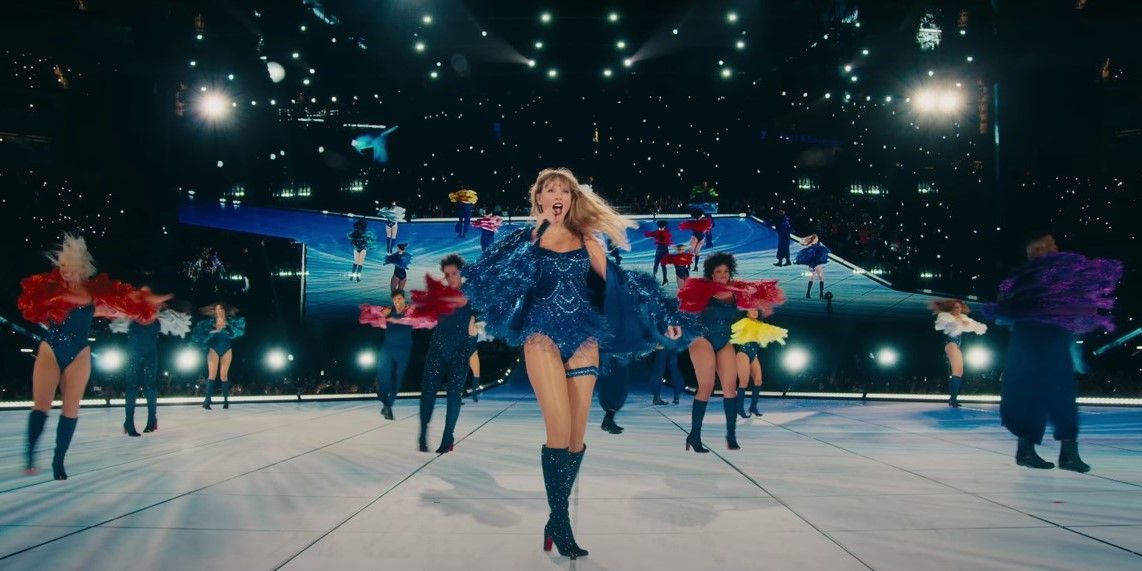 Not that it would've made an ounce of difference to Swifties, but the movie has also been something of a critical darling. The Eras Tour is currently sitting at a perfect 100% score on review aggregator Rotten Tomatoes, in addition to earning an A+ CinemaScore from opening day audiences and a rave from Collider's Ross Bonaime, who compared it favorably to the live show in his review. The Eras Tour is currently playing in 94 global territories, and is proving to be particularly successful in the IMAX format, which generated — believe it or not — $13.13 million across the opening weekend. It really is her lucky number (the movie also debuted on the 13th).
The Eras Tour delivered number one openings in the U.K. and Ireland, Mexico, Australia, Germany and the Philippines. Brazil, South Korea, India, Malaysia, Indonesia, and Turkey, among a dozen or so other territories, will get to experience its charms on November 3. Among its many other records, The Eras Tour is already the top-grossing concert film of all time domestically, overtaking Justin Bieber: Never Say Never's $99 million lifetime haul, and its global opening surpassed that of Michael Jackson's This is It from 2009. Stay tuned to Collider for more updates.