The Big Picture
Terrifier 2 set the box office ablaze last Halloween, and fans can now get excited about the upcoming release of the Terrifier steelbook collection featuring both movies in the franchise and All Hallow's Eve.
The steelbook collection includes a plethora of exciting bonuses, such as a 32-page booklet, posters, collectible photos, and more.
Terrifier has become a prominent name in the horror genre, with director Damien Leone crafting a rich lore around the character of Art the Clown.
The slasher sub-genre has been inundated with a ton of great films lately from both old and new franchises. One of the best modern slashers to come in the last decade has been the Terrifier series from director Damien Leone. Terrifier 2 set the box office ablaze last Halloween and Terrifier 3 is releasing next year. Art the Clown is on every horror fan's mind because of that. Now, ahead of Terrifier 2's re-release in November, Art's getting a new 4K/Blu-ray steelbook collection from ESC Distribution.
The collection will feature all three nightmares Art has appeared in. This includes Terrifier, Terrifier 2, and All Hallows' Eve. The release will be a four disc set with one 4K and three Blu-rays. Presumably Terrifier 2 will get a 4K and Blu-ray while Terrifier and All Hallows' Eve will just be on Blu-ray. That makes sense given the latter two have never been on 4K before. It's important to note that this is a European release meaning the Blu-rays are region locked. However, the 4K format region free.
The special features will be the same as the previous releases, but there are a ton of new bonuses to get excited about. This set includes a 32-page booklet, posters for both Terrifier films, 10 collectible photos, an Art the Clown pin, a phosphorescent magnet, postcards, a sticker, and a free month subscription to Shadowz. The steelbook itself will feature a hard slip box case with a blood-soaked Art presented on both. Lauren LaVera's Sienna is on the back cover of the steelbook in her now iconic angel warrior Halloween costume. While it's great that the mainline Terrifier films continue to get love, it's also awesome to see All Hallows' Eve included in this collection. It's an anthology style of film, but it retains Leone's signature thick atmosphere found in the later Terrifier installments and is well worth the watch.
'Terrifier' Has Become Horror Royalty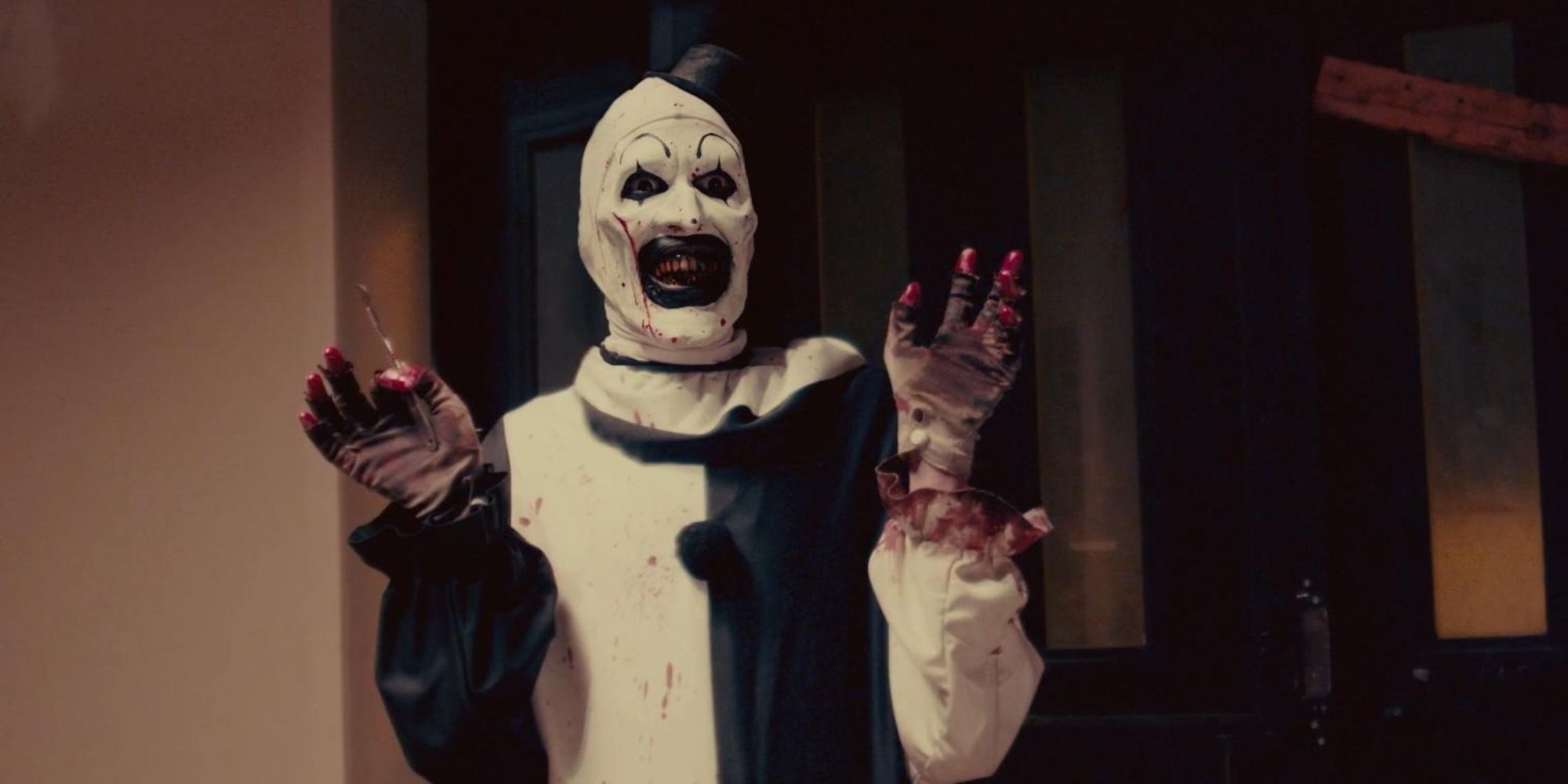 What makes the Terrifier world so special is that Leone has crafted a rich epic-feeling lore around Art the Clown. While Terrifier was a simplistic yet extremely shocking grindhouse gore-fest, Terrifier 2 applied that type of unapologetic bloody approach to a grand emotional scale reserved for bigger budgeted genre films like Nope or The Shining. Yet this indie sequel was made for only $250,000. The sequel also added one of the best final girls in history with Sienna. LaVera took what was already quite thought-provoking on the page and brought it to another level of brilliance. She has quickly become a horror community fan favorite thanks to the genre-defining role, but also because of her love and care for the horror genre itself. She's such a unique talent in the slasher space. It's going to be exciting to see how Terrifier 3 continues Sienna's story.
Terrifier 3 doesn't have a concrete release date yet, but the slasher is filming this winter with a planned late 2024 release window. Until then, Terrifier 2 is returning to theaters starting November 1, 2023. This new Terrifier steelbook collection is also releasing on October 4. However, pre-orders have since sold out. You can visit ESC's website to sign up for updates when the steelbook does come back in stock.