The Big Picture
Terrifier 2 is returning to theaters on November 1, and fans can expect a new teaser trailer for Terrifier 3 along with special surprises.
Tickets for Terrifier 2 screenings are on sale now, and the first 100 fans on opening night will receive a Terrifier 3 poster.
The upcoming rerelease of Terrifier 2 has received tremendous love and excitement, prompting the filmmakers to bring the film back to the big screen and share a sneak peek of Terrifier 3.
Art the clown gave a blood-soaked jolt of energy to the slasher genre when Terrifier 2 haunted theaters last Halloween. With it previously announced that the Damien Leone directed film would be returning to theaters starting November 1, fans have been excited to see what special surprises are coming with it. Now, thanks to Cineverse and Bloody Disgusting, we know this killer re-release will include a new teaser trailer for Terrifier 3.
Also with this scream-worthy announcement, tickets are on sale now and every screening will feature an introduction from Leone. If that wasn't enough to make any slasher fan giddy with crazed joy, the first 100 fans on opening night will receive a Terrifier 3 poster. If you want to make Art happy it's best you get to the theater early. The trailer, poster, and introduction are exclusive to this theatrical release. Leone couldn't have been more excited about the upcoming release saying:
"This year has been unlike anything we could have imagined. To see all the love Terrifier 2 has received and the excitement this release has inspired from fans new and old, is truly beyond words. As a thank you to our fans and the many people who worked tirelessly on this release, we want to bring it back to the big screen where it belongs. And more than that, while fans eagerly await the release of Terrifier 3 next year, we want the chance to share what we've been working on for the third installment because a year is just too long to wait."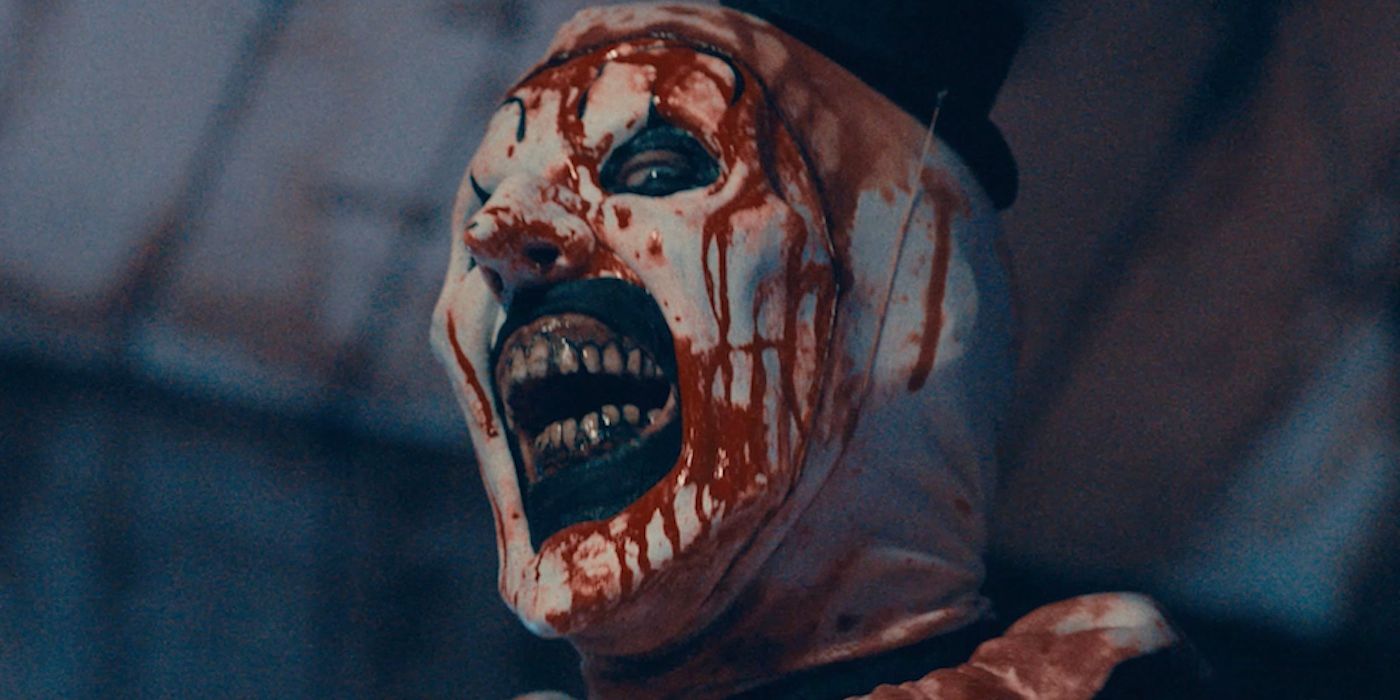 Brad Miska, Managing Director of Bloody Disgusting/Cineverse would add,"Terrifier 2's return to theaters is the perfect farewell to the Halloween season, an event that will have audiences clinging onto their barf bags once again." He would finish by teasing, "This exemplifies the pinnacle of horror cinema, an experience that etches itself into memory. Between the exclusive Terrifier 3 scene that will only be shown in theaters to the exclusive poster, this is a night you won't want to miss out on."
Art the Clown's One of a Kind
What Leone has created with the Terrifier franchise and Art the Clown is an epic mythology the likes of which the slasher genre hasn't seen before. While Terrifier was this simplest bloodbath throwback to grindhouse cinema of 70s and 80s with some of the most gruesome kills you'll ever find in horror, Terrifier 2 took that and added a brilliant balance to Art the Clown's madness with the addition of Sienna played by Lauren LaVera. Sienna has quickly become a fan favorite in the horror community takes to her complex writing, mysterious connection to Art, and LaVera's genre defining performance. Terrifier 2 taking place a year after the original and featuring almost an entirely new cast was a tall order for Leone to fill. Horror fans came for the brutal kills and they more than got that. To the point where it left some people passing out in theaters. However, the sequel out-did the original because of its heart-wrenching and tragic context it gave the original Terrifier through Sienna.
Moviegoers responded to that new approach with the film grossing $11 million at the domestic box office on only a $250,000 budget. It's going to be exciting to see how this re-release does because of that. The love for Art the Clown and Sienna has only grown in the last year. Terrifier fans didn't need an excuse to see the film in theaters again, but these Terrifier 3 goodies are sure to make them eager to take in Art's carnage on the big screen once more.
When Does 'Terrifier 3' Release?
Terrifier 3 doesn't have a concrete release date yet, but it's set to start filming this winter for a planned late 2024 release. Until then, you can buy your Terrifier 2 tickets on the film's official website, Fandango, and Atom's Tickets. The trailer can be seen down below.