The Big Picture
Terrifier 2 sparked excitement among horror fans, leading to the debut of a brand-new collection by Terror Threads that showcases the film's most brutal moments.
The collection includes shirts, hoodies, sweatpants, and posters featuring designs like the bloody showdown between Art and Sienna, and Art's most horrific kill from the sequel.
Terrifier 3 is set to start filming this winter, with a planned late 2024 debut. Footage for the third film will be shown during the re-release of Terrifier 2 starting November 1.
When it comes to slashers, no modern franchise has had a bigger impact on the genre than Terrifier. In less than a decade, Art the Clown has taken on the likes of Michael Myers and Freddy Krueger in terms of popularity. You can't go to a horror convention nowadays without seeing a few Arts running around. This is mainly due to Terrifier 2 making last Halloween a blood-soaked nightmare. With the sequel returning to theaters in November, Terror Threads is adding to the excitement by debuting their brand-new Terrifier 2 collection that highlights the slasher's most brutal moments.
The massive collection includes shirts, zip-up hoodies, sweatpants, and posters. For the t-shirts, "Work of Art" depicts the bloody showdown between Art and Sienna, "Eyes On Me" is a complete love letter to Sienna's actress Lauren LaVera, "Clown Cafe" brings back disturbing memories of the film's dream sequence, and "Bedtime Story" showcases Art's most horrific kill from the sequel.
The last unique shirt design "Head Hunter" is from Terrifier 2's shocking post credit scene that saw the lone survivor of the original film, Victoria, give birth to Art's head teasing the future events of Terrifier 3. If that's not enough Terrifier carnage for you, most of these designs come with some kind of variant. For example Clown Cafe can be bought as a poster, long sleeve or sweatpants while Work of Art has a long sleeve and sweatpants (Both also have additional glow-in-the-dark variants). Finally, Head Hunter and Eyes On Me come in a zip-up hoodie design as well.
The Love For 'Terrifier' and Art the Clown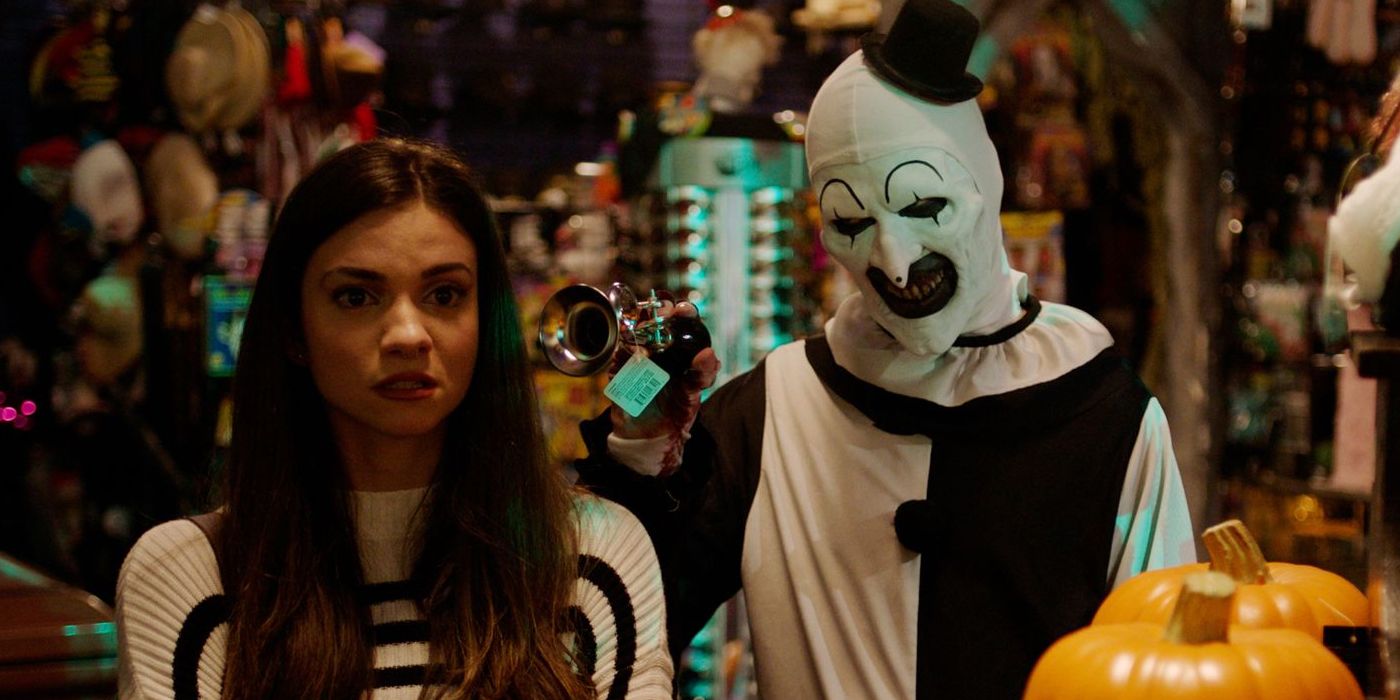 The Terrifier franchise has quickly caught the hearts of horror fans around the world because of director Damien Leone's fearless approach to the genre. The graphic kills alone are enough to swear off the public, but it's the way Leone tortures his audience with a maddeningly thick atmosphere and grand storytelling scope that has hooked hardcore horror buffs. Terrifier 2 in particular was the first of its kind acting as a slasher epic full of thematic richness and mythological undertones. Sienna, the franchise's newly minted final girl, is one of the most layered characters in the genre's recent history. LaVera has brought so much infectious life to this deadly world and, paired with Leone's writing, goes toe-to-toe with some of the genre's best final girls like Sidney Prescott and Laurie Strode.
When Does 'Terrifier 3' Release?
Terrifier 3 doesn't have a release date yet, but the third film starts filming this winter for a planned late 2024 debut. The first footage for Terrifier 3 will be shown during the Terrifier 2 theatrical re-release starting November 1. You can buy your tickets for this bloodthirsty re-release on Terrifier's official website. You can also pre-order your favorite items from Terror Threads new collection on their website. It's set to ship the week of November 4. Both the collection and Terrifier 2's trailer can be viewed down below.