The Big Picture
Taylor Swift's SAG-AFTRA-approved concert film, The Eras Tour, is set to be released in a month and is generating huge pre-sales, providing a much-needed boost for struggling cinemas.
Sony Pictures Entertainment believes The Eras Tour could potentially bring in over $200 million domestically, making it one of the highest-grossing movies of the year and providing relief for exhibitors.
The ongoing SAG-AFTRA and WGA strikes have caused a delay in film production, raising concerns that there may be a shortage of new films in theaters.
Last year, Tom Cruise appeared in an F-14 Tomcat and gave movie theaters a shot in the arm during a post-pandemic lull. Cruise hoped to do so again this year, but was trumped by "Barbenheimer". However, cinemas were facing a massive down period as a result of the ongoing SAG-AFTRA and WGA strikes, which have stopped all work on ongoing projects across the world and ensuring that, while cineplexes still have things to show now, in a short while they will run out of new projects. Enter Taylor Swift.
One of the biggest music artists in the world, on the highest grossing music tour in history, certainly has a keen grasp of timing, as her SAG-AFTRA-approved concert film, The Eras Tour, is due for release in one month, and with pre-sales for the film beating out the likes of Star Wars in one day, it's safe to say that exhibitors are Swifties for life, with the likes of Cinemark even offering entire theaters to fans for rental.
For Tony Vinciquerra, chairman and CEO of Sony Pictures Entertainment, the arrival of Miss Americana herself is a gift from above, with the executive stating he believes The Eras Tour could bring in upwards of $200 million domestic, which would easily make it one of the top grossing movies of the year. At a time of such crisis, Vinciquerra—speaking at the BofA Media Conference—admitted it was a relief for the exhibitors, for whom Sony and the rest of Hollywood would like to see stay out of trouble.
"[The Eras Tour] is a massive, unexpected rescue for the theatres. The exhibitors are our friends, there's such a symbiosis between our business and the exhibitors. It is a very big concern that in… early to mid-2024, if we don't end the strikes at some point, that there will not be a lot of films around. Once we do end the strikes, which will happen obviously, there's going to be a gold rush to get actors and producers and directors back in production."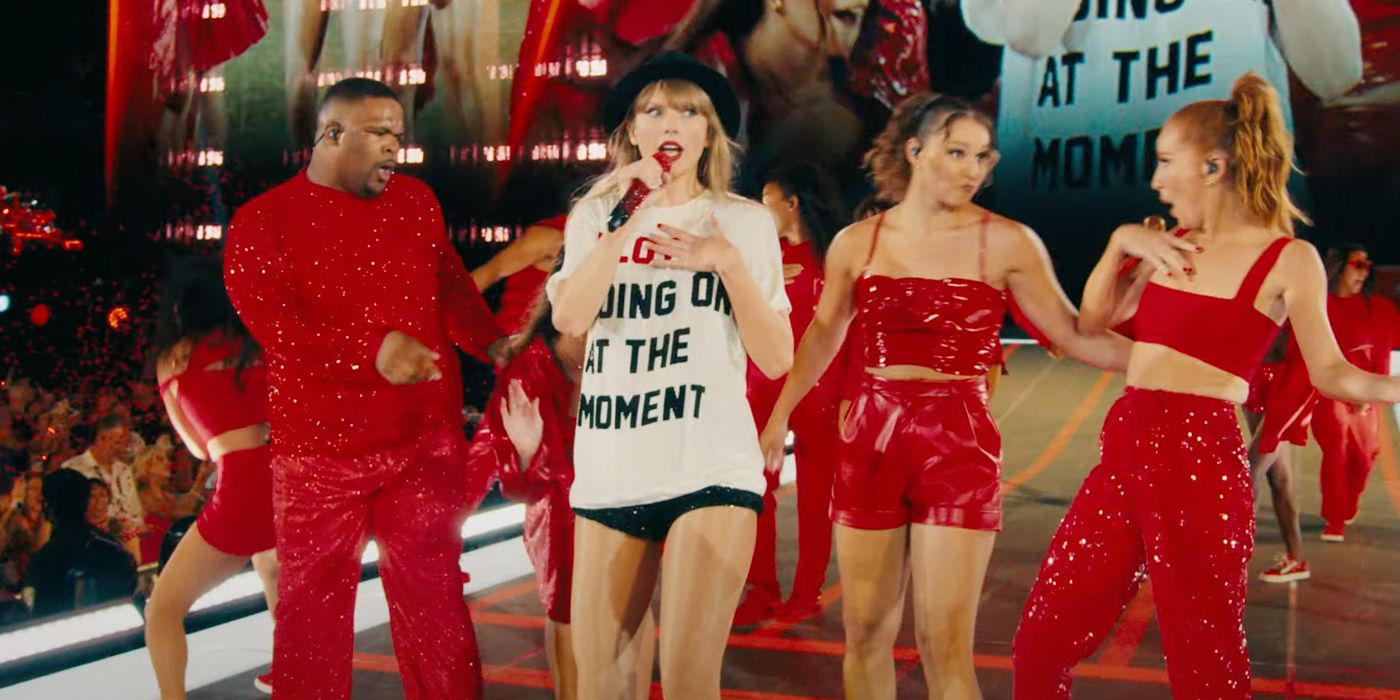 Sony Are Waiting to Get Back to Work
On the Sony slate, Vinciquerra said a number of Sony films are almost good to go, but that they require some extra fine-tuning that has been held up by the strikes, but as soon as they're ready for cinemas, they will be distributed as soon as possible.
"[Our films] just need a little more work, and once they're done, will be in theaters. And I think other…studios have the same situation. So there will be a moment in time, like early second, third quarter this year where there were a lot of films in theaters, we will probably have that again. But that's not the terrible thing. The terrible thing is not having films in the theaters."
The Eras Tour will be released on October 13. Find out how to see the film here.