The Big Picture
NECA has expanded their lineup of collectible action figures with a partnership with DC Comics, featuring classic designs of Batman's Joker and Superman inspired by Saturday morning cartoons.
Horror fans will be thrilled by NECA's addition of Lon Chaney's Ultimate Professor Edward C. Burke to their seven-inch horror line, based on the lost film London After Midnight.
The figure of Professor Burke includes various accessories and joins other silent-era terrors in NECA's Universal Monsters lineup, ensuring the legacy of the lost film lives on.
High-end collectible action figures are all the rage these days. Amazing companies like NECA have been leading that charge making figures based on an endless amount of iconic films and pop culture franchises. Now at Toy Fair 2023, the famous toy brand is bringing DC Comics into its ever-growing lineup of partnerships while also adding a lost horror legend to its seven-inch Classic Monster line.
NECA Joins the DC Universe
The first two DC figures joining the newly minted Toony Classics line are Batman's arch-rival The Joker and the most recognizable comic hero in the world, Superman. The figures aren't based on any one appearance by the characters, but rather their classic designs from the comics. Their appearances are also heavily inspired by nostalgic Saturday morning cartoons. For years NECA has had the Toony Terrors line of figures which was the horror-centric idea seeing the likes of Michael Myers, Jason Voorhees, and Freddy Krueger receive the Saturday morning treatment. Because of that, it's great to see NECA expand that line to other genres. Along with Superman and Joker, the Toony Classic line also features Pee-Wee Herman.
'London After Midnight's Legacy Lives On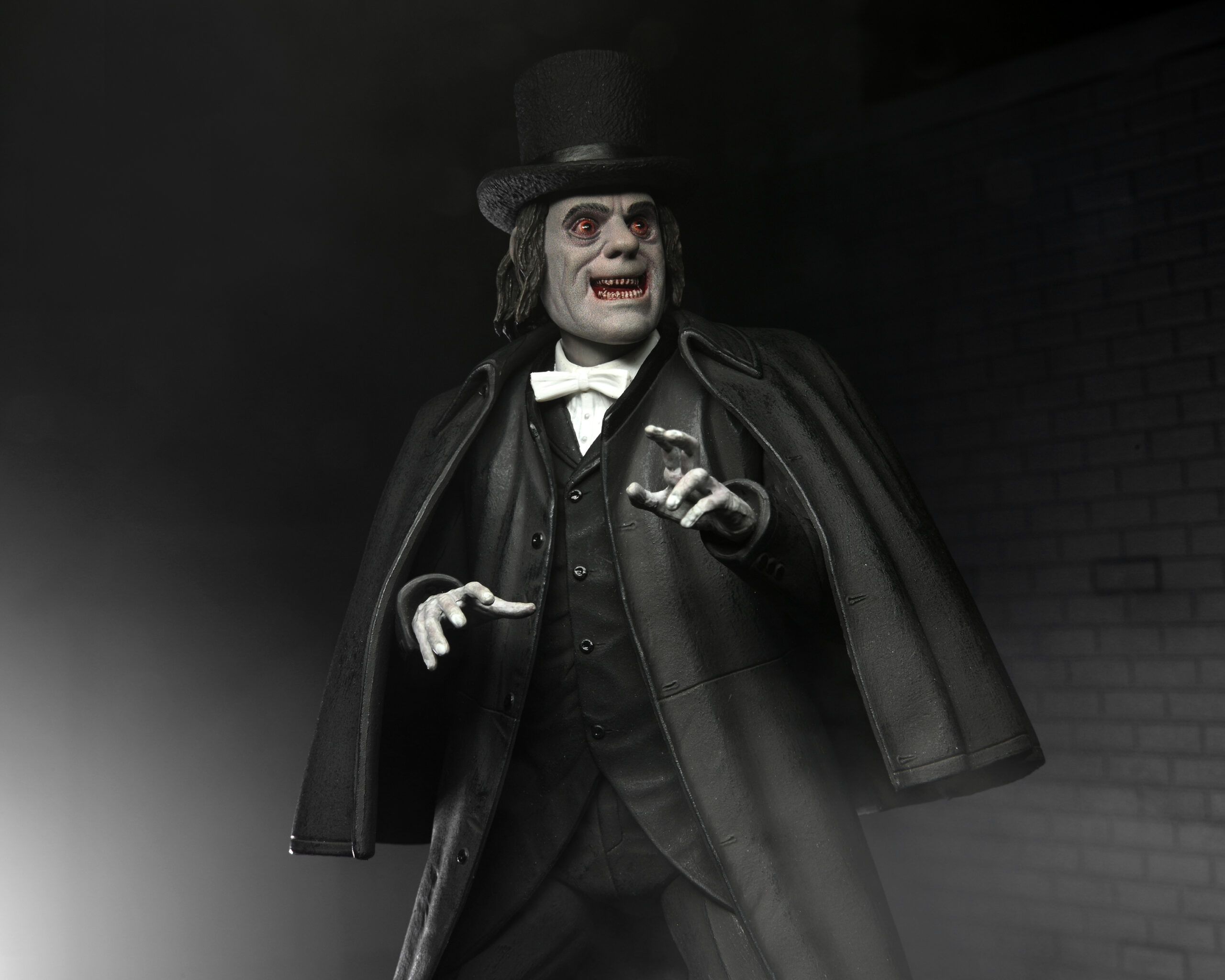 However, if you're a die-hard horror fan, NECA's new figure as a part of their seven-inch horror line is going to excite you with scream-inducing dread. The company has just announced Lon Chaney's Ultimate Professor Edward C. Burke from the 1927 silent-era film London After Midnight will be joining his fellow genre killers. While NECA has made many figures based on classic horror films before, London After Midnight is infamous for having no surviving copies left in existence. This is the rare film that few horror fanatics, if any, have seen thanks to a vault fire at MGM in 1955 taking with it the last known copy.
Typical for the time, the film was this gothic murder mystery that may or may not include vampires. Chaney, one of the first horror icons, played the dual role of Professor Burke and "The Man in the Beaver Hat." His figure comes with a lantern, removable hat, extra hands, three interchangeable heads, and an attachable winged cape. It's the perfect time for NECA to make this figure since they've spent the past few years releasing the Universal Monsters including Dracula, Frankenstein, The Invisible Man, and The Wolf Man. Professor Burke also now joins fellow silent era terrors Nosferatu and The Phantom from Phantom of the Opera in the line. Given that London After Midnight is a film literally lost to time, it's great to see NECA keeping its legacy alive through this haunting figure.
You can find more information about Joker and Superman's Toony Classic figures along with the London After Midnight figure on NECA's website. The figures can also be previewed below. The DC Toony Classics will be released in December while Professor Burke releases in February 2024.