The Big Picture
Amazon Freevee will premiere the original romantic comedy film EXmas on November 17, featuring Leighton Meester and Robbie Amell.
The film follows the story of a separated couple who are reunited during the holidays and compete for their family's affection.
EXmas is a festive and hilarious movie that showcases an eclectic and eccentric family, and is produced by BuzzFeed Studios.
It's that time of year again when you turn off your fireplace screensaver and put on some cozy, Christmas fun. Amazon Freevee is set to exclusively premiere EXmas, an original romantic comedy featuring Leighton Meester and Robbie Amell on November 17 in the United States, the United Kingdom, Germany, and Austria. Additionally, the film will be accessible on Prime Video in Canada, Australia, New Zealand, and Sub-Saharan Africa.
Meester (Gossip Girl) and Amell (Upload) play a separated couple who are reunited in the most awkward of circumstances. When Amell's Graham returns hope as a surprise for Christmas, he discovers his family already had a special guest in the form of Meester's Ali, his former fiancée. Hijinks ensue as the pair battle for the family's affection over the course of the holiday season in a battle to see which one of them gets to stay and eat the holiday ham, and which one will be kicked out in the cold.
Meester and Amell are, in classic festive shenanigans, surrounded by an eclectic and eccentric family, with cast members including Michael Hitchcock (Puppy Love) and Kathryn Greenwood (Whose Line Is It Anyway?) as Graham's parents, Dennis and Jeannie; Veronika Slowikowska (What We Do in the Shadows) as Graham's sister, Mindy; and Steven Huy (Grease: Rise of the Pink Ladies) as Graham's brother, Elliott. And even with the most ridiculous events happening, it'll be almost impossible not to spot hints of your own family in amongst the madness.
Who Else is Involved in the Making of 'EXmas'?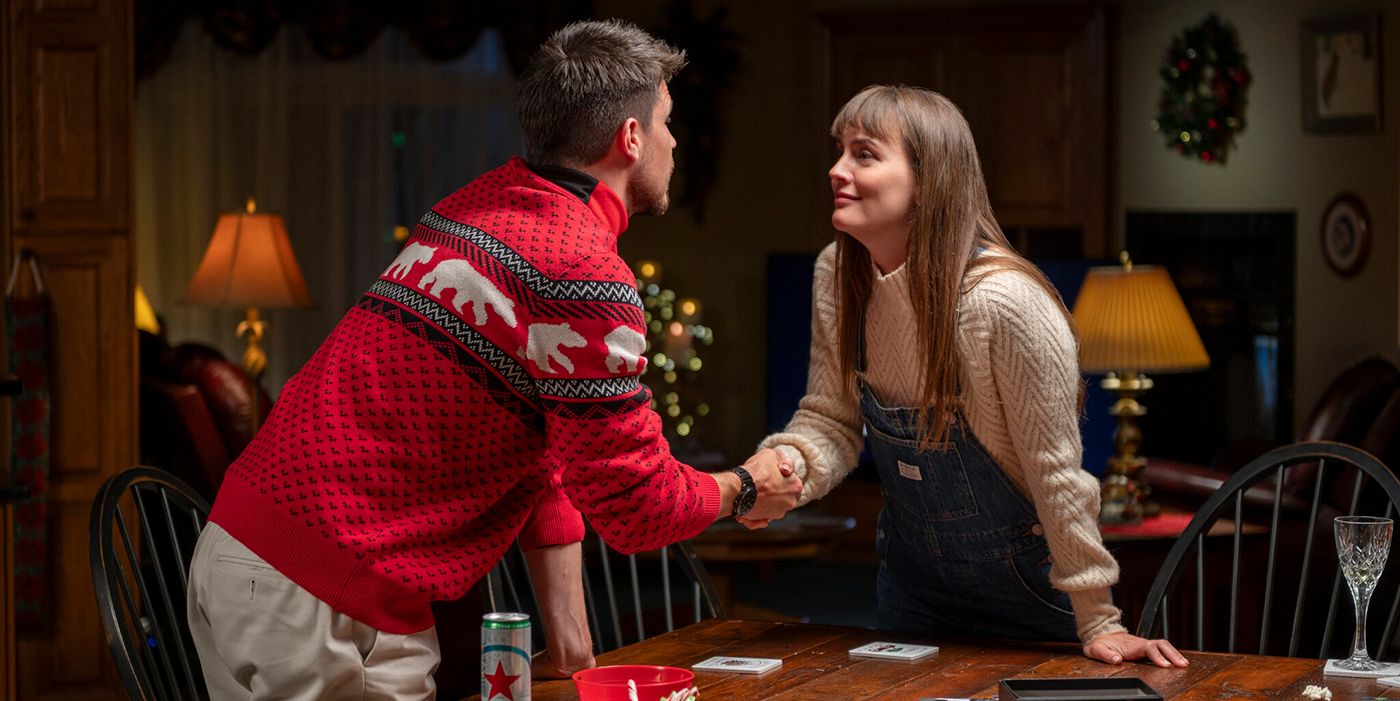 EXmas is produced by BuzzFeed Studios and is their second Freevee Original romantic comedy, following the successful release of Puppy Love this summer. Richard Alan Reid, Michael Philip, and Jason Moring serve as producers. The film is directed by Jonah Feingold and written by Dan Steele. The synopsis for the film can be found below.
Coming home for the holidays is never a dull experience, especially not for Graham (Amell) and Ali (Meester). When Graham decides to surprise his family by traveling home for Christmas, he is shocked to discover them already celebrating with an unexpected guest of honor— Ali, who also happens to be his ex-fiancée. The two exes battle it out to see who the family will pick to stay through Christmas Day, and who must go. Let the hilarious holiday chaos begin!
You can check out the first trailer for EXmas down below as you prepare the hot cocoa and light the fire for the holiday season.