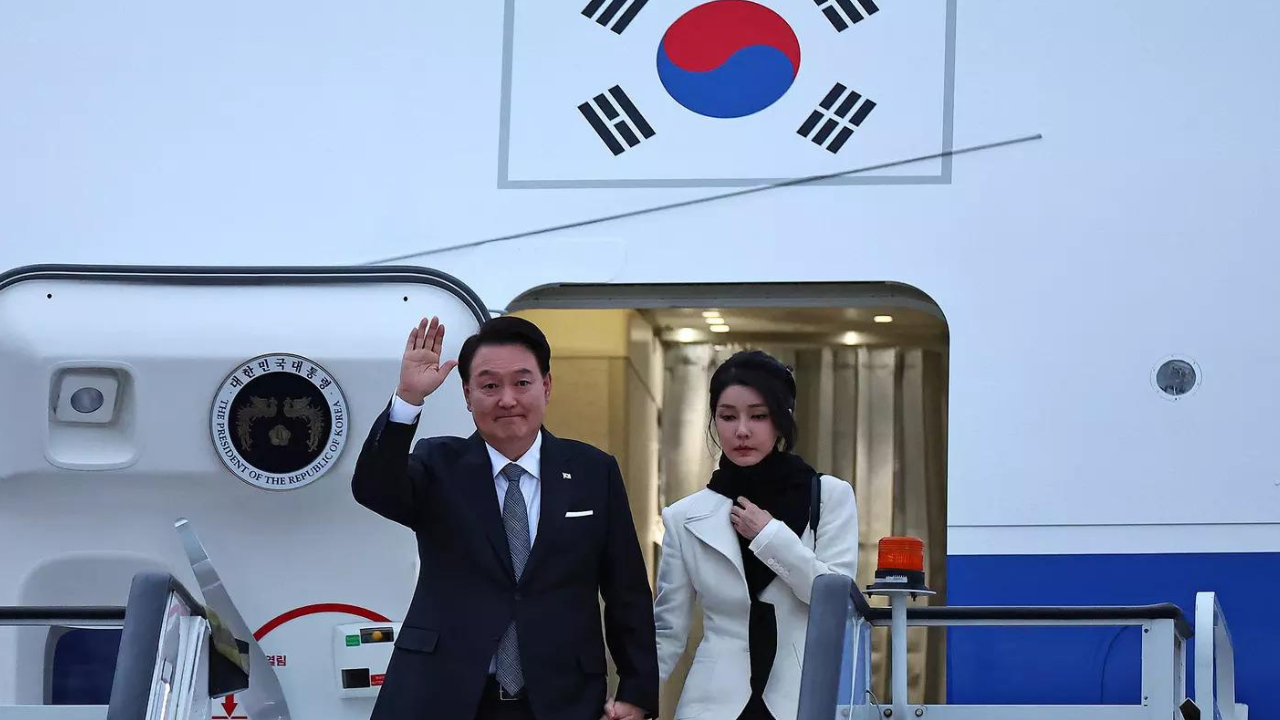 LONDON: South Korean President Yoon Suk Yeol and First Lady Kim Keon Hee kicked off a three-day state visit to the UK on Tuesday, the first hosted by King Charles III since his coronation in May.
Yoon and his wife, who landed in Britain on Monday, will receive the full red-carpet treatment during the event-packed visit, including a ceremonial welcome from Charles and Queen Camilla Tuesday.
They will have a private lunch at Buckingham Palace, before visiting Westminster Abbey — where Charles was formally crowned six months ago — and parliament, as well as attending an evening state banquet back at the palace.
The trip will also be about business, with Yoon and Prime Minister Rishi Sunak set to agree on deepening cooperation and launch negotiations on an upgraded free-trade deal.
"Trade and investment is expected to be a key focus of the visit, with… trade secretaries from both countries preparing to sign an agreement to launch the negotiations for an upgraded modern, world-leading Free Trade Agreement (FTA) on Wednesday," said Downing Street.
The UK government is keen to strike new deals with countries around the world following its departure from the European Union, particularly with fast-growing economies in the Indo-Pacific region.
– 'Springboard' –
President Yoon will address lawmakers in parliament during his stop there Tuesday, with his office saying the visit represents a "sign that London considers Seoul a key partner in global cooperation and the Indo-Pacific region".
Yoon will deliver the speech, expected to be in English, on bilateral ties between the two countries and how to boost the relationship going forward, according to South Korean media.
Charles's eldest son and heir Prince William and wife Catherine will meet the visitors earlier, joining them for an official welcoming ceremony at Horse Guards Parade in central London.
The couple will then get the full royal treatment, attending the grand state banquet at the nearby palace.
Yoon told his cabinet last week that "the upcoming visit will serve as a springboard for further deepening economic cooperation between the two countries," according to local media.
That cooperation will centre on science and technology, with South Korea aiming to expand business opportunities and high-tech industry supply chains, he added.
Major business figures including Samsung Electronics Chairman Lee Jae-yong and Hyundai Motor chief Chung Eui-sun will join Yoon on the visit.
"As two nations focused on innovation, harnessing new technologies and defending the international rules-based order, the UK and Republic of Korea are natural partners," Sunak said ahead of the visit.
– 'New opportunities' –
The UK last year launched a consultation for an enhanced free trade agreement, to upgrade the existing accord which replicates the EU's agreement with South Korea.
UK ministers are eyeing an expansion of exports in digital, business and financial services.
Total trade in goods and services between the UK and South Korea was £16.1 billion ($20.1 billion) in the year to the end of second quarter this year.
Trade Secretary Kemi Badenoch will launch the talks Wednesday with her South Korean counterpart at a UK-Korea business forum taking place alongside the state visit.
The two countries are set to announce £21 billion of investments in green energy and infrastructure projects across the UK at the forum, according to her ministry.
It noted the current trade pact between them does not include specific chapters on digital parts of their economies.
Badenoch said an enhanced deal would boost Britain's vital services sector, while also creating "new opportunities" for UK exports in food and luxury goods sectors.
Defence cooperation will also be on the agenda, with both countries pledging to step up joint training and operations "to create the most comprehensive exercise regime between the UK and any partner other than the US", Downing Street said.
Science ministers from both countries are also expected to sign a memorandum of understanding on space cooperation, it added.