The Big Picture
She Came to Me is a music-based romantic comedy starring Peter Dinklage, about an opera composer facing writer's block and an existential crisis.
Dinklage's character finds inspiration and an unwanted muse in a quirky tugboat captain, while also dealing with his son's complex romantic life.
The film, directed by Rebecca Miller, combines elements of fairy tale wonder, screwball comedy, and independent film naturalism. It will be released on October 6.
Vertical has shared the first poster for She Came to Me, the music-based romantic comedy starring the incomparable Peter Dinklage, and Collider is delighted to be partnering on the project to exclusively bring the poster to our readers first. Directed by Rebecca Miller (The Ballad of Jack and Rose, Maggie's Plan), She Came to Me focuses on opera composer Steven Lauddem (Dinklage), who is suffering from a severe case of writer's block which, combined with an impending deadline for his next piece, is facing something of an existential crisis.
Encouraged by his cleanliness-obsessed wife (Anne Hathaway) to hit the colorful and cosmopolitan streets of New York City to look for inspiration, he finds it, and even more than inspiration, in the form of a quirky and free-spirited tugboat captain (Marisa Tomei). While Lauddem has his opera, he now has an unwanted muse in his life, all the while having to contend with his own teenage son's complex romantic life on top of things. The film also stars Joanna Kulig, Brian d'Arcy James, Harlow Jane, and Evan A. Ellison.
When Can We See 'She Came to Me'?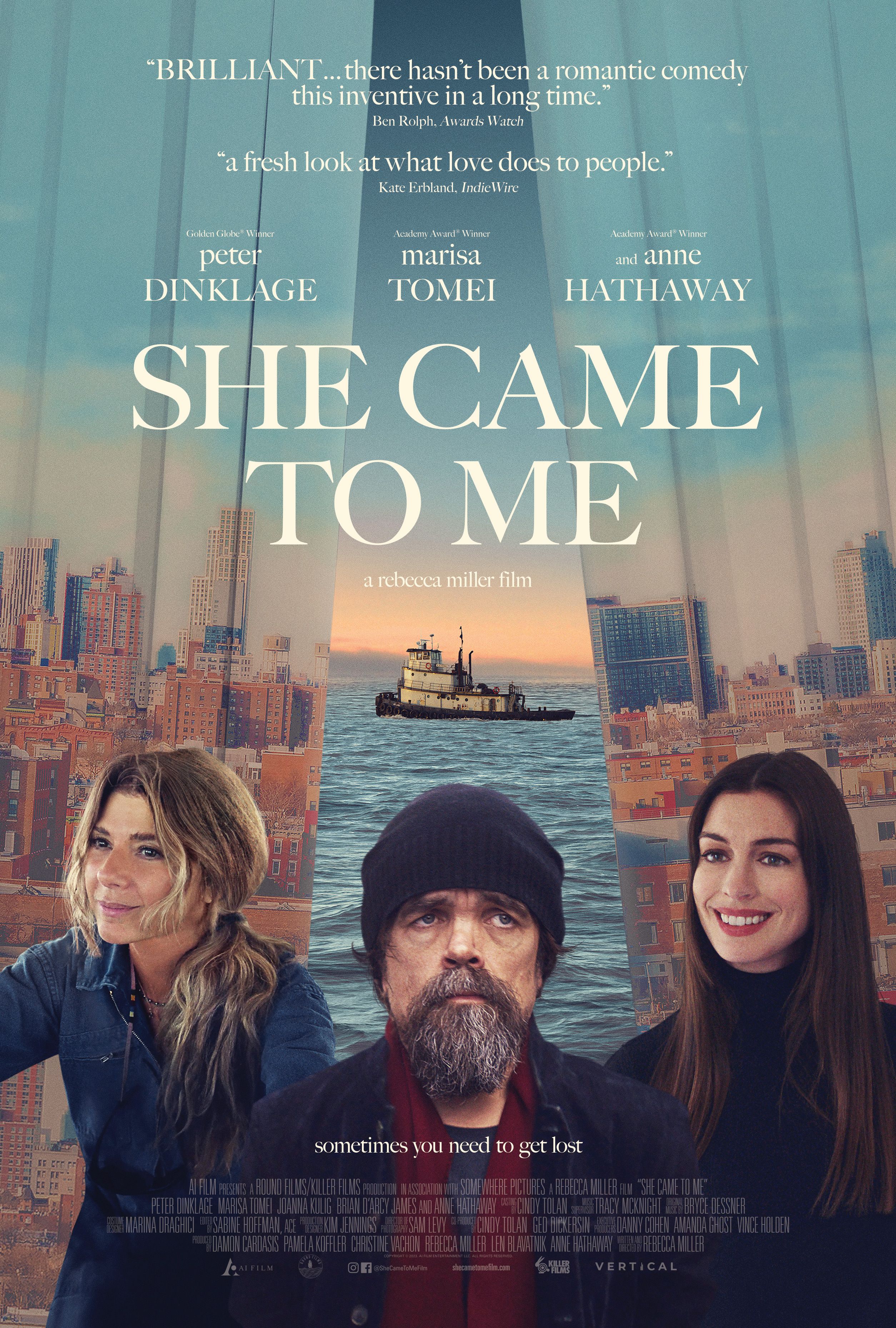 She Came to Me will be released on October 6. The film was originally scheduled to be released on September 29, before being shifted to allow the film more room to breathe with the close proximity of Killers of the Flower Moon, the new Martin Scorsese film prompting the move. Vertical also provided the synopsis for the film which you can read below, while marveling at the poster above:
The wonder and beauty of a fairy tale, the absurdist humor of a classic screwball comedy and the tough and tender naturalism of independent film converge in She Came to Me, the latest feature from writer-director Rebecca Miller. Just weeks before the deadline for his latest commission, composer Steven Lauddem (Golden Globe® winner Peter Dinklage) has lost the creative spark that brought him international acclaim.

At the urging of his ever-patient wife Patricia (Academy Award® winner Anne Hathaway), he searches for inspiration on the Brooklyn waterfront and finds it in Katrina (Academy Award winner Marisa Tomei), a thrill-seeking tugboat captain docked in Red Hook, who soon has Steven questioning everything in his life. Meanwhile, Patricia is experiencing a spiritual crisis of her own that she conceals under a mask of tranquil perfection. As Patricia and Steven wrestle separately with their doubts, their 18-year-old son Julian (Evan Ellison) embarks on a romance with 16-year-old Tereza (Harlow Jane) which threatens to derail both their futures.

Also starring Joanna Kulig and Brian d'Arcy James as the girl's disapproving parents, She Came to Me is a giddy and unforgettable portrayal of the transformational power of love.