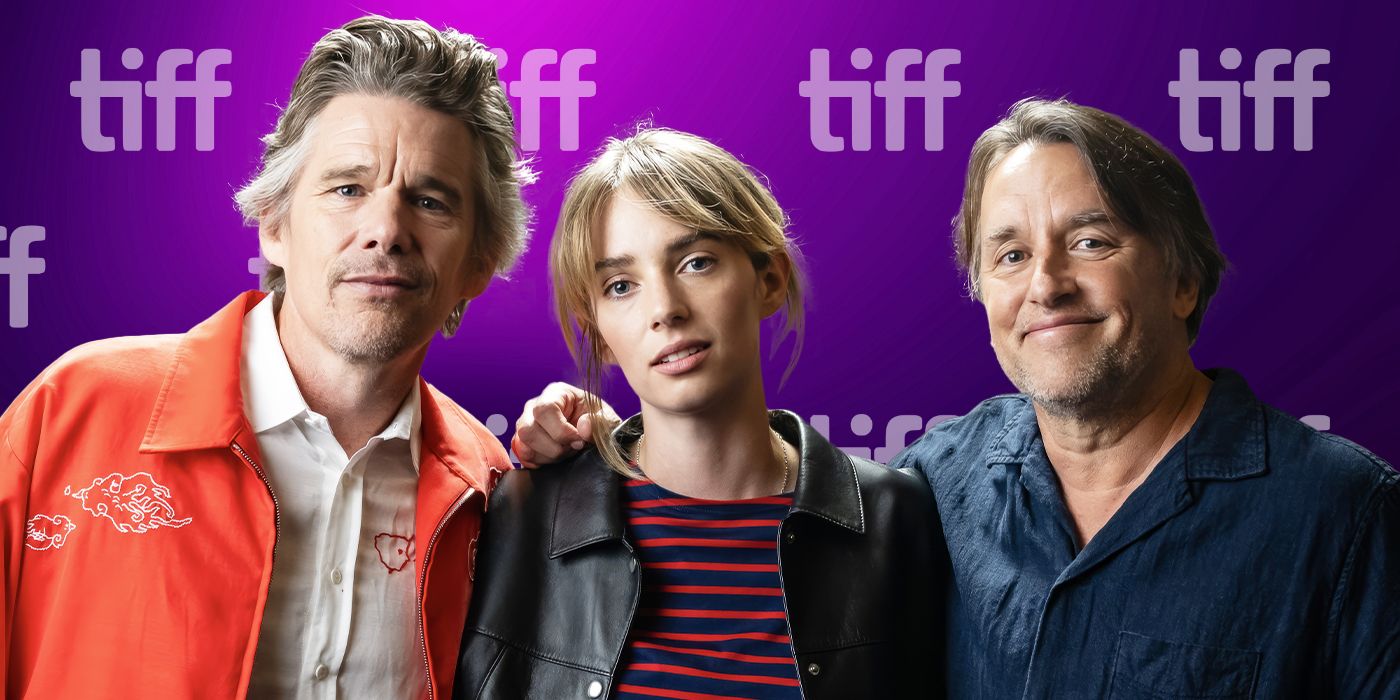 The Big Picture
TIFF 2023 showcased a wide range of talented creatives, including both newcomers and industry veterans.
Several highly-anticipated films were premiered at the festival, spanning genres such as drama, thriller, martial arts, and war.
The event was made possible by the support of various sponsors, including MARBL Toronto, Sommsation, and Moët Hennessy featuring Belvedere Vodka and Tres Generaciones Tequila.
The Toronto International Film Festival is winding down for another year and while it was a much more muted event than usual, it was still packed with excellent screenings and memories to be made for all who attended. Collider was fortunate enough to hold a media studio at the festival thanks to MARBL Toronto and Roxstar Entertainment where our interviews with the biggest stars, directors, producers, and more were recorded. As part of our presence there, Photagonist.ca's Lu Chau was on hand to snap some incredible portraits of the people behind the festival's biggest projects.
Now that the event has passed, we can exclusively share some highlights from our time at TIFF 2023 in a photo gallery. Once again, special thanks to MARBL Restaurant for hosting Collider as well as the additional sponsors Sommsation, a top wine experience brand and online shop, and Molson Coors' Blue Moon Belgian White as the beer of choice at the Cinema Center. Additionally, Moët Hennessy featuring Belvedere Vodka featured cocktails and Tres Generaciones Tequila.
'Hell of a Summer' – Abby Quinn, Fred Hechinger, Billy Bryk, and Finn Wolfhard
For the first time, Stranger Things lead Finn Wolfhard got the opportunity to step behind the camera alongside his Ghostbusters: Afterlife and When You Finish Saving the World co-star Billy Bryk for the throwback horror Hell of a Summer. The directorial duo along with stars Abby Quinn and Fred Hechinger came to the media studio to hang out with Nemiroff and talk about their slasher comedy set at a summer camp. The four, among others, play standard slasher archetypes as they try to survive when a masked killer begins terrorizing the counselors the weekend before campers arrive.
'The Dead Don't Hurt' – Viggo Mortensen, Vicky Krieps, and David Manning
Viggo Mortensen brought his second feature film The Dead Don't Hurt to TIFF and took the time to swing by the studio with his star Vicky Krieps and David Manning for some photos. The 1860s set project is also Mortensen's second appearance at TIFF as a writer/director after 2020's Falling and centers on the relationship between Vivienne Le Coudy (Krieps) and Hogan Olsen (Mortensen). The two live together until Hogan decides to leave and fight in the Civil War, forcing Vivienne to fend for herself in a deeply corrupt town.
'All the Light We Cannot See' – Shawn Levy and Anthony Doerr
One of the more high-profile series to appear at TIFF was Shawn Levy's adaptation of All the Light We Cannot See. For the Free Guy director's appearance at the festival and the Collider media studio, he brought along the Pulitzer Prize-winning novel's author Anthony Doerr for some spirited photos and an interview about the Netflix miniseries. Set during the Nazi occupation of France, it follows blind French girl Marie-Laure and her father as they flee Paris and join her uncle who broadcasts for the resistance. Her path collides with Werner, a young German forced into the Nazi army who shares her faith in humanity.
Collider's Steve Weintraub and Perri Nemiroff sat down with many extremely talented creatives both new to the industry and entrenched in it for years. One of those making their feature debut at TIFF was Niclas Larsson, director of the surprisingly starry Mother, Couch, who posed in a contemplative state for his solo portrait. His first film is a surreal adaptation of Jerker Virdborg's Mamma I Sofa and stars Ewan McGregor as one of three children who are brought together when their mother, played by Ellen Burstyn, refuses to get off of a couch at a furniture store.
'Finestkind' – Brian Helgeland and Gary Forster
Finestkind director Brian Helgeland and producer Gary Forster also showed up for a photo with Weintraub commemorating their Jenna Ortega and Tommy Lee Jones-led affair. Helgeland's thriller centers on brothers played by Toby Wallace and Ben Foster who reunite only to be forced into a deal with a Boston crime syndicate. Ortega plays a young woman who is caught in the middle of them all in the tense fishing drama.
'Unicorns' – Ben Hardy, Jason Patel, Sally El Hosaini, and James Krishna Floyd
Newcomer Jason Patel celebrated his first starring role in Unicorns with a fabulous pose upon the team's visit to the photo booth. He, along with his good friend and co-star Ben Hardy and directors Sally El Hosaini and James Krishna Floyd, sat down for an interview on their new film which promises to dive into the gaysian community with a charming and sexy love story. Patel stars as a young South Asian drag queen living a double life who sparks an unlikely connection with a single father played by Hardy after a mix-up at a nightclub.
'The Queen of My Dreams – Hamza Haq, Amrit Kaur, Nimra Bucha, and Fawzia Mirza
The Queen of My Dreams team Hamza Haq, Amrit Kaur, Nimra Bucha, and Fawzia Mirza posed together like family when they arrived at the Collider media studio. In Mirza's feature debut, Haq, Kaur, and Bucha literally are family. Kaur plays Azra, a lesbian Muslim grad student who suddenly returns to her ancestral home following the death of her father Hassan (Haq). Her return sends her on an emotional journey as she confronts her stern mother (Bucha) who expects her to conform to cultural norms.
'Daddio' – Christy Hall
Christy Hall posed side by side with Nemiroff and talked all about her new feature Daddio after its debut at TIFF. The I Am Not Okay With This creator pulled in Dakota Johnson and Sean Penn to co-star in a story set in a New York taxi cab with two characters from vastly different backgrounds. Johnson plays a thirty-something woman while Penn is an old-school sixty-year-old cab driver, but over the course of their ride to the airport, the two connect as their conversations get deeper and, in turn, riskier.
'Boy Kills World' – Moritz Mohr, Zainab Azizi, and Simon Swart
Director Moritz Mohr and producers Zainab Azizi and Simon Swart also took a seat with Nemiroff to discuss Mohr's highly-anticipated feature debut Boy Kills World. Starring Bill Skarsgård, the film is based on a concept formed by Mohr and Arend Remmers following Boy, a deaf-mute whose parents were killed by an evil dynasty in a dystopian future. After training with a mysterious shaman, he joins a resistance group and seeks his revenge against the evil matriarch in a gory, fever dream of an action film.
'Expats' – Lulu Wang
As she debuted the penultimate episode of her Prime Video series Expats starring Nicole Kidman, Lulu Wang stood proud while at the Collider media center at MARBL for her photo shoot and interview. Wang's first-ever series follows a group of expatriates established in Hong Kong by Margaret (Kidman) and her husband Clarke (Brian Tee) along with Hilary (Sarayu Blue) and her husband David (Jack Huston). Following a family tragedy, their lives are completely uprooted, and their community is shaken to its core.
'The End We Start From' – Mahalia Bello
The End We Start From helmer Mahalia Bello stopped by for a few portraits before telling all about her adaptation of Megan Hunter's bestselling novel. Jodie Comer and Joel Fry star in the prophetic picture about a couple and their infant child who are ripped from their home after an environmental catastrophe. As the young family is torn apart and the situation grows continuously more perilous, survival for herself and her baby is of the utmost importance for Comer in this feminist dystopian thriller.
'Kill' – Nikhil Nagesh Bhat, Laksh Lalwani, and Raghav Juyal
Another martial arts thriller, Kill made its world premiere at TIFF and director Nikhil Nagesh Bhat eagerly posed for group photos with his two stars Laksha Lalwani and Raghav Juyal at Collider's media studio. In the brutal film, the pair play commandos aboard a speeding passenger train to New Delhi that devolves into a bloody battleground as an army of bandits invades. Lalwani and Juyal must work fast to defeat the invaders to save the passengers and reunite with the former's star-crossed lover played by Tanya Maniktala.
'The Zone of Interest' – Christian Friedel
Although director Jonathan Glazer wasn't on hand for his latest The Zone of Interest, star Christian Friedel swung by for a few photos and a chat with Weintraub about the war drama. The winner of the Cannes Grand Prize and Palm d'Or nominee earlier this year, the WWII horror depicts Auschwitz commandant Rudolf Höss (Friedel) and his wife as they seek to build a dream home near the camp. Surrounded by the suffering they inflicted, the pair face turmoil at home as the Holocaust enters its final days.
'Close to You' – Hillary Baack, Dominic Savage, and Elliot Page
On Day 2, Nemiroff sat down with Dominic Savage and the stars of his TIFF premiere feature Close to You, Elliot Page and Hillary Baack. Page plays Sam who is heading home for his father's birthday, only it's his first time back since his transition four years ago. Dreading what awaits him with his family, he runs into an old friend in Katherine (Baack) who has her own complicated life now, but who brings up old, suppressed memories that need to be resolved.
'Flora and Son' – John Carney
Sing Street director John Carney hasn't made a film since 2016 coming-of-age musical film, but he's made it to TIFF with his latest Flora and Son. He came to the Collider media studio with arms folded ready to speak with Nemiroff about his new project which is, once again, all about music. Flora and Son tells the story of a young mother played by Eve Hewson who tries to reach her son through their shared love of music, picking up and learning the guitar through her online love interest Jeff played by Joseph Gordon-Levitt.
'Fingernails' – Christos Nikou
After breaking out with his 2020 debut feature debut Apples, director Christos Nikou brought his starry follow-up Fingernails to TIFF, snapping a few pictures with Nemiroff in the process. His new film is set in a world where love can be diagnosed by science, exploring the ramifications of such a reality. Jesse Buckley stars as Anna whose love with her husband Ryan played by The Bear breakout Jeremy Allen White is certifiably true. As she begins working at a love institute helping people train their bonds, she begins questioning whether her dreamy colleague (Riz Ahmed) is actually her perfect mate, science be damned.
'Hit Man' – Richard Linklater
Indie hitmaker Richard Linklater comfortably posed with Weintraub upon his arrival at the media studio where he came to discuss his latest Hit Man. The comedic true-crime thriller reunites him with his Everybody Wants Some!! star Glen Powell who both co-writes and stars as a philosophy professor who doubles as an undercover cop posing as the most in-demand assassin out there. He shirks protocol, however, when he hits it off with a woman who just wants to escape her abusive husband by any means necessary.
'Wildcat' – Ethan Hawke and Maya Hawke
Linklater also jumped in on the photo shoot for Wildcat to reunite with another of his favorite collaborators, Ethan Hawke who's there with his daughter and Stranger Things star Maya Hawke. The Hawkes were high energy with Ethan signing autographs and posing for the camera before sitting down to talk about their latest father-daughter collaboration. Ethan steps behind the camera while Maya stars as American author Flannery O'Connor in an exploration of her life and work. It's a film about the process of making art, showing the author as she perfects her methods and takes on deeply personal fiction.
'Bad Boy' – Ron Leshem and Hagar Ben-Asher
Another series to make its world premiere at TIFF was Bad Boy from Ron Leshem, the creator of the Israeli series Euphoria was based on, and Hagar Ben-Asher. Both joined Weintraub at the Collider media studio to discuss their new show which follows a troubled teen named Dean (Guy Menaster) whose life is turned upside down one night when he's taken away by correctional officers to a brutal juvenile detention center. Billed as "the next Euphoria" by Leshem, it sees Dean learn to navigate the center and try to survive using the skills he has.
'Dear Jassi' – Tarsem Singh
Standing tall at this year's TIFF was director Tarsem Singh who delivered his first film in eight years with Dear Jassi. He posed with Weintraub before sitting down for a discussion about his long-awaited return to directing and when he would finally get the Lee Pace-led TIFF 06 premiere The Fall into 4K. Dear Jassi is based on a harrowing real-life Romeo and Juliet tale of a young couple who are desperate to be together despite the time, distance, and familial expectations separating them.
'Sing Sing' – Clint Bentley, Paul Raci, Clarence "Divine Eye" Maclin, and Colman Domingo
The team behind Greg Kwedar's Sing Sing made some noise at this year's festival as the film wowed audiences and, per Deadline, was swiftly picked up by A24 for distribution following its premiere. Weintraub was able to sit down with writer Clint Bentley along with Paul Raci, who was donning a pro-union t-shirt, Clarence "Divine Eye" Maclin, and Colman Domingo to discuss the feature which follows a group of prison inmates who escape the reality of incarceration through staging a play. When a new member joins in, however, he inspires them to do a comedy and shows there's no limit to creativity, all the while exploring the pain they've felt inside the prison's walls.
'The Holdovers' – Alexander Payne
Academy Award winner Alexander Payne delivered his first film since 2017 with The Holdovers, and he came by the media studio for a quick photo shoot and interview for the Paul Giamatti-led feature. The film centers on the bond between Giamatti, a strict professor who revels in punishing his students, and a troublemaking student he's forced to supervise over the winter. Over time, the frostiness between them begins to thaw as they see more of themselves in each other than they ever thought possible.
'Irena's Vow' – Louise Archambault, Sophie Nélisse, and Dougray Scott
Director Louise Archambault and her two stars Sophie Nélisse and Dougray Scott posed with Nemiroff after bringing their own WWII story, Irena's Vow, to the festival. Where All the Light We Cannot See took place in France, this feature spotlights 1939 Poland and a nurse named Irena Gut (Nélisse) who's forced to work at the home of a Nazi commandant (Scott) as the German army occupies the country. She risks her life, however, to help dozens of Jewish men and women escape persecution while trying to evade the suspicion of her boss who watches her every move.
'Widow Clicquot' – Thomas Napper and Haley Bennett
Nobody seemed to have more fun taking portraits than Thomas Napper and especially Haley Bennett who struck some wild poses and took some photos with fans as they attended the premiere of Widow Clicquot. Napper directs the feature which depicts the true story of the "Grande Dame of Champagne," Barbe-Nicole Ponsardin (Bennett) as she marries and forms a timeless bond with her husband François (Tom Sturridge). Following his untimely death, she becomes Veuve (Widow) Clicquot and, despite the pressures from men wishing to strip her of her inherited vineyards, she turns them around to create one of the world's biggest champagne houses.
'Limbo' – Simon Baker
Fresh off of leading Ivan Sen's crime drama Limbo in its TIFF debut, Simon Baker stood side by side with Weintraub for photos with a wide smile on his face. The Mentalist star plays Detective Travis Hurley in the dreary title as he investigates a cold case regarding the murder of an indigenous girl. Battling his own inner demons along the way, he soon comes to grips with the harsh apathy the police and non-indigenous members of the community had for the case, yet he fights for redemption and change despite almost no evidence or community support.
'National Anthem' – Charlie Plummer and Luke Gilford
Rounding out the second day of shoots at the festival was director Luke Gilford and his National Anthem star Charlie Plummer who came to the Collider studio all smiles ahead of their chat with Nemiroff. The Looking for Alaska alum leads Gilford's debut as the soft-spoken construction worker Dylan who, at 21, is already the head of the household as his mother makes up for all the partying she lost out on. He finds a much more encouraging chosen family, however, when he takes a job with a group of queer rodeo performers who reawaken long-dormant parts of himself.
Special thanks to MARBL Restaurant for hosting Collider as well as Photagonist.ca for the portraits taken at the media studio. Additional sponsors Sommsation, a top wine experience brand and online shop, and Molson Coors' Blue Moon Belgian White as the beer of choice at the Cinema Center. Additionally, Moët Hennessy featuring Belvedere Vodka featured cocktails and Tres Generaciones Tequila.