The Big Picture
Netflix is releasing an animated adaptation of Scott Pilgrim, where the protagonist must fight Ramona's former partners to win her heart.
The animated version includes changes like Ramona working as a delivery person for Netflix during the period when physical movie rentals were common.
Scott has his own baggage as he used to date pop star Envy Adams, highlighting the need for both characters to overcome their pasts for a chance at happiness.
Netflix is getting ready to release Scott Pilgrim Takes Off, an anime adaptation of the energetic character who's simply looking for a date with the girl he likes. The streaming platform has released a new sneak peek from the series, featuring Michael Cera, Kieran Culkin, and Aubrey Plaza voicing the characters they portrayed in the 2010 live-action version of the story. In a retelling too explosive to be done in live-action, Scott Pilgrim will once again go looking for Ramona Flowers (Mary Elizabeth Winstead) after immediately falling in love with her at a party, even if he has to face her former partners to win her heart.
The clip features Scott (Cera) interrogating Julie Powers (Plaza) about the identity of Ramona, with the girl strictly forbidding the protagonist from dating her. In one of the changes that will be implemented for the animated version of the story, Ramona will get a job as a delivery person for Netflix, with the series being set during the period when the streaming platform didn't exist yet, and movie rentals had to be done physically. After hearing about what Ramona does to earn extra money, Scott immediately orders a movie, not knowing that its main star is actually Ramona's ex-boyfriend, Lucas Lee (Chris Evans).
Just like in the 2010 adaptation directed by Edgar Wright, and the graphic novel series it was based on, Scott will have to fight all the people Ramona has dated previously before he can go on a date with her. The dangerous thing about his quest is the fact that some teenagers in his universe have superpowers directly related to their personalities, making fights explosive and unpredictable, In addition to the constant showdowns, Scott needs to break things off with Knives (Ellen Wong) if he truly wishes to pursue a different relationship.
Scott Pilgrim Has an Ex of His Own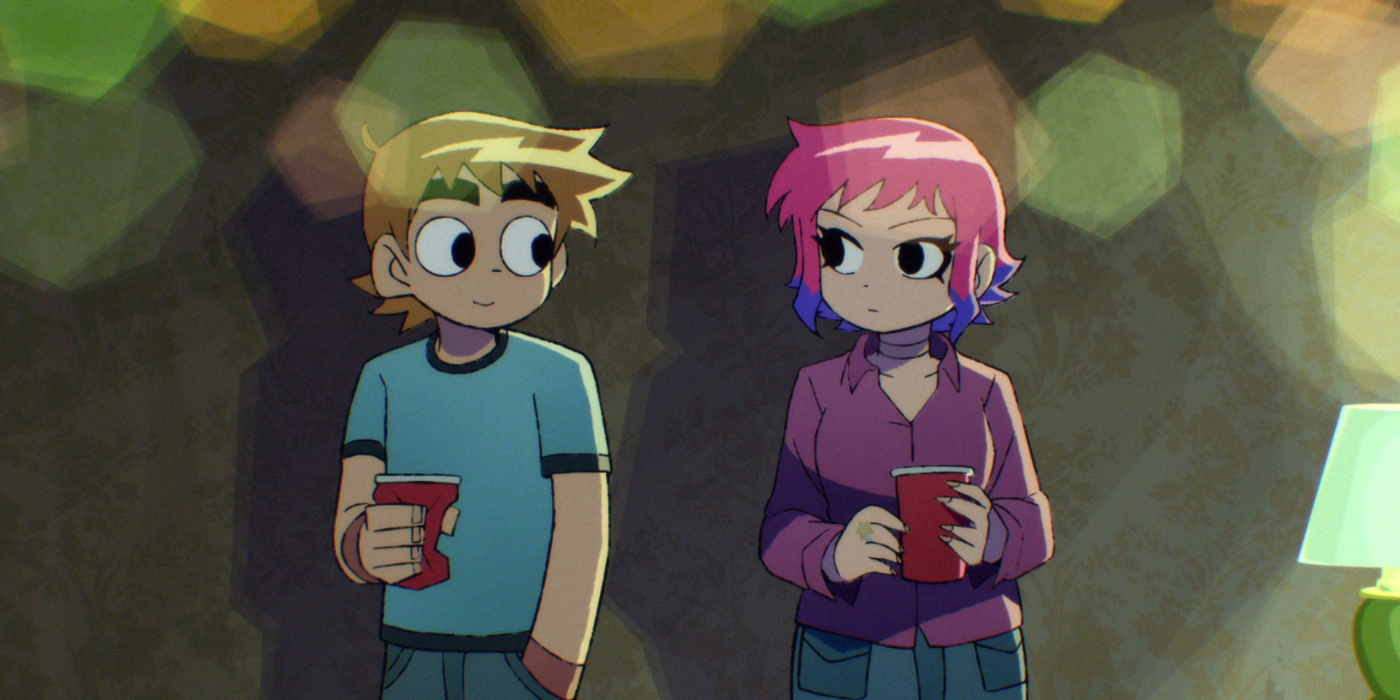 While it's true that Todd Ingram (Brandon Ruth) and Roxy Richter (Mae Whitman) are worthy opponents for Scott, Cera's protagonist still has baggage of his own. Ramona has no idea Scott used to date famous pop star Envy Adams (Brie Larson), meaning that they both need to overcome their pasts if they'd like a chance to pursue happiness together. Animation will breathe new life into the cult classic when the eight episodes of the series are released on Netflix.
You can check out the clip from Scott Pilgrim Takes Off below, before the series premieres on November 17: