The Big Picture
Saltburn, featuring Jacob Elordi and Barry Keoghan, is a highly anticipated film that promises a debauched and luxurious tale.
The latest image from Entertainment Weekly showcases the old, aristocratic opulence of the Saltburn estate, and offers a more laid-back tone.
While shock is present in the film, director Emerald Fennell emphasizes that the aim of Saltburn is to elicit a laugh-gasp reaction and make audiences question their own feelings.
As the year continues, there remain a number of highly anticipated projects that have audiences buzzing with excitement. Saltburn featuring Jacob Elordi and Barry Keoghan is among that number, and for many, ranks pretty high on the list. Ahead of its arrival in theaters on November 24, posters and teasers have been released that preview the debauched, yet quietly luxurious tale that awaits us.
Saltburn is the second film from Oscar-winning director Emerald Fennell after Promising Young Woman. The film was a bold, audacious and perverse project, and Saltburn is set to flow and thread a similar path. While many of the film's promotional material have leaned on its 'sinful' nature, the latest image from Entertainment Weekly offers a more laid back tone. The old, aristocratic opulence of the Saltburn estate is captured in this image, as is the evidence of what must have several hours of partying and nonchalance. However, sat in a chair, soaking in the sunshine and enjoying the intellectual stimulation of book is Elordi's Felix. Given that his character is part of a family that is given to exploring their darkest desires, this might be one of the few times we see Felix dignified when the movie releases.
Fennell's Saltburn is an intense tale of opulence, obsession and desire. It is centered around the aristocratic Catton family that reside on the Saltburn estate. Felix Catton (Elordi) has invited Oliver Quick (Keoghan), his Oxford classmate, to his family home for a summer unlike he had ever had. Having led a relatively normal life up till that point, Oliver quickly begins to discover that the allure of indulgence is strong here.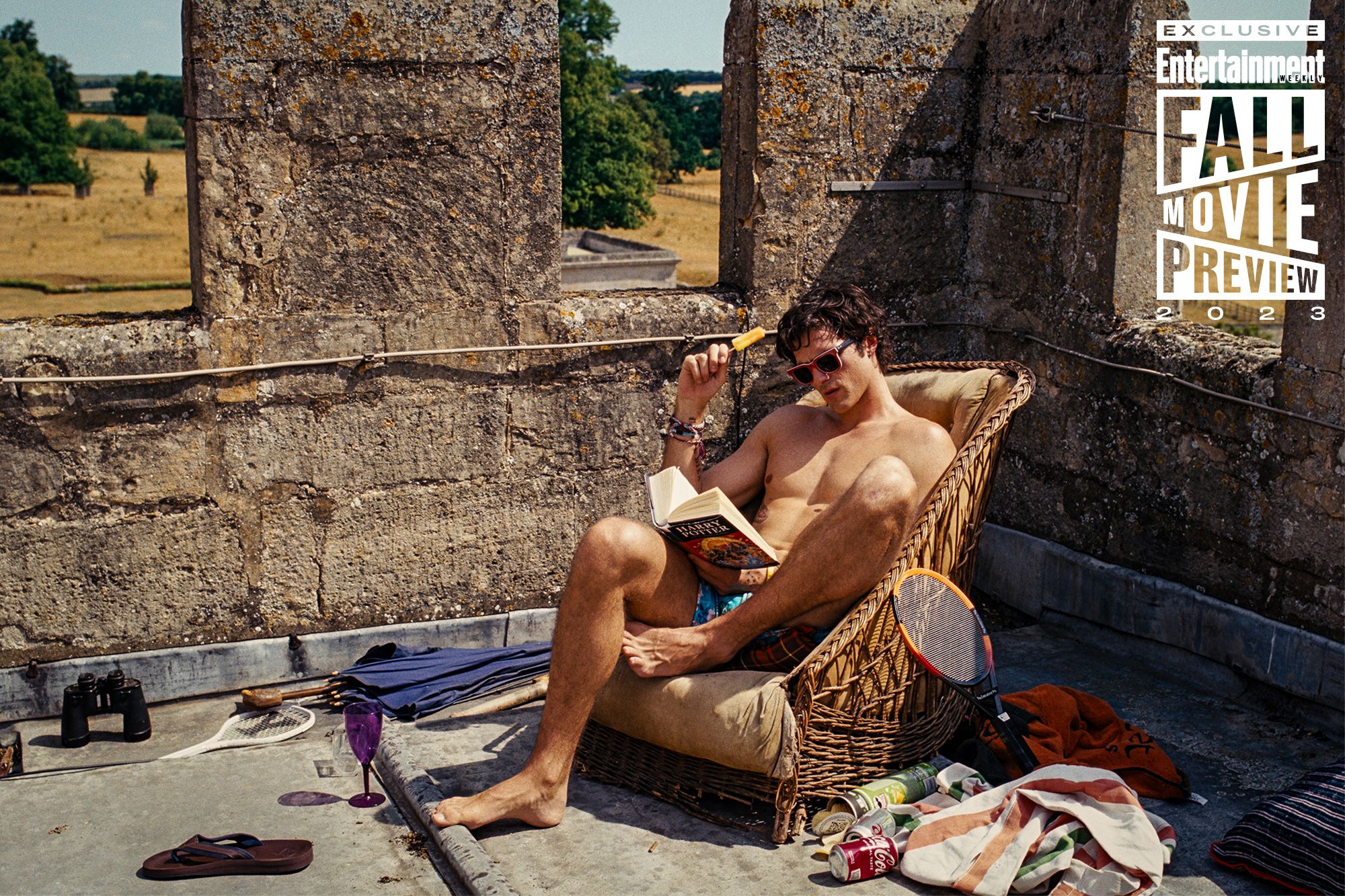 A Visceral Reaction Is Not the Aim of 'Saltburn'
Expectations are high for Saltburn, and it is guaranteed there would be scenes that will leave mouths wide open, however, while speaking to EW, Fennell pointed out that offering shock value is not the aim of Saltburn. "I think the laugh-gasp is the thing that I'm always looking for in a movie," she explains. "And I think it's also where you start to question yourself as an audience member. Those places where you're like, 'Is this sexy? Is it revolting? Do I love him? Do I hate him?' That's part of what this movie is about." Shock might not be the aim, but it is there alright as referenced in the film's R rating. No kids allowed for this one. "We want for people to just have fun, really come and have fun and get excited," Fennell says regarding the film. Adding, "We want it to get rowdy and sexy — honestly."
Saltburn is set to premiere in theaters on November 24.