The Big Picture
Tiger 3, the upcoming addition to the YRF Spy Universe has received an action-packed adventure.
Previous installments to Yash Raj Films' shared universe of spy movies include Ek Tha Tiger, Tiger Zinda Hai, War, and Pathaan.
The movie is set to release in November, coinciding with the festival of Diwali.
Completing a hat-trick for what has proven to be a very lucrative narrative trope in Hindi cinema this year, the upcoming Tiger 3 will send Salman Khan's Avinash "Tiger" Singh Rathore on a dangerous mission that will eventually help him bond with his son. Two other Bollywood blockbusters this year — Gadar 2 and Jawan — were based on a similar premise, which audiences seem to find very compelling. Tiger 3, which received a first teaser on Wednesday, would hope to continue this successful streak.
The hugely-anticipated action spectacle is a part of Yash Raj Films' ambitious shared universe of spy movies, which also includes two previous Tiger adventures — Ek Tha Tiger and Tiger Zinda Hai — the hit 2019 film War, starring Hrithik Roshan, and the recent blockbuster Pathaan, featuring Shah Rukh Khan. Salman Khan appeared for a memorable cameo in Pathaan, and SRK is expected to repay the favor in Tiger 3, which will build up to a future installment tentatively titled Tiger vs. Pathaan. The new teaser opens with Tiger in a bunker of some kind, recording a message for the public, over shots from the first two movies. Tiger says that he devoted two decades of his life to protecting his country, without asking for anything in return. "But today, I will," he says ominously, before revealing that he has been labeled a traitor, and that he will not remain silent while his son is fed lies about him.
The teaser then cuts to shots from the upcoming movie — our first real visuals of what YRF and director Maneesh Sharma have cooked up — that reveal high-stakes action. We get a glimpse of a showdown on a bridge that involves numerous armed vehicles and soldiers, in addition to shots of Tiger riding a motorbike in Istanbul, leaping off a tall building, and firing all sorts of guns at enemies and helicopters. At first glance, the movie appears to be a fun combination of the Rambo series' raw action and the slick thrills of the Mission: Impossible franchise.
The YRF Spy Universe Is Expanding in Scope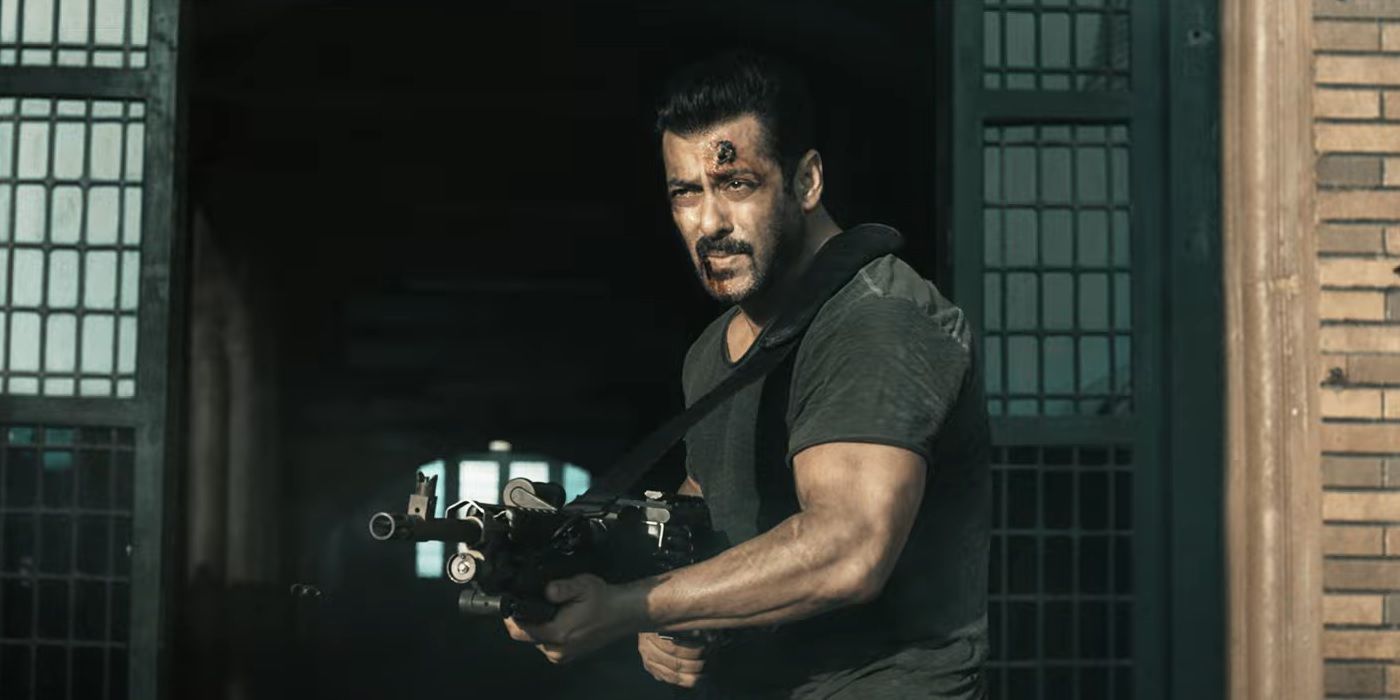 A contemporary of SRK's, Salman Khan is among the most popular Bollywood stars of his generation, and a part of a trifecta of Bollywood "Khans" that also includes Aamir Khan. The three Khans have dominated Hindi cinema for three decades. While SRK was best known as a romantic hero before transitioning to action this year, Salman Khan is best known for playing brutish strongmen in his most recent movies. The Tiger franchise began in 2012 with director Kabir Khan's Ek Tha Tiger (Once There Was a Tiger), followed by 2017's Tiger Zinda Hai (Tiger is Alive), directed by Ali Abbas Zafar. Tiger 3 also features Katrina Kaif reprising her role as the Pakistani agent Zoya, and Ashutosh Rana reprising his role as Colonel Luthra from both War and Pathaan. Emraan Hashmi is said to have been cast as the villain, although he wasn't seen in the teaser. The movie will be released in November, to coincide with the festival of Diwali.
You can watch the teaser here, and stay tuned to Collider for more updates.