The Big Picture
SAG-AFTRA encourages striking members not to dress up as characters affected by the strike this Halloween, but they are not banned from doing so.
The union suggests that members dress as "generalized" characters instead, as talks broke down last week with hopes of resolution dwindling.
A-list stars like George Clooney are offering concessions to help close the gap in actors getting paid.
While the SAG-AFTRA strike extends into the autumn season, the actors' union is gearing up for Halloween festivities. Traditionally, Halloween marks the period when celebrities flood their Instagram feeds with images of themselves donning costumes resembling characters played by fellow actors.
However, SAG-AFTRA is promoting a different approach for striking members this year – they are encouraging participants not to opt for costumes inspired by the content affected by the strike. While there are alternative costume ideas available, like dressing as animated characters instead of their live-action counterparts, that would probably go against the spirit of the strike, rather disappointingly.
To be clear, SAG-AFTRA isn't banning actors from dressing up as popular characters. If they absolutely must dress as the Joker, Iron Man or Wednesday Addams, they're free to do so — SAG-AFTRA just requests they don't take to social media to show off their costume as they may well have done in the past, which seems reasonable enough.
SAG-AFTRA Talks Broke Down Last Week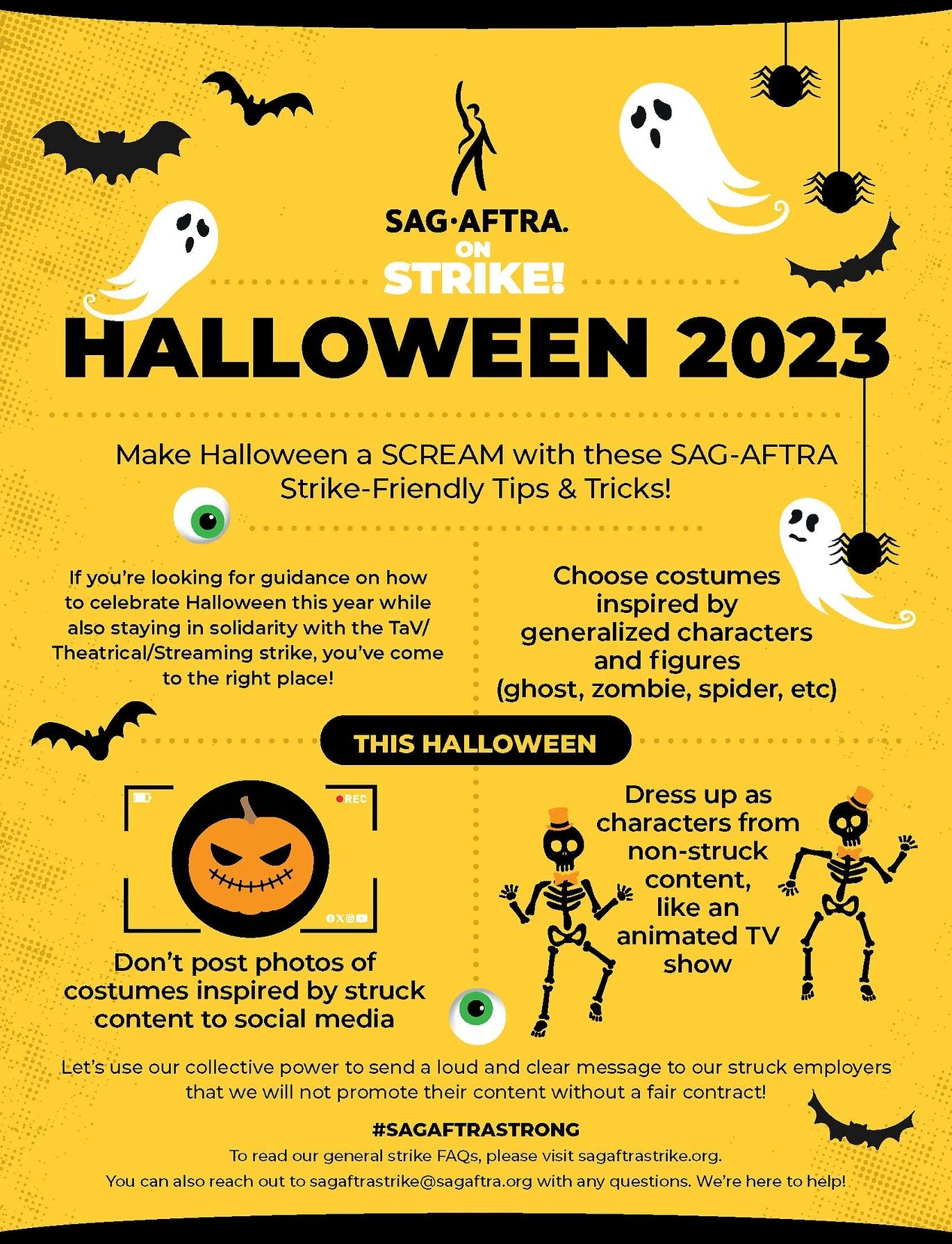 The union is encouraging members to dress as what it deems "generalized" characters, which could be zombies, the Grim Reaper, or a giant white sheet with two holes in it to represent the ghost from a 1960s episode of Scooby-Doo! Where Are You? (assuming they didn't star in it). In an ideal world, the strike will have concluded by then. However, with the news that talks broke down last week after SAG and the AMPTP butted heads over a $480 million gap in streaming residual pay, hopes are dwindling.
That said, today there were developments which saw a quorum of A-list stars offering concessions in the bid to get the ball rolling, with George Clooney telling Deadline earlier today that the higher-paid stars were keen to offer as much financial assistance as they could.
'A lot of the top earners want to be part of the solution. We've offered to remove the cap on dues, which would bring over $50 million to the union annually. Well over $150 million over the next three years. We think it's fair for us to pay more into the union. We also are suggesting a bottom-up residual structure — meaning the top of the call sheet would be the last to collect residuals, not the first. These negotiations will be ongoing, but we wanted to show that we're all in this together and find ways to help close the gap on actors getting paid."
In any case, let's hope we can get back to normal soon — complaining about how ridiculous these stars look when dressed as Batman. To find out more about the strike, check out our handy guide here.