The Big Picture
Director Richard Linklater's 1993 film Dazed and Confused has become a cult classic and is still regarded as one of the greatest films ever made.
The film's enduring popularity was evident when it began drawing crowds for midnight screenings and played for a full year as a midnighter.
Dazed and Confused featured a star-studded cast that included Matthew McConaughey, Ben Affleck, and Milla Jovovich, among others.
Director Richard Linklater has a rich catalog of films to his name, but none have had quite the staying power of his 1993 feature Dazed and Confused. One of the great stoner comedies of all time, the coming-of-age tale follows the many misadventures of teenagers in Austin, Texas on the final day of school in 1976 as they prepare to close out, or just begin, their high school careers. Between its memorable characters and scenes as well as some of the most famous quotes in cinema, the film is still considered one of the greatest to ever grace screens by audiences, critics, and other filmmakers. From the beginning of its run in theaters, however, Linklater felt it could be something special.
While speaking with Collider's Steve Weintraub at our TIFF media studio at the Cinema Center at MARBL, Linklater was asked about the moment he thought Dazed and Confused could be more than just a successful comedy. "I thought that the first time audiences were seeing it, but you don't really know," he revealed, though he admits he couldn't quite predict just how long the film's tail would be. The title would provide a breakout role for Matthew McConaughey as the oft-quoted David Wooderson and endure in theaters well beyond a traditional run. Just this year, its enduring presence in pop culture was further solidified with a 30th-anniversary screening at San Diego Comic-Con along with a themed baseball game and commemorative merch. It was when Dazed and Confused first started drawing crowds for midnight screenings, however, that Linklater started taking notice again:
"About a year later, it was still playing. Back then they still had midnight screenings, remember? And it played a full year at certain theaters, a little bit of the theatrical run for however many weeks, and then it kicked to midnight, and it played for a year as a midnighter, and they're talking about, 'People come in, and you can smell the reefer smoke in the theater. It's like a party film.' I was like, 'That's interesting.' So, I don't know. You hear things, but you've moved on to your next film by then."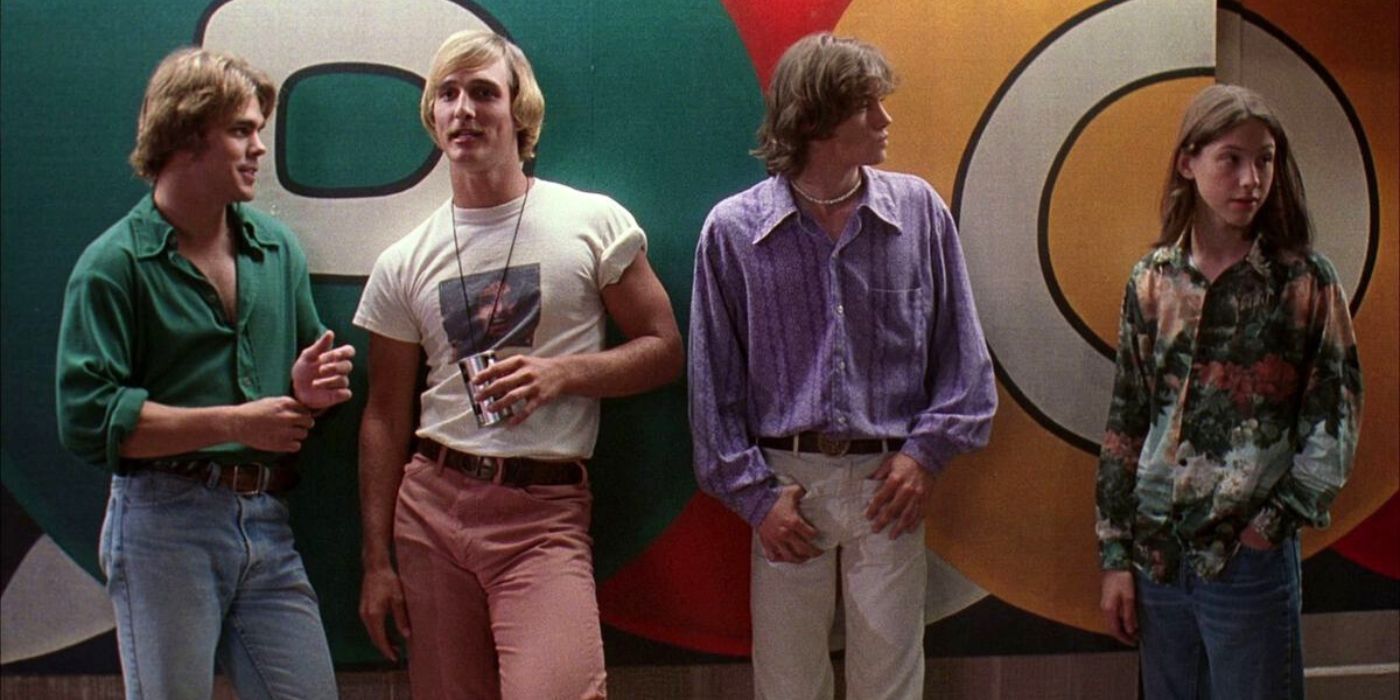 Linklater's Stoner Comedy Featured a Cast That Was "Alright Alright Alright"
Linklater has gone on to work on Academy Award-nominated films like Boyhood, Before Sunset, and After Midnight, but no matter how audiences keep getting older, Dazed and Confused stays the same masterpiece. Part of the reason is a legendary cast made up of future stars including not only McConaughey, but Ben Affleck, Milla Jovovich, Parker Posey, Joey Lauren Adams, Adam Goldberg, Rory Cochrane, Cole Hauser, and Anthony Rapp among others. Jason London also led the group as high school football star Randall "Pink" Floyd.
Linklater's latest film, the action comedy Hit Man, premiered at TIFF this year and stars Glen Powell as a cop who works undercover as Houston's most sought-after hitman and eventually decides to break protocol to help a woman trapped in an abusive relationship. It doesn't have a theatrical release date yet, but you check out our full interview with the director about the film below: