The Big Picture
Alicia Silverstone and Benicio del Toro reunite in Grant Singer's Reptile, showing their brilliant chemistry and ability to bring scenes to life.
Singer praises Silverstone and del Toro's performances, noting that their scenes together have a vitality and chemistry that can't be forced.
Silverstone is described as a true joy to work with, with Singer expressing gratitude for the opportunity to collaborate with her and del Toro.
It's been 26 years since Alicia Silverstone and Benicio del Toro worked together on Marco Brambilla's (Demolition Man) Excess Baggage. Now, years after Silverstone played the role of a wealthy heiress opposite del Toro's car thief, the pair are reuniting in Grant Singer's upcoming Netflix thriller, Reptile. In a recent interview with the filmmaker, Collider's Steve Weintraub picked his brain about what it was like working with the pair and when he knew he had magic on his hands.
"I think when Alicia [Silverstone] arrived on set, and we started all hanging out and rehearsing, I was like, 'Oh wow, this is really good,'" Singer said. "You can tell from a rehearsal if something feels alive." Reflecting on the pair's first scene reunion, the director said, "I can't remember the first scene we shot with them, but I remember when we shot that first scene, I was like, 'Oh my god, she's brilliant.' And the two of them – he's so comfortable with her, she's comfortable with [him]." Even almost three decades later, the duo slipped back into their friendship with Singer adding, "They bring out the best in each other."
Working with two true masters of the craft, Singer had high praise for Silverstone and del Toro's performances and chemistry, saying:
"Whenever they were on screen together, I almost felt like I could sit back a little bit because I knew that I was in the presence of two wonderful actors who were gonna do so much heavy lifting. The two of them together, their scenes are alive. There's a vitality when they're on screen together, and a chemistry that you can't force."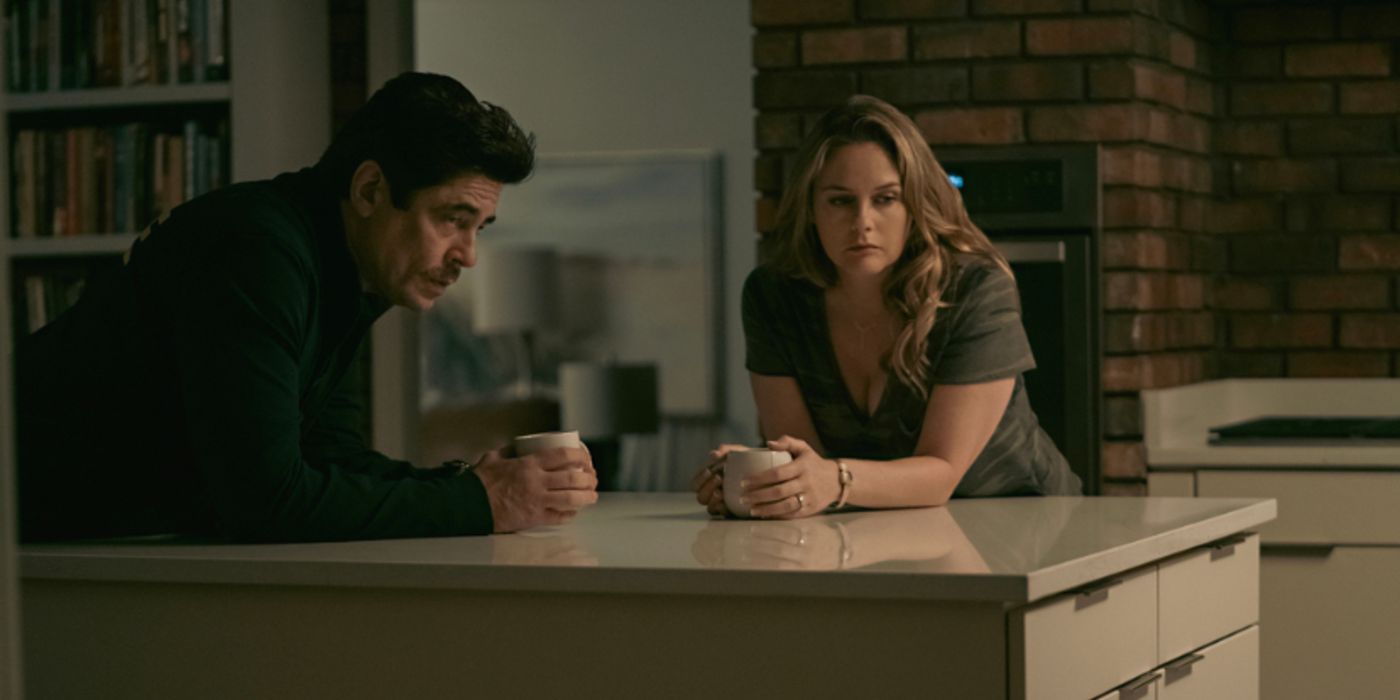 Grant Singer Is Grateful to Have Worked With Alicia Silverstone
Whether you're a fan of Silverstone from her timeless role in Clueless, or in another project like Joel Schumacher's cult-classic Batman & Robin, Jim Field Smith's Butter, Yorgos Lanthimos's The Killing of a Sacred Deer, or any of the other titles she's graced with her presence, you'll be happy to hear that she's a delight to work with. Singer reported, "She's a true joy to work with as an actor. Everyone feels that way who works with her, certainly with Benicio [del Toro], too… So I'm very, very, very grateful to have worked with her."
In Reptile, Silverstone stars opposite del Toro as his wife. The leading detective on a murder case, del Toro's complicated character is not only trying to dig up the truth behind a brutal killing but also gain a better understanding of his own psyche. The film also stars Justin Timberlake, Ato Essandoh, and Michael Pitt.
Reptile premieres at TIFF on September 7 and arrives on Netflix on October 6. Look for more from our excluisve interview with Singer soon.