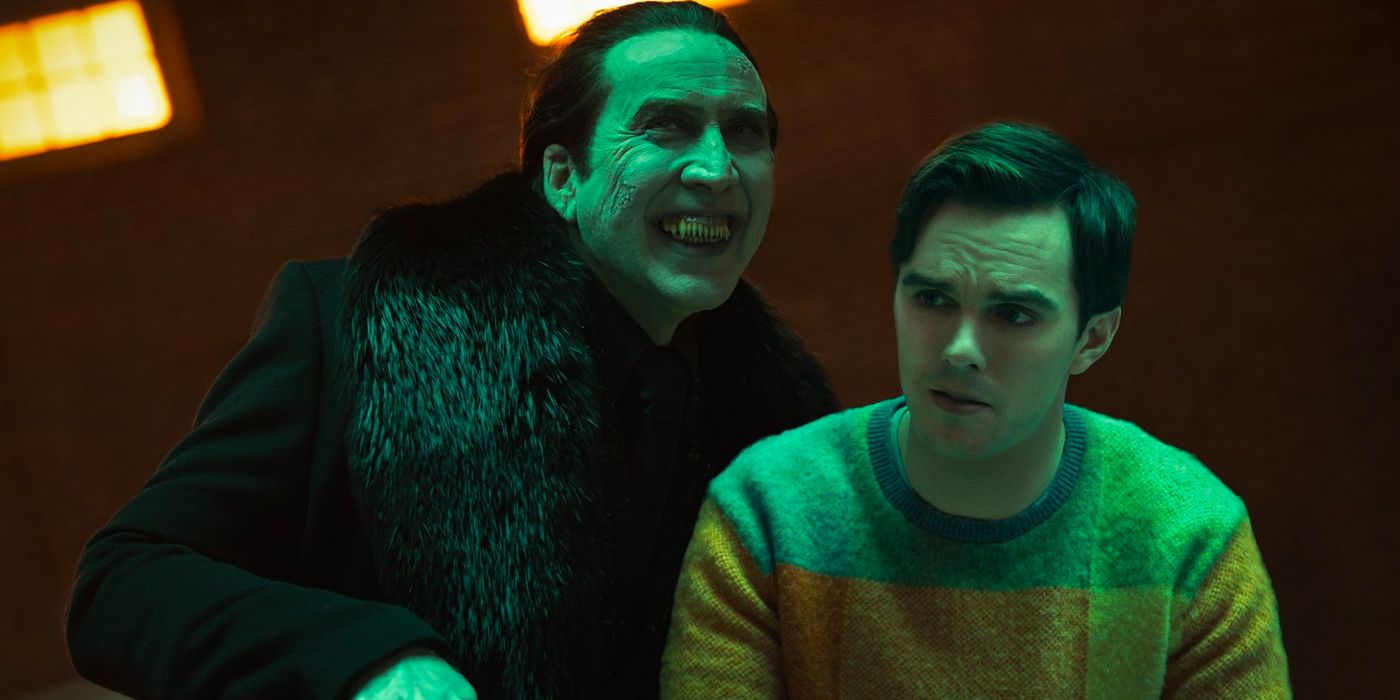 The Big Picture
Renfield, the horror comedy film directed by Chris McKay, gained a bloodthirsty cult following despite underperforming at the box office.
The movie is now being released in 4K with a gothic new steelbook by Turbine Media, featuring the same special features as the previous release, but this time in 4K format.
Renfield's unique portrayal of Dracula and his manservant serves as an allegory for toxic relationships, along with its mix of comedy and horror, making it worth watching for fans of Universal monster movies.
2023 has been another jam packed year for the horror genre. So much so that some bloody delights got lost in the theatrical shuffle. Sadly one of those films was Renfield from director Chris McKay. The Universal Dracula, which feature stars Nicholas Hoult as the title manservant and Nicolas Cage as the famed Prince of Darkness, took a stake to the heart at the box office when it released this past April. However, that hasn't stopped the monster horror comedy from gaining a bloodthirsty cult following and now, thanks to Turbine Media, Renfield's coming to 4K with a gothic new steelbook.
The 4K/Blu-ray combo pack comes with the same special features as the previous physical media release, but this is the first time the film is coming to the 4K format. The release also comes with a hard slipcover case that features the moody theatrical poster artwork of Cage's Dracula hovering over Hoult's Renfield. The steelbook itself has the character posters of Dracula and Renfield on each side of it, beautifully highlighting the fun marketing material that accompanied this wacky monster movie. This is a German release so the Blu-ray is region locked, but the 4K is region free. There are no signs of Renfield getting a 4K in the US and, at least for now, so this is a physical media collector's best option.
Dracula Defines Toxic Relationships
The unique hook of Renfield was that it used Dracula and his wimpy manservant as an allegory for toxic relationships. That both added to the story's comedy and somber tragedy. One minute this film will make you laugh your fangs out of your mouth only for the next moment to possess you to drop your jaw in delightful horror as the hard-R blood-soaked nature takes over. At the center of that is Cage and Hoult's irresistible chemistry. Cage, in particular, was born to play Dracula and, being a Universal film, they were able to reenact the classic Bela Lugosi moments with the beloved actor.
Renfield's a love letter to Universal monster movies, a hilarious rom-com, a splatter-fest that will make any gore-lover happy, and a meaningful story about finding the strength to be an independent human being in a world full of monsters. It doesn't try to reinvent the vampire wheel, but Renfield knows exactly what it was and plays to its gleefully zany strengths. That's why it deserves to be watched by a larger audience. At the moment, there's no concrete release date for Renfield's 4K steelbook yet, but we should expect it to release by the end of the year or in early 2024. Until then, you can pre-order the steelbook on Turbine's website. Renfield's also currently streaming on Peacock.
=