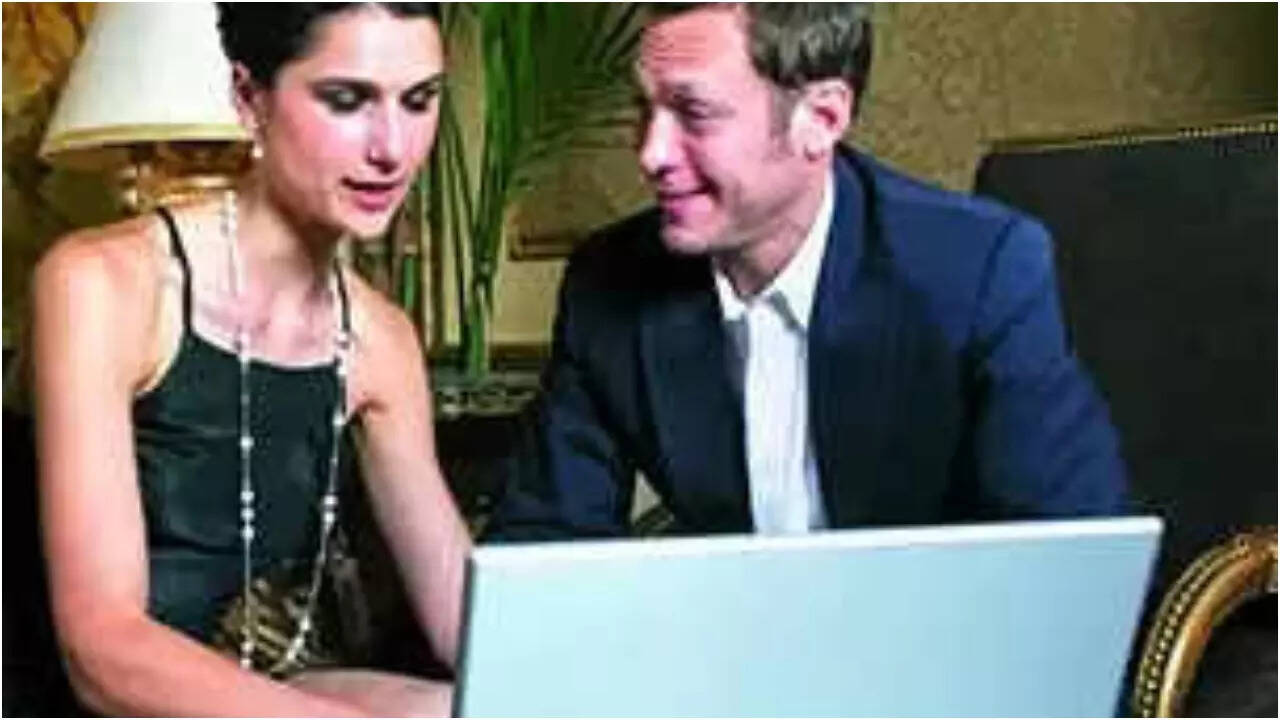 A growing number of wedding guests are bringing a new kind of plus-one to the festivities: their remote jobs.
When Anna Sullivan, a 25-year-old who works in digital marketing, and Taylor Brandenberger, a 26-year-old home inspector, got married last month in East Lansing, Michigan, 10 of the bride's friends started the wedding weekend a few days early.They rented anAirbnb where they could work remotely during the day and then got together for dinner and hangouts in the evening — all without taking any time off.
Many of the guests even stayed through Monday, flying home in the evening after they had logged off.
"The wedding day goes by in a blur," said the bride, who has since changed her last name to Brandenberger. "Having the extra time with people was so valuable, especially waking up late Sunday and knowing they were still there."
Since the height of the pandemic, remote work has dramatically changed both offices and those who work in them. After initially being forced to work from home, many employees now enjoy all-remote or hybrid schedules. According to the Pew Research Center, one-third of U.S. workers currently have some freedom to work remotely, even if it is just one or two days a week.
Wedding guests who are lucky enough to have those hybrid schedules are increasingly using them to spend a few more days wherever the celebration takes them, and hotels, wedding planners and couples are taking note and making changes.
Anna Brandenberger's mother, who lives four hours away and works remotely in billing for a trading company in Chicago, came a week before the wedding.
"She'd work during the day and we'd get together at night to make flower arrangements and bake together for the wedding," Brandenberger said. "It was such a big stress relief to have her nearby."
Attendance may even hinge on the possibility of remote work. The Brandenbergers planned their ceremony and reception on a Friday night to save money on renting the space. That meant some guests from out of town who had to be physically at work that day and couldn't take time off weren't able to attend, Anna Brandenberger said.
Some couples choose to make a weekend destination out of their ceremony. Such weddings have long been a boon to hotels and resorts, many of which also added workspaces and upgraded their Wi-Fi to cater to remote workers during the pandemic. Now the two trends are converging.
At Camptown, a 50-room hotel that opened this year in Leeds, New York, at the foot of the Catskill Mountains, wedding-related stays have been getting longer, said Stephen Wendell, CEO of Mountain Shore Properties, which owns the hotel. When guests realize they can work from the lodge, which offers high-speed internet, workspaces and a pantry of snacks available to buy on the honor system, he said, "they start thinking about relaxing and getting into wedding mode and extending their bookings."
Currently, about 20% of wedding guests arrive at Camptown from Tuesday to Thursday for a weekend ceremony, with Wednesdays experiencing the largest growth, Wendell said. "You see people at the pool with laptops, taking calls on the nature paths."
The Kimpton Armory, a boutique hotel in downtown Bozeman, Montana, also has experienced an uptick in midweek wedding guest check-ins, according to Courtney Reeves, director of sales and marketing at the hotel. To accommodate those and other guests hoping to do some office work during their stay, the hotel has upgraded its free Wi-Fi, boosted coverage on the roof deck, added free printing services and opened up its meeting rooms, when they aren't booked, for people who want to drop in with a laptop for a while.
Michael Bruno, owner of Valley Rock Inn, in Sloatsburg, New York, said one-quarter of wedding-related stays in the last year extended two to three days beyond the weekend, an increase compared with pre-pandemic times. Guests who stay extra days can take advantage of guided hikes and bike rides, yoga and spin classes. Remote-work capabilities include free high-speed internet throughout the property, so guests can work indoors or outdoors, and meeting rooms are equipped with large screens and whiteboards. Copying and printing are available as well.
The growth of extended-stay wedding guests happened naturally, said Wendell, of Camptown, but looking toward the 2024 wedding season, he said, "We are marketing to that group." When wedding inquiries come in now, planners highlight the appeal of the property's remote-work capabilities and longer stays.
"The area is very much a weekend destination," he said, so filling midweek rooms really helps the business.
Sometimes an unexpectedly large group of remote-working early birds causes a last-minute change of plans.
Ben Cole, 35, who works at a financial startup, and Max Alderman, 34, a law clerk, didn't expect that half of their 100 wedding guests would arrive days before their Sunday wedding last summer in Portland, Oregon.
"We thought we'd have a handful of people show up on Thursday," Cole said, and the couple had planned a few light activities for them. But so many extra guests with remote-work-friendly jobs wanted to join in that the grooms had to turn to their wedding planner to find options that would work for large groups and then ask guests to help manage each outing.