The Big Picture
R.L. Stine's latest adaptation, Zombie Town, brings the horror author back to his YA roots and features a cast of genre legends, including Dan Aykroyd and Henry Czerny.
The film, based on Stine's best-selling 2012 book, brings the undead to life in a small town, with only two characters, Mike and Amy, able to stop them.
The movie promises a fun horror comedy adventure with a PG-13 rating that offers a more adult bite than Stine's previous works, without going as far as his Fear Street slasher franchise.
September is going to be another exciting month for horror. With The Nun II and Saw X, the genre is ensuring that 2023 remains a healthy franchise year. However, there's one huge horror brand that's returning to the big screen this weekend and his name is R.L. Stine. The famous horror author's latest adaptation Zombie Town brings Stine back to his killer YA roots with the film's newest clip teasing a cast full of genre legends.
Exclusively released by Bloody Disgusting, the clip mainly focuses on Dan Aykroyd who returns to the world of horror for the first time since 2021's Ghostbusters: Afterlife entering a theater and presumably, the film. Kids are seen bowing down to Aykroyd's Len Craver who's a famous filmmaker. Henry Czerny's character is even geeking out over his arrival. However, Craver seems a little spooked as he's carrying his new film under his arm like he'd just seen a ghost. If you'd read Stine's 2012 best-selling book of the same name you'd know his fear is very real. Craver's new film Zombie Town brings the undead to life, praying on this small town, and the only ones who can stop it are Mike (Marlon Kazadi) and his best friend Amy (Madi Monroe).
The other big cast member of this ghoulishly fun frightfest is Chevy Chase. The iconic comedic actor started on Saturday Night Live with Aykroyd and, although he's best known for classic comedies like Vacation, Chase has dabbled in horror in the past with the John Carpenter's film Memoirs of an Invisible Man. Chase returns to horror alongside genre legends like Aykroyd and Czerny, the latter of which is best known in the modern lens for Ready or Not and Scream VI.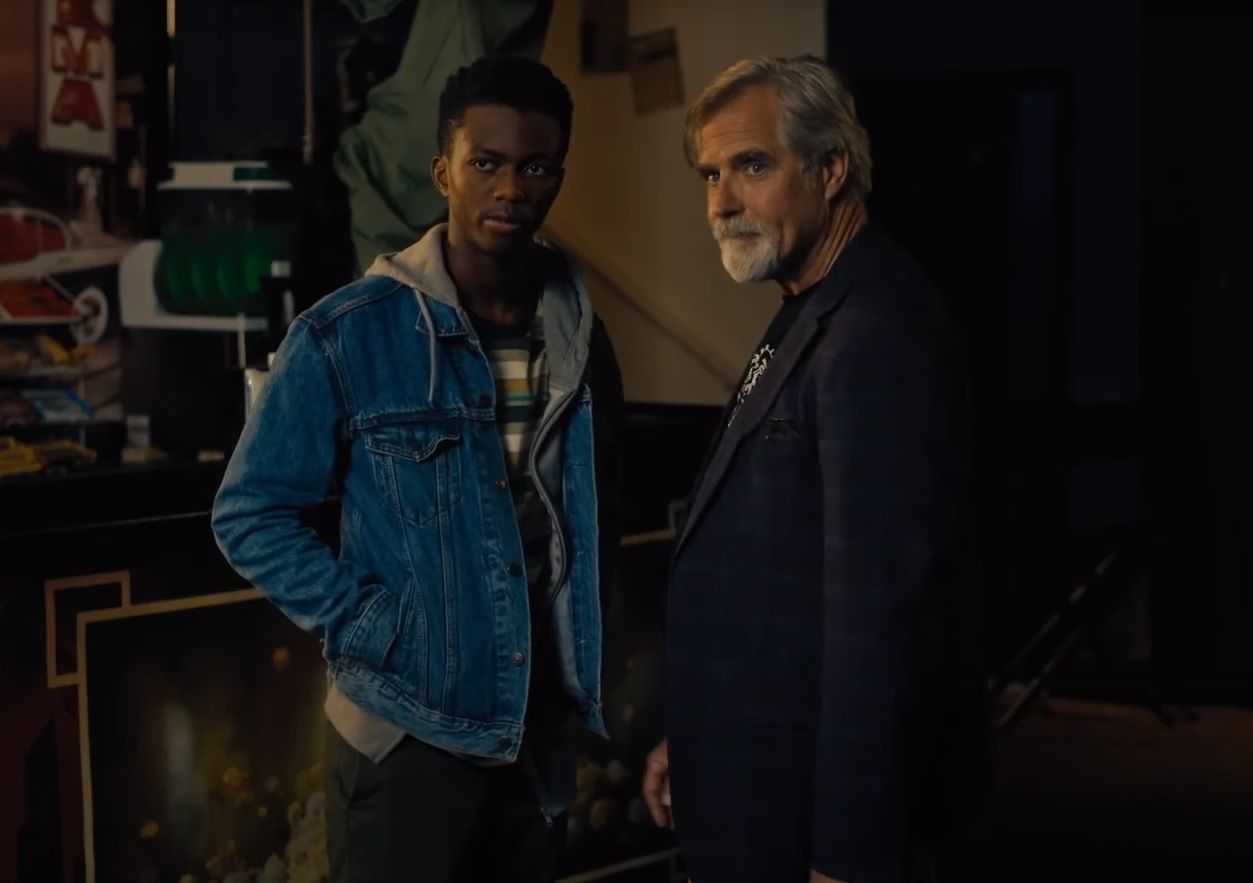 R.L. Stine's 'Zombietown' Will Give You Goosebumps
While Stine's best known material like Goosebumps is more geared towards the younger demographic, that hasn't stopped the author from pushing the boundaries of what could be done in the genre, making a new generation of rabid horror fans in the process. The Goosebumps franchise defined horror in the 90s and Zombie Town was another fun example of Stine's sinister campy power at work. It's going to be exciting to see if this smaller zombie romp's box office will feed off its name recognition, as the film wasn't marketed that much, and become another cult classic in Stine's large library of traumatizing haunts.
The trailer alone promises a fun horror comedy adventure that's PG-13 rating will give the story a little more adult bite than we're used to seeing with Stine. It won't go as far as the author's hard-R slasher franchise Fear Street, but it's certain to leave horror fans entertained as they wait for Valak and Jigsaw to traumatize them again later this month.
Zombie Town is in theaters now. Before heading out through the horde of cinematic zombies, you can view the new clip for the film down below: