The Big Picture
Andrew Scott and Paul Mescal star in All of Us Strangers, a film about two men in London whose lives intertwine and face strange coincidences.
The movie is based on Taichi Yamada's novel "Strangers" and will stick closely to the original story while adding an extra twist.
All of Us Strangers has already gained popularity at film festivals and is set to be released in theaters on December 22, 2023.
Andrew Scott and Paul Mescal are pining for one another in a poster for Searchlight Pictures' All of Us Strangers. Playing two men living separate lives in the bustling City of London, Adam (Scott) crosses paths with his mysterious neighbor Harry (Mescal). The image shows off the swanky hi-rise that both men call home. While we can see the outlines of each of their bodies, with Adam looking down while Harry pounds his fist on the window. The other neighbors aren't so welcoming as the rest of the windows that line the building have their curtains drawn.
In All of Us Strangers, Adam is an up-and-coming screenwriter pursuing his passion. When he meets Harry, his world is thrown out of whack as, not only do the two struggle to define their relationship, but bizarre coincidences also seem to follow Adam everywhere he goes. Feeling drawn to his childhood home, Adam travels back only to find his parents (Claire Foy, Jamie Bell) – who died 30 years earlier – living there and appearing to be just as youthful as he is. With every passing moment, Adam's questions grow while he forges ahead in his relationship with Harry and tries to understand why and how his parents have returned.
Directed by Andrew Haigh (Weekend), the film is an adaptation of Taichi Yamada's 1987 award-winning novel, "Strangers." And, this isn't the first time someone's had the bright idea to adapt the mind-bending story into film form. That was first done shortly after the book's publication by Obayashi Nobuhiko in 1988 with his production, The Discarnates. Although Haigh's adaptation will stick closely with the original book, he's promised that there's at least one extra twist along the way.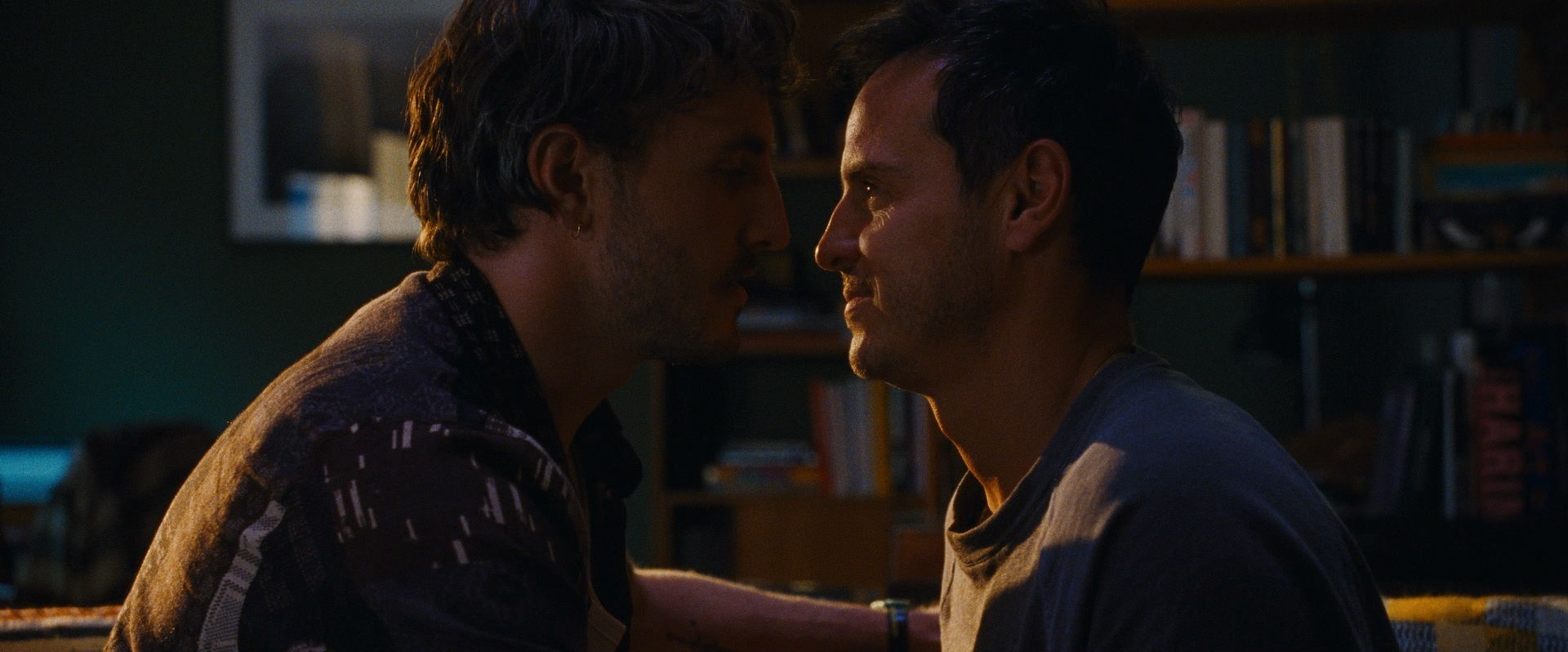 The Movie Is No Stranger to Festivals
As the poster boasts, All of Us Strangers has already gained popularity at this year's festival circuit. An official selection at The BFI London Film Festival, The Telluride Film Festival, and The New York Film Festival – where it celebrates its debut – first reactions can be expected to roll in soon.
Along with sitting in the director's chair, Haigh also penned the film's screenplay. Pete Czerin and Graham Broadbent produce under the Blueprint banner with Sarah Harvey. Blueprint's Diarmuid McKeown and Ben Knight executive produce alongside Farhana Bhula, Ollie Madden, and Daniel Battsek for Film4. For Searchlight, Katie Goodson-Thomas and DanTram Nguyen oversee with Jaya Campbell, Apolline Berty, and Kim Tance.
Check out the latest poster for All of Us Strangers below and catch it in theaters on December 22, 2023.