The Big Picture
Alexander Payne and Paul Giamatti reunite in The Holdovers, their first collaboration since Sideways, with Giamatti playing a curmudgeonly prep school professor.
Payne specifically crafted The Holdovers with Giamatti in mind, creating a role that was tailored for him from the beginning.
The film, set in a New England prep school over Christmas break, has earned high praise from critics at TIFF for its heartening and charming storytelling.
At long last, Alexander Payne and Paul Giamatti are back together again. It's been nearly 20 years since they paired up for arguably Payne's best feature Sideways which had Giamatti playing writer and wine enthusiast Miles on a disastrous trip to wine country with Thomas Haden Church. Now, the Cinderella Man Academy Award nominee stars as a curmudgeonly prep school professor in Payne's throwback '70s dramedy The Holdovers in a role that was made for him. Collider's Steve Weintraub spoke with Payne at our TIFF media studio at the Cinema Center at MARBL where the director discussed crafting everything around Giamatti.
Like the fans of his previous work, Payne was over the moon to be working with Giamatti again on The Holdovers. "I'm the one who's most been waiting for that," he said. The last time the two joined forces, it earned Payne his first Oscar for Best Adapted Screenplay as well as a host of other nominations for other members of the team. Remarkably though, despite the other projects Payne put out since Sideways, he said that, when it came to Giamatti, he "Didn't come close on another one." He wanted to change that with The Holdovers and while not every part of the project was specifically molded to Giamatti, he said "This one was tailored, not tailored for Paul, but written with him in mind from the get-go."
As for where the actor stood throughout the creative process, Payne said he was totally on board as they were developing the film. "I told him early on," Payne said, recalling his conversation with his star. "I said, 'Just so you know, we're conceiving something for you.' 'Great, great, great. What is it?' And I told him the basic premise. 'Great.' I showed him an early draft. He still liked it." From that point, it was entirely smooth sailing for Payne. "We kept honing the draft, and it just worked out well. It couldn't have worked out better."
What to Expect in Giamatti and Payne's New Film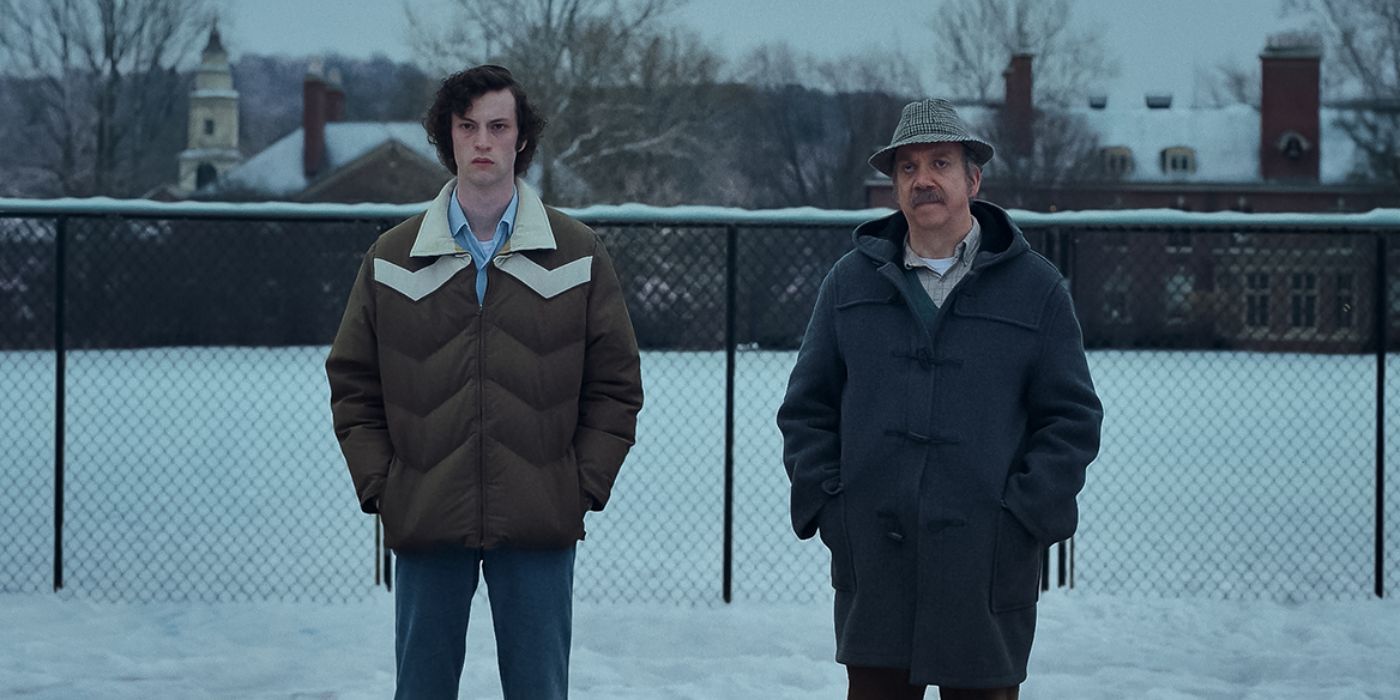 The Holdovers is set in a New England prep school over Christmas break as most of the students leave for the holidays. Giamatti plays the unlikable Paul Hunham, a professor hated by his colleagues and students alike who, with no family to return to, is left in charge of the students who can't return home. Staying with him is the smart but belligerent Angus (Dominic Sessa), who constantly clashes with Paul, and the school's head cook Mary Lamb (Da'Vine Joy Randolph) who is mourning the recent loss of her son in Vietnam. Over time, the three begin to see themselves in each other, forging an unlikely Christmas family and helping one another overcome their pasts. The Good Fight alum Carrie Preston also stars in the film.
At TIFF, Payne's latest earned high marks from critics in its debut, including Collider's Ross Bonaime who gave the film an A- and hailed it as one of the director's best:
"The Holdovers is a true delight, with Payne and Giamatti both at the top of their game, Randolph once again proving she's always an exciting performer to watch, and the introduction of Sessa, who we will certainly be seeing more from in the future. It is one of the most wonderful films of 2023 because it manages to feel both distinctly like Payne while also expanding his style to something more heartening and charming than it seemed he was capable of creating. The Holdovers is a wonderful revelation from an excellent director who proves he's still able to take us by surprise."
The Holdovers premieres in select theaters in New York and Los Angeles on October 27 followed by a limited nationwide release on November 3 and a wide expansion on November 10. Check out our full interview with Payne below and stay tuned here at Collider for more coverage from TIFF 2023.