The Big Picture
Oppenheimer will continue to play in theaters well into the fall, bucking the trend of shorter theatrical exclusivity windows.
The movie will not be available for digital purchase or streaming at home until late November, after approximately 16 weeks of theatrical playtime.
The film has been successful in specialty theaters playing in 70MM print and the team is considering re-releases for award season, indicating a desire to offer audiences the best viewing experience.
At a time when 45 day windows for theatrical exclusivity are currently en vogue, Oppenheimer continues to buck the trend as the movie will continue to play in theaters well into the fall. Although its "Barbenheimer" partner-in-crime, Barbie, is now newly released to video-on-demand, Oppenheimer will not be with home audiences for quite some time yet, as demand for the film, particularly in specialty theaters playing the movie in 70MM print.
Speaking in a lengthy piece with the Associated Press, the film's producer Emma Thomas revealed that the movie would not be available to be purchased on digital or streamed at home until "late November", which would mean the film has had approximately 16 weeks of theatrical playtime, well outside the new "industry standard" of 45 days, or six weeks. However, with the movie still gaining big crowds, particularly on weekends, why rush it out of theaters where audiences can get the full experience as intended by the filmmakers?
In terms of that full experience as desired by the film's director, Christopher Nolan, the movie has played like gangbusters on 70MM, the "gold standard" of filmmaking, of which the prints for the movie weighed 600lbs and are 11 miles long. Thomas admitted that, after nine weeks of multiple, daily use, some may need tobe taken out of circulation and given a rest but that for those which are in good condition, the opportunity for re-releases, particularly when it comes to award season, would be doubtless considered a fiscally rewarding scenario for both distributor and studio.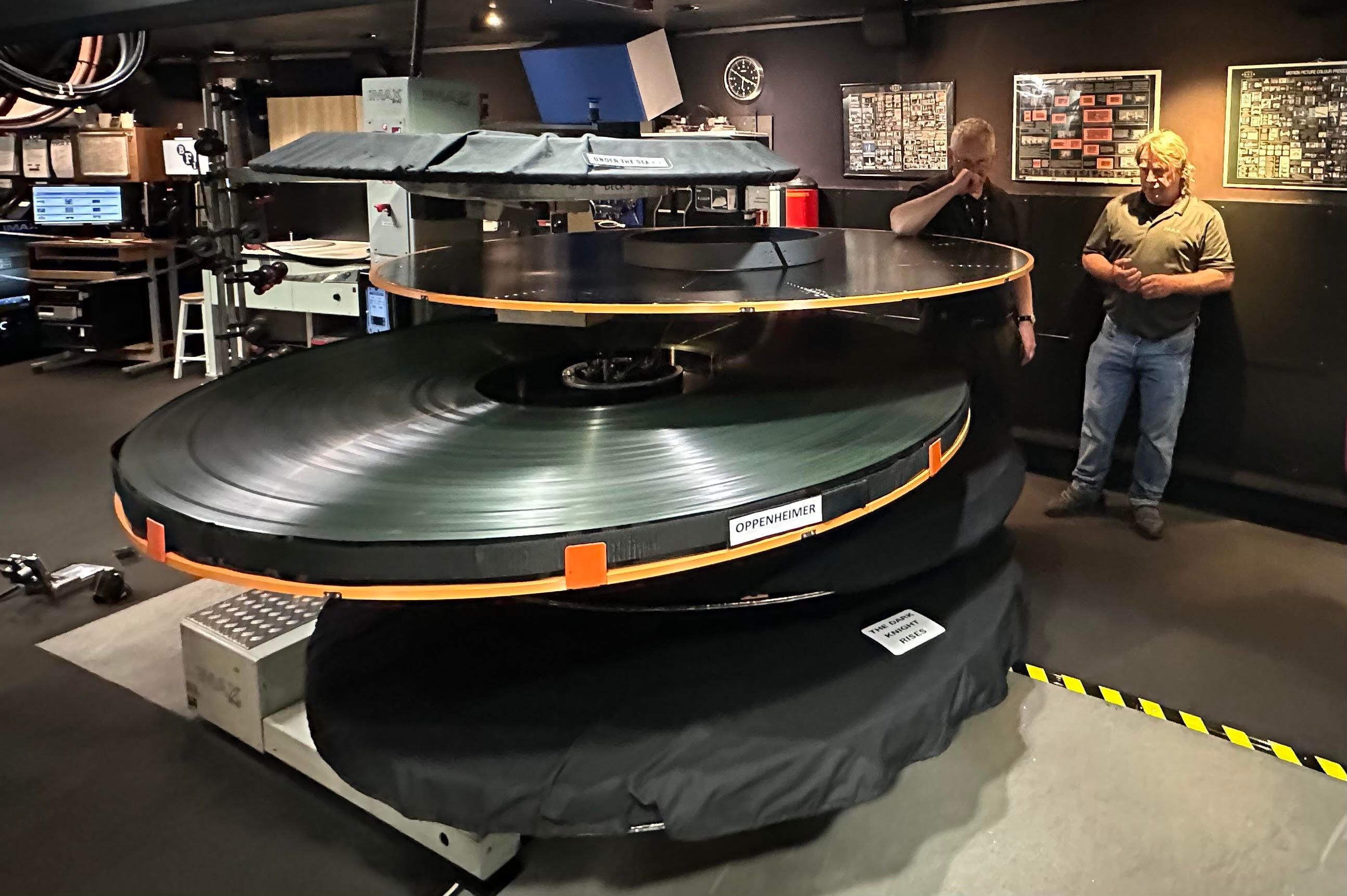 70MM of Solid Gold
The film continues to play at AMC Lincoln Square, a venue where the IMAX 70MM presentation was sold out for over four weeks. Both locations are among the 10 that will continue to present the film in IMAX 70mm in its 10th weekend. By way of a comparison, Nolan's Dunkirk finished its IMAX 70mm run in week eight.
For Thomas, she feels that this has been a turning point for the future of film, and that the Oppenheimer team has observed a desire from other filmmakers to take advantage of the format to bring their projects to audiences.
"Chris has always talked a lot about the formats and wanting people to see the best version possible, as far as the way that he intended the film to be seen. … Now I'm hearing that there are other studios who are interested in putting their films out on those film screens," she said. "It's not that we think that film is the only way. Every every project is different and requires a different toolkit. We've always just wanted filmmakers to have that option."
Oppenheimer continues to play in theaters.