The Big Picture
The Union Solidarity Coalition (TUSC) is back with a new auction to support crew members affected by ongoing strikes, offering unique experiences with industry stars and collectible items.
Despite the lack of movement from the AMPTP, unions like TUSC are holding firm and supporting their own, with more celebrities stepping up to help and show solidarity on the picket line.
The strikes continue with no end in sight, as talks between unions and studios stall and shows and films face delays. Studios need to pay fair wages and ensure job security to resolve the strikes.
After coming to the aid of striking writers this summer with a one-of-a-kind auction featuring rare collectibles and experiences from prominent figures throughout Hollywood, The Union Solidarity Coalition is back at it again to help the many crew members affected by the ongoing WGA and SAG-AFTRA strikes. As employees affected by the work stoppage continue to be at risk of losing their healthcare, TUSC is opening bids for a whole host of new items that will ease the burden on everyone at this tumultuous time.
Compared to the last auction and the WGARAGE SALE before it, this one is more focused on creating unforgettable meet-ups, calls, and other experiences with some of the biggest stars in the industry today. That includes having lunch with The Handmaid's Tale star Ann Dowd, having a one-on-one interview with Sarah Silverman over Zoom, or joining Mr. Show and W/ Bob & David collaborators Bob Odenkirk and David Cross for dinner. A few of the experiences are a bit more unique like letting your dog get some one-on-one time with Severance's Adam Scott on a nice walk through Los Angeles or getting Natasha Lyonne to put her intuition from Poker Face to the test by helping you crack the New York Times crossword puzzle.
While experiences make up the bulk of the auction, several unique items have also been included. In terms of show and film collectibles, a few fan packs are up for sale as well as some personal celebrity collections like Parker Posey's Dazed and Confused and Party Girl memorabilia. Director Rian Johnson and his frequent composer and cousin Nathan Johnson teamed up to offer a selection of signed DVDs including Star Wars: The Last Jedi and Knives Out as well as a signed copy of the Glass Onion album. In terms of custom items, John Lithgow will paint a portrait of your beloved pooch while Lena Dunham will paint a whole mural on your wall. Celebrity children's books, signs, tickets to live shows, and so much more assure there's something for anyone willing to pay a pretty penny in support of the strikes.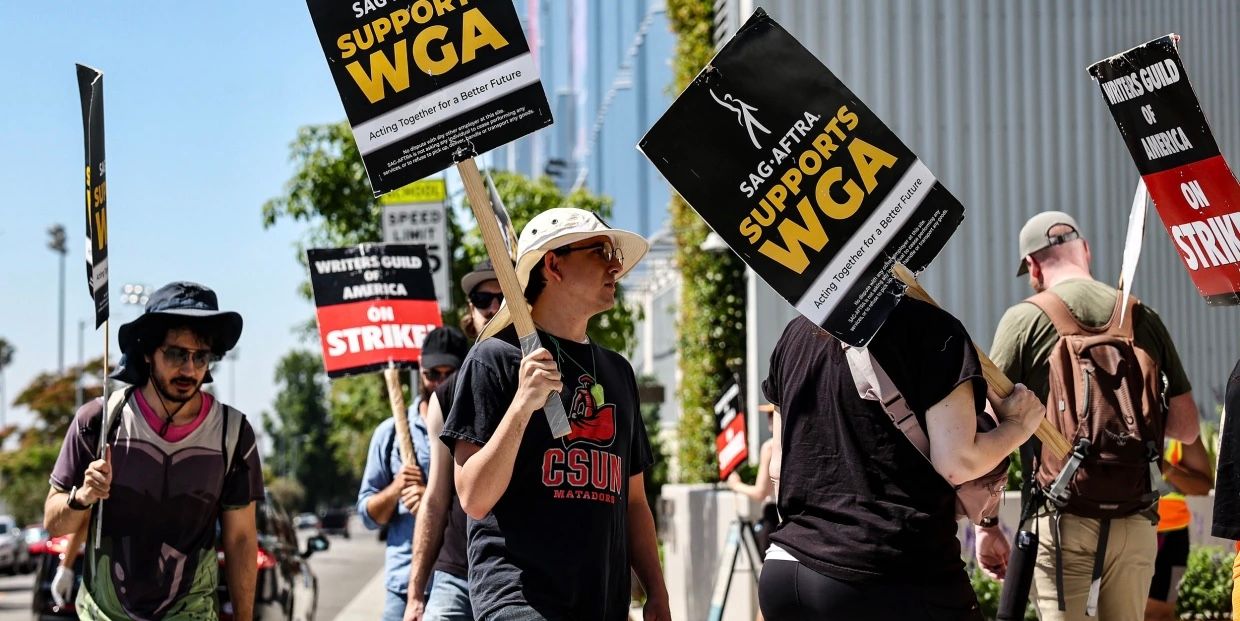 There's No End in Sight for the Hollywood Strikes
This latest auction shows how, despite the lack of movement from the AMPTP, unions are holding firm and are more than willing to support their own as well as the other workers affected by their difficult but necessary actions. Since TUSC's previous event, even more celebrities have opened up their pocketbooks to help workers get by, including Jamie Lynn Spears, and taken to the picket line to make their voices heard. Studios previously expressed a willingness to wait workers out until they start losing their homes and more as the weather turns cold, but solidarity among strikers will ensure that reality won't come to pass for many of their colleagues.
The WGA strike is now 134 days old while the SAG strike has officially passed the 60-day mark with no end in sight. Talks between unions and studios have gone nowhere, overall deals are being suspended to save money, and more and more shows and films are experiencing delays as the two sides are struggling to find common ground. This could all be easily remedied if the studios just paid fair wages to all of their workers and promised security from AI taking over their jobs. Now, they're starting to feel the consequences – in the least surprising outcome imaginable, Warner Bros. will lose up to $500 million from the strikes for a decision that would only cost $50 million to make. Unless they come to the table with realistic offers, the WGA and SAG-AFTRA will continue to fight this fight, and further bleed their pocketbooks, for as long as it takes to secure a better future for the industry.
Check out the full selection of items and experiences on sale at the auction's page on eBay. For more information on the strikes as studios continue to refuse to pay their fair share, read Collider's full write-ups on what the WGA and SAG-AFTRA are fighting for and what they mean to everyone involved.