The Big Picture
Face/Off, the high-concept, action-packed classic from John Woo, will be released on 4K Blu-ray with a new HDR/Dolby Vision master for the clearest viewing experience yet.
The set will include three commentary tracks, deleted scenes, a making-of documentary, a featurette on John Woo's film career, and the film's original trailer.
Despite its outlandish plot and over-the-top performances, Face/Off was a critical and commercial success, making nearly $250 million on an $80 million budget.
Face/Off, John Woo's 1997 high-concept, high-octane action classic, is coming to 4K Blu-ray from Kino Lorber. The newly-remastered John Travolta/Nicolas Cage actioner will be released on disc December 12. The two-disc set will feature an all-new HDR/Dolby Vision master from a 4K scan of the 35mm original camera negative, giving viewers their clearest view yet of the film's outrageous action and Travolta/Cage histrionics.
The release will include three commentary tracks; one with screenwriters Mike Werb (The Mask) and Michael Collery (Lara Croft: Tomb Raider), one with Werb, Collery, and director Woo; and an all-new commentary from action movie historians Mike Leeder and Arne Venema. It will also feature seven deleted scenes with commentary from Werb, Collery, and Woo; a making-of documentary; a half-hour featurette on Woo's film career; and the film's original theatrical trailer. It will retail for $40, and can be pre-ordered from KinoLorber.com.
What Is 'Face/Off'?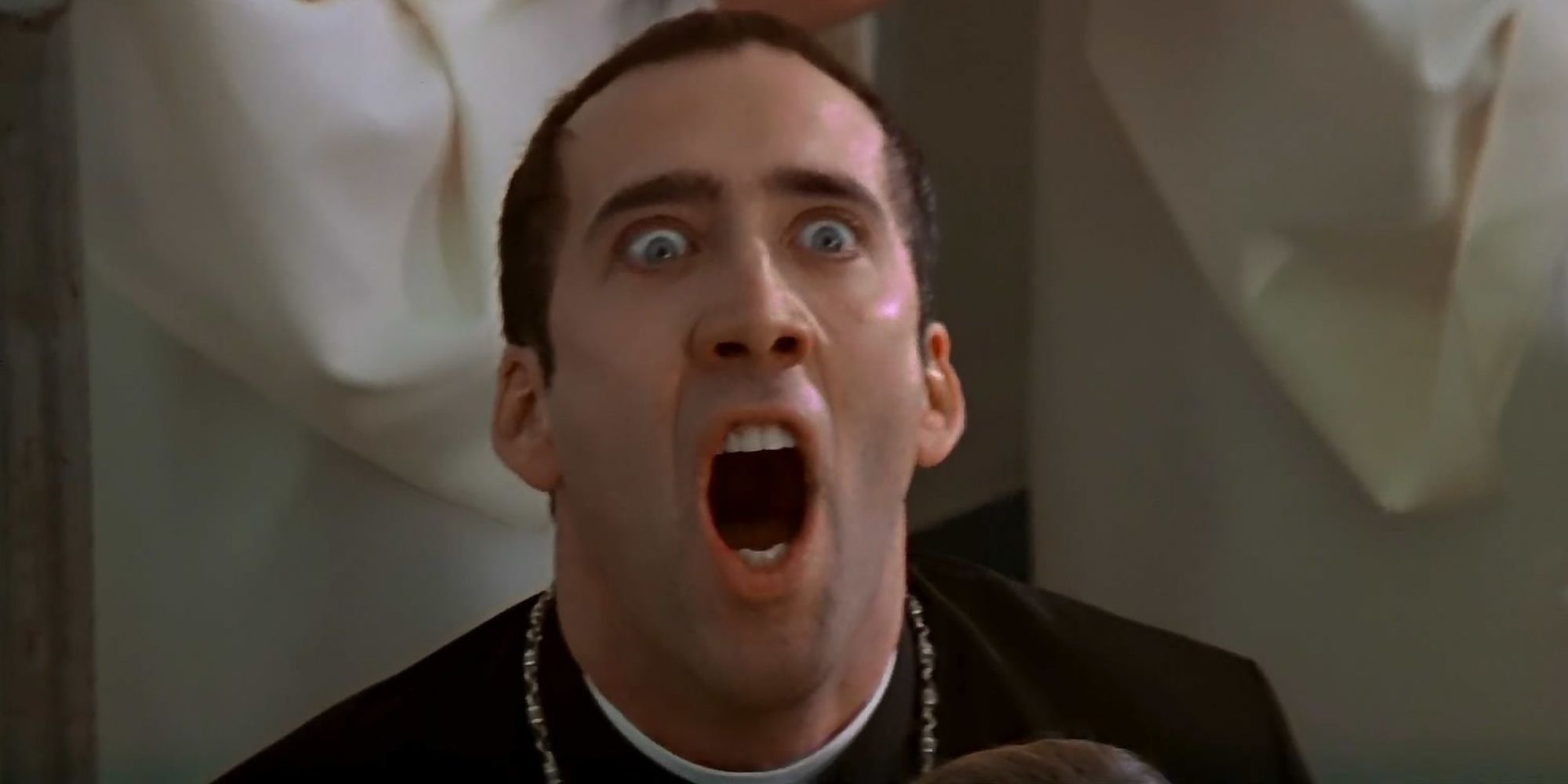 In Face/Off, Cage plays mad-dog terrorist-for-hire Castor Troy, while Travolta portrays his nemesis, government agent Sean Archer…at least at the beginning of the movie. When Troy ends up in a coma, leaving the feds with no clue as to when his next terror attack will occur, Archer undergoes a high-tech surgery that gives him Troy's face, letting him infiltrate his gang. Things go haywire when Troy wakes up from his coma and takes Archer's face for himself; thus, the two leads spend most of the film's runtime impersonating each other. A great deal of John Woo mayhem ensues, as Archer has to escape from a futuristic super-prison, while Troy ingratiates himself with Archer's dysfunctional family. Bullets (and doves) fly, heroic blood is shed, and identities blur over the course of its 133-minute run time; an all-star cast of '90s characters actors is along for the ride, including Joan Allen, Alessandro Nivola, Nick Cassavetes, Gina Gershon, Dominique Swain, Fargo's Harve Presnell, and even Margaret Cho.
Despite (or possibly because of) its outlandish plot and both lead actors going over the top and beyond, Face/Off was a hit with both critics and audiences, making nearly $250 million on an $80 million budget in the summer of 1997. Collider's Andrew Taylor deems it Woo's best American movie, and calls it "fun, stylish, and stupid in equal measure". A sequel is currently in development, with Adam Wingard attached to direct; Cage revealed in a Collider interview this year that the proposed Face/Off 2 plot is like "three-dimensional chess".
Kino Lorber's 2-disc Face/Off set will be released on December 12, and is now available for pre-order.