The Big Picture
Nicolas Cage stars as Paul Matthews, an ordinary family man who becomes a worldwide sensation when he starts appearing in people's dreams.
As Paul's dreams turn into nightmares, he experiences the darker side of fame and struggles to maintain a normal life.
Cage's performance in Dream Scenario showcases his versatility, as he takes on a more awkward and mild-mannered role compared to his recent bombastic characters.
Everybody's dreaming of Nicolas Cage in the first trailer for A24's comedy-drama Dream Scenario. The wacky film from writer/director Kristoffer Borgli stars the Academy Award winner as Paul Matthews, a hapless, ordinary family man who is rocketed to international superstardom when he starts appearing in millions of strangers' minds while they slumber. Eventually, those dreams start becoming nightmares filled with peak Cage weirdness that quickly flips Paul's fame into infamy. The trailer sees Paul wrestle with his newfound prominence while trying to live a normal life, all as chaos ensues inside everybody's heads.
Paul's day begins innocuously enough as teaches class like any other weekday. Little does he know, he's started popping up in everyone's dreams the night before, randomly walking through dreams whether there's an earthquake or a car crash. Pretty soon, people all around the world are abuzz with their encounters with this "remarkable nobody" and he goes from a quiet life to constant recognition, interviews, and photo shoots. Compared to his more bombastic recent roles in films like Renfield or Mandy, Cage is very awkward and mild-mannered as Paul, who simply isn't used to all the attention he's suddenly receiving. He thinks it just finally makes him a really cool dad.
Cage is given some freedom to go wild, however, when the nightmare sequences begin. The dreams Paul appears in start going sour and people start seeing him as a monster. One dream sees him bash a student over the head with a blunt object while another has him march in comedically large steps toward a girl in her room while he gives the smile of an insane man. Paul quickly becomes aware of the darker side of fame as his reputation unjustly takes a hit for all the horrible things he can't control. Now a pariah, he and the rest of his family have to deal with the fallout, though their relationship will be put to the test.
Cage Has Been Everywhere in 2023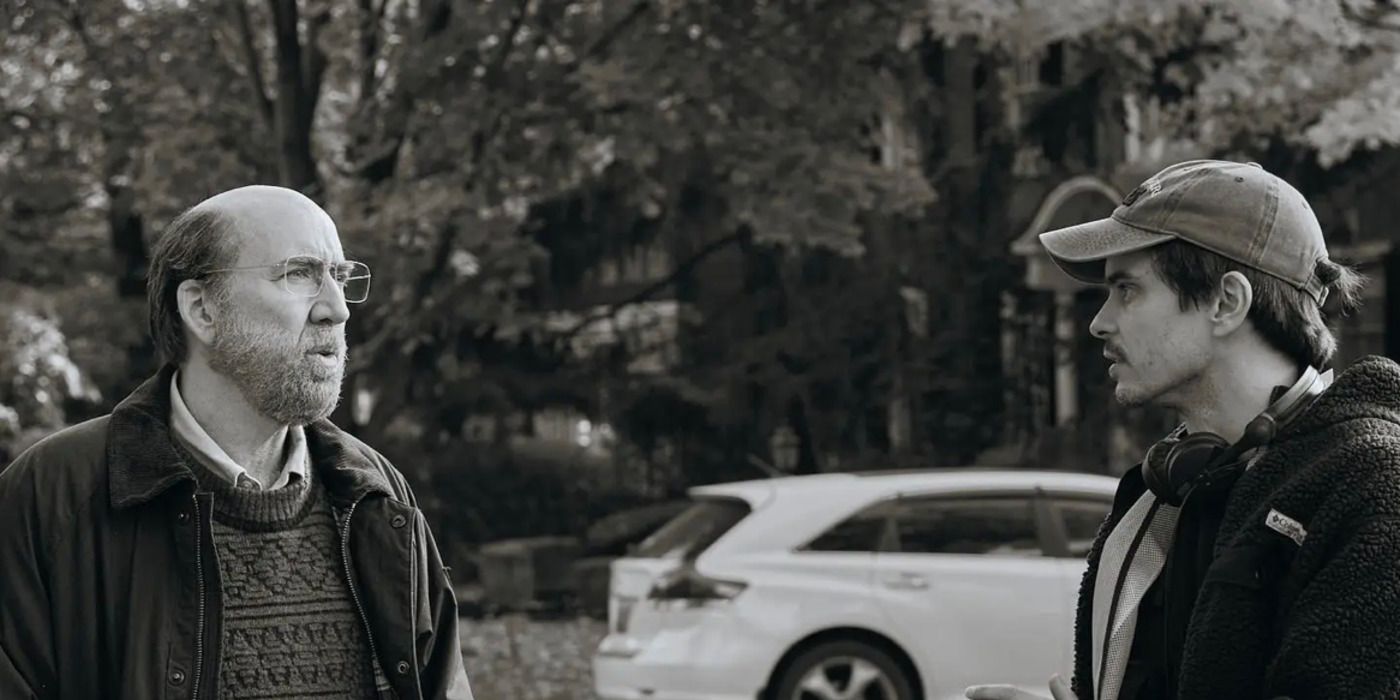 2023 has been a wild year for Cage who has shown up all across the film industry in many different ways. Earlier this year, he finally got the chance to be Dracula in Renfield, appears in not one, but two westerns with The Old Way and Butcher's Crossing which comes to theaters later this year, played a carjacker from Hell in Sympathy for the Devil, and got to live out his originally-planned role as Superman in a cameo in The Flash. Although he couldn't make it due to the SAG-AFTRA strike, Cage was also featured at the Toronto International Film Festival where Dream Scenario made its debut to strong reviews.
Cage is joined by a dream team in Dream Scenario, including Julianne Nicholson, Michael Cera, Tim Meadows, Dylan Gelula, and Dylan Baker aboard the cast with Ari Aster, Lars Knudsen, Tyler Campellone, and Jacob Jaffke as executive producers. The film will arrive in theaters on November 10. Check out the trailer below.