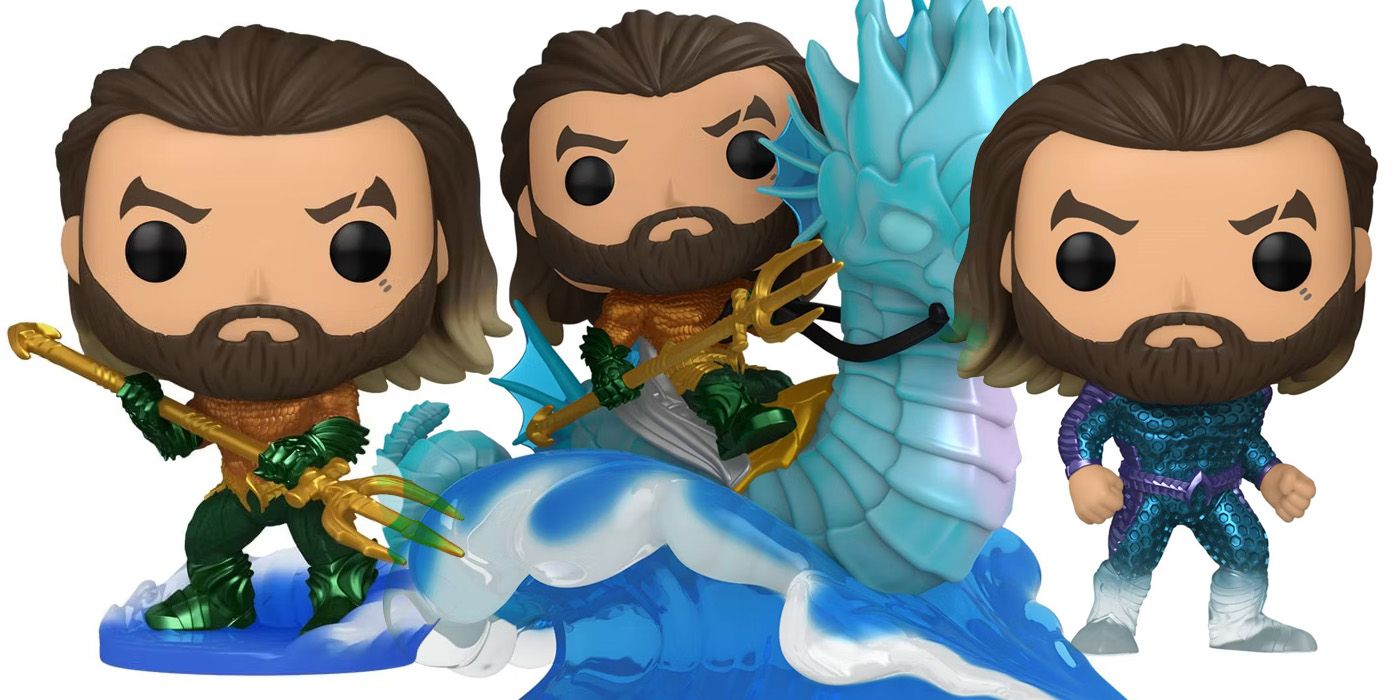 The Big Picture
Fans can expect an array of Funko Pop! figures for Aquaman and the Lost Kingdom, featuring characters like Arthur Curry, Black Manta, Mera, and more.
The sequel will see Atlantis under threat as Black Manta wields the powerful Black Trident, leading Aquaman to team up with his imprisoned brother Orm to save their kingdom.
The cast of the film includes returning stars Jason Momoa, Yahya Abdul-Mateen II, and Amber Heard, as well as new additions Vincent Regan, Jani Zhao, Indya Moore, and Pilou Asbæk.
In a few months, audiences will finally return to the sea for DC's Aquaman and the Lost Kingdom after multiple release date shakeups at DC. That means toys and collectibles galore are beginning to surface like action figures from McFarlane Toys and, of course, a new line courtesy of Funko. The collectible giant has unveiled its full wave of Pop! figures for James Wan's underwater sequel including not just Arthur Curry (Jason Momoa) but most of the other characters audiences can expect to see when the film hits theaters on December 20. All figures are also available to pre-order now.
Included in the set are five figures of Aquaman himself with two in particular depicting the hero of Atlantis in his typical green and gold hero suit along with his trident or in his darker stealth suit. Amazon and the Funko website have their own exclusives for the wave — a glittery Diamond collection figure and a figure with Aquaman riding a more literal wave respectively. One final figure of Arthur is a special Funko Pop! Ride collectible pairing him up with his trusty seahorse steed Storm which will make its live-action debut with The Lost Kingdom. Storm also gets its own figure alongside Black Manta, Orm, Mera, Atlanna, and Dr. Shin, all of whom are returning from the 2018 film. It's been made clear that Yayha Abdul-Mateen II's villainous David Kane is a greater threat than ever for Arthur this time around, so it's no surprise he was one of three, along with Aquaman and Storm, to get a keychain figure as well.
What Can We Expect From 'Aquaman and the Lost Kingdom'
Aquaman and the Lost Kingdom will see the entirety of Atlantis threatened when an ancient power is unleashed as Black Manta wields the Black Trident, ready to strike back at Aquaman with power able to match his might. In order to save their kingdom, Arthur turns to an unlikely ally in his brother Orm, who's still imprisoned for his warmongering ways in the first installment. The two agree to put their differences aside in order to prevent the destruction of everything they hold dear under the sea and on the surface. Wan promised the sequel will be darker than its predecessor, confronting climate change and other heavier topics as the ruler of the Seven Seas fights to save the day.
Who Makes Up the Cast for the Final Film in the DCEU?
For what is set to be the 15th and final installment of the DCEU before James Gunn and Peter Safran fully turn the page, The Lost Kingdom brought back all of its key stars. Momoa and Abdul-Mateen II are joined by fellow returnees Amber Heard as Mera, Patrick Wilson as Orm, Willem Dafoe as Nuidus, Temuera Morrison as Tom Curry, Nicole Kidman as Atlanna, Dolph Lundgren as King Nereus, and Randall Park as Dr. Shin. New additions for this trip to Atlantis include Vincent Regan, Jani Zhao, Indya Moore, and Pilou Asbæk.
Aquaman and the Lost Kingdom premieres in theaters on December 20. Keep an eye out for these new Funko Pop! collectibles.