The Big Picture
Brian Helgeland, screenwriter of L.A. Confidential, has been frustrated by the rejection of his sequel idea by multiple movie studios, including Warner Bros.
The proposed sequel would have featured Russell Crowe and Guy Pearce reprising their roles, with Chadwick Boseman joining the cast.
Despite the success and critical acclaim of L.A. Confidential, the sequel project was ultimately rejected at multiple studios, leaving Helgeland unwilling to pursue it further.
Brian Helgeland, the writer of L.A. Confidential, has been persistently attempting to launch a sequel to the 1997 classic for nearly a decade. At a certain point in time, Helgeland held discussions with Warner Bros. regarding the sequel, but the entire project and premise were ultimately rejected by the studio. Now, Helgeland is speaking out about how frustrated he is. He's saying that he really liked the idea of the sequel—which would have seen Russell Crowe and Guy Pearce reprise their roles, as well as adding Chadwick Boseman to the cast—but that many movie studios, including Warner Bros., weren't interested in the follow-up.
After the humiliation of having his pitch quite literally slept on, Helgeland packed up his script and put it away, claiming it was the end for it and that he couldn't face the idea of trying to get it made any longer, as he explained to Deadline during an interview which was held at the Toronto International Film Festival. He said:
"[Author] James Ellroy and I worked out an elaborate pitch for 'L.A. Confidential 2' that takes place during the Patty Hearst [era], when the Symbionese Liberation Army came down to L.A., and we had Guy Pearce attached and Russell [Crowe] and Chadwick Boseman playing a young cop working for Mayor Bradley. We pitched it everywhere…We had to go to Warner Bros. first and Warner Bros. is like we don't make movies like this. Ellroy is a performance artist and he would do the pitch, and it was the most amazing pitch. Our executive at Netflix fell asleep during the pitch. They fell asleep and nodded off during the pitch. I got home, and was like, 'We can't do that anymore.'"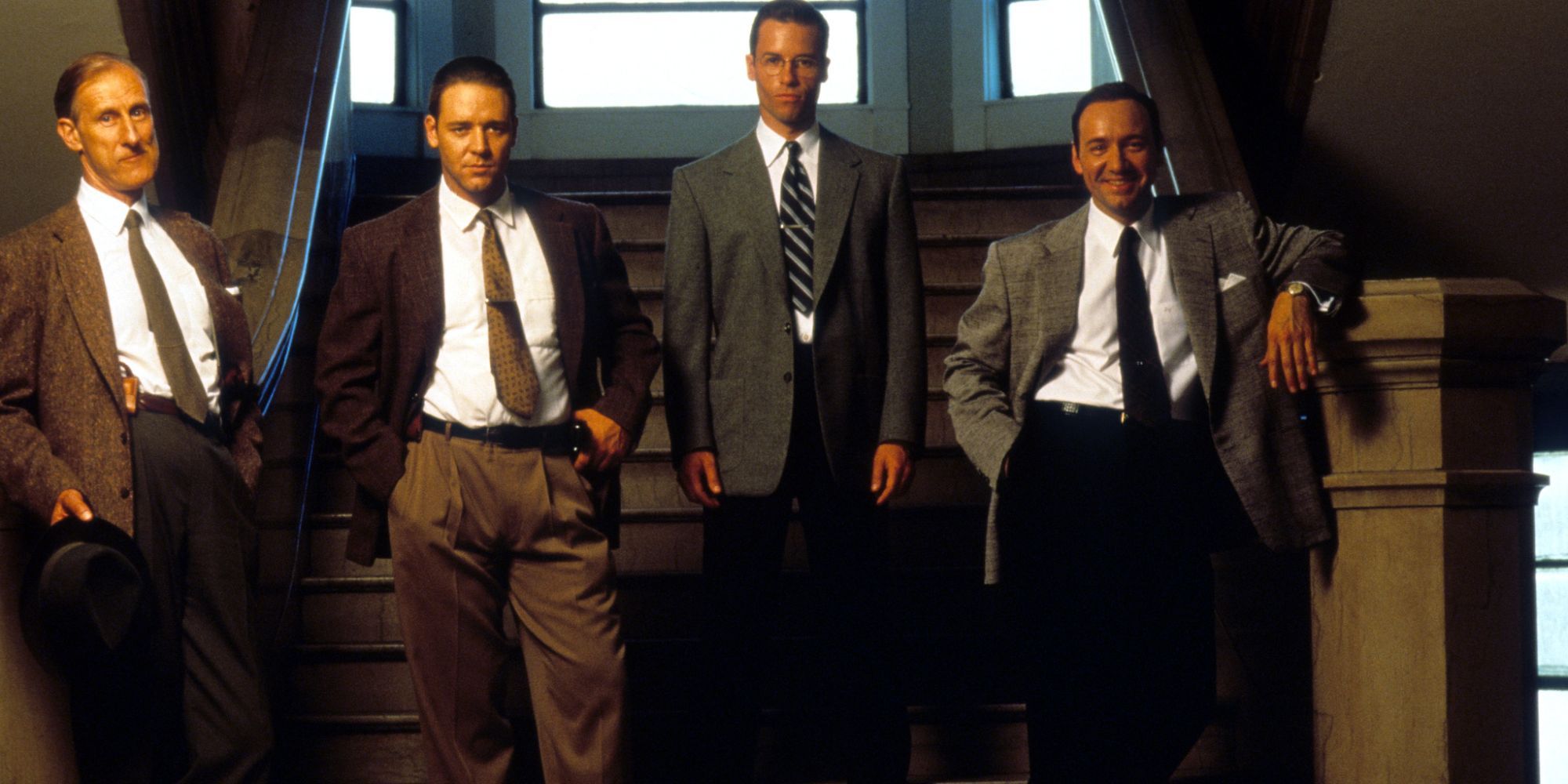 What Made 'L.A. Confidential' Such a Smash Hit?
L.A. Confidential was a neo-noir crime film released in 1997, directed by Curtis Hanson and based on the novel of the same name by James Ellroy. The film is set in Los Angeles during the early 1950s and revolves around three very different policemen who become embroiled in a complex web of corruption, crime, and scandal, Bud White and Ed Exley, played by Crowe and Pearce, and Jack Vincennes (Kevin Spacey), who become connected when they uncover a police corruption conspiracy involving organized crime within the entertainment industry. It received critical acclaim and several Academy Award nominations, including Best Picture, and is considered a classic in the neo-noir genre.
While we won't be seeing an L.A. Confidential sequel anytime soon, you can check out our interview with Helgeland on Finestkind which stars Jenna Ortega and Tommy Lee Jones. And don't miss the rest of our coverage from TIFF 2023.