The Big Picture
Dicks: The Musical won the People's Choice Award for Midnight Madness at the Toronto International Film Festival, impressing audiences with its unhinged, R-rated comedy.
The film, directed by Larry Charles, aims to create a communal experience with audiences singing along and quoting lines from the crass musical.
Nathan Lane, a theater veteran, initially had reservations about the project but was won over by the writers and co-stars, praising their audacity and commitment to having fun with the genre.
At this year's Toronto International Film Festival, audiences went wild for Dicks: The Musical. The film directed by Larry Charles and adapted from the two-man stage play F***ing Identical Twins by Josh Sharp and Aaron Jackson won the People's Choice Award for Midnight Madness, making a totally unhinged, R-rated impression. With its origins on the stage, it's a film that one of its stars Nathan Lane says must be seen in theaters in a packed house to get the full effect. During an interview with Collider's Steve Weintraub, he expressed what makes it so worthwhile with a crowd and what sold him on the project in the first place.
Charles is no stranger to creating films that work better with groups of people like Sacha Baron Cohen's 2006 comedy Borat. Complete with crass musical numbers, Dicks looks to bring a similar feel with audiences singing along and quoting Sharp and Jackson's lines throughout. Lane, a veteran of theater with three Tony Awards to his name along with an Emmy for Only Murders in the Building, spoke to the film's structure as a comedic crowd-pleaser made to feed off of its audience. However, he admits it wasn't a film that immediately jumped off the page to him. It was only once he met writers and co-stars Sharp and Jackson and picked their brains that he felt fully confident in coming aboard the absurd project:
"I think it's a movie that you really do want to see with a group of people in a theater, which is nice, that communal experience, because you wouldn't want to sit home alone and watch this by yourself because it's really sort of built that way. I was certainly trepidacious after I read it. I thought it was funny, but I didn't know whether I wanted to do it. Then, when they said Larry Charles was doing it, we had a couple of Zoom meetings. I was a longtime fan of his and his work, and I thought that was really interesting that he wanted to do it and that he got what these guys were trying to do. And then I still wasn't sure, and so I said, 'I can't agree to this until I meet the two guys. I'll have dinner with them.' And then, of course, I fell in love with them, and we spent four hours together."
Lane Found 'Dicks: The Musical' "Refreshing" In Its Unabashed Crudeness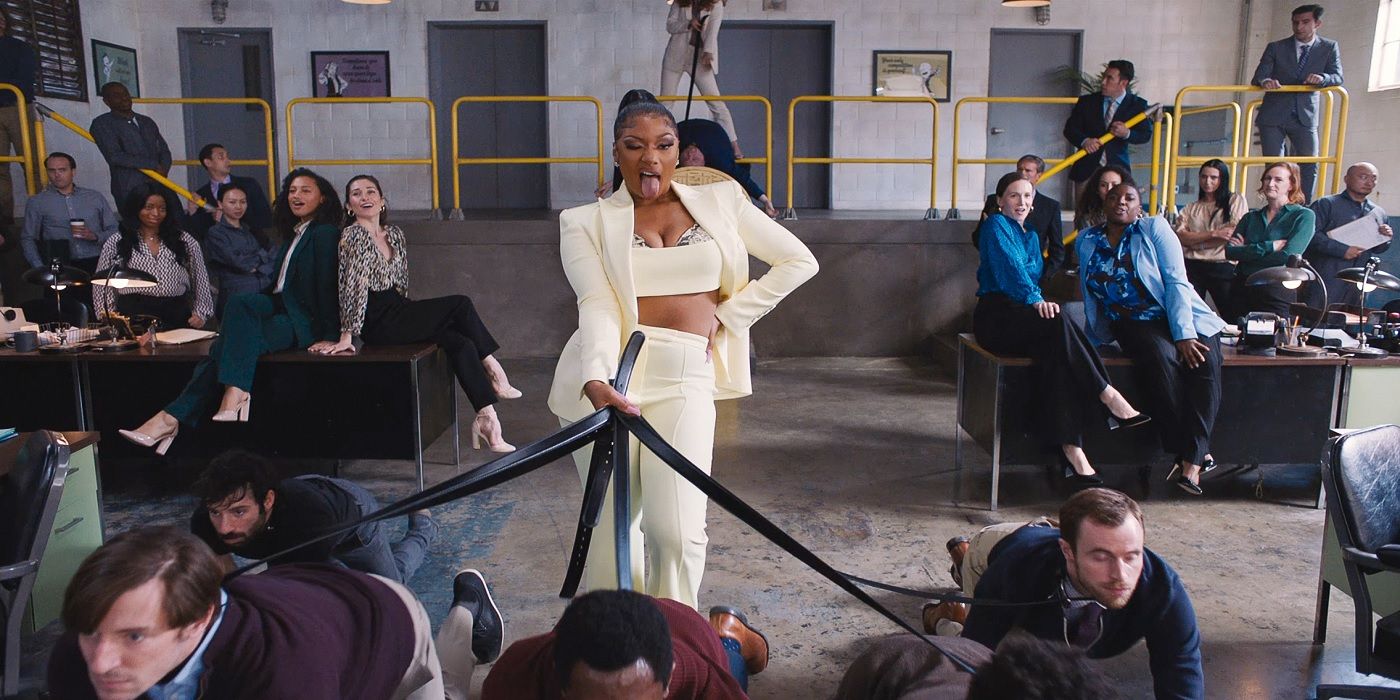 Also like Borat, Dicks isn't a film that Lane believes everyone will gel with. The film, and by proxy the musical it's based on, is an R-rated take on The Parent Trap following two vain and rather childish businessmen played by Sharp and Jackson who find out they're "f***ing identical twins" and try to get their divorced parents, played by Lane and Megan Mullally, back together. Along the way, that means confronting their boss (Megan Thee Stallion) who walks men on leashes, flaunting their masculine bravado, and meeting their father's "Sewer Boys" who aren't disgusting, "they're gay culture."
The commitment to absurdity, raunch, and queerness in every aspect is what Lane loves about A24's first musical and part of the reason why he recommends watching it with others. It doesn't care what its critics think or what culture wars are being fought and just wants to have fun and bring audiences along for the ride too. Moreover, Lane was simply impressed that Charles, Sharp, and Jackson were able to translate the same rousing energy from live theater to the big screen, adding:
"In a world of insane political correctness and banning of books, and 'don't say this, don't say gay, don't do that, you better not do that,' this was sort of refreshing. I love their chutzpah, their audacity, and they don't really give a crap whether you like it or not. This is them having fun with a particular genre. Obviously, they had done it for audiences, the two of them, it was a two-man show at Upright Citizens Brigade. So, they sort of knew how it worked for an audience, but it's a very different thing of being in a 200-seat theater preaching to the converted and then to put it on a big screen, and actually see Sewer Boys in a cage."
Dicks: The Musical is now in theaters. Check out the full interview with Lane and Mullally below.