The Big Picture
My Big Fat Greek Wedding 3 has grossed $26.4 million domestically and $8.5 million internationally at the box office.
The movie tells a heartwarming story of love and appreciation for different cultures, showcasing the beauty of Greece.
The returning cast members, including Nia Vardalos and John Corbett, add to the familiarity and charm of the franchise.
In accordance with the wishes of their father, the Portokalos family have returned for another adventure in their native Greece with My Big Fat Greek Wedding 3. Maintaining its familiarity with the original through a recognizable cast, and leaning into a heartwarming plot line, the movie has preserved its allure through its fourth weekend at the box office. My Big Fat Greek Wedding 3 has grossed an additional $0.7 million this weekend for an international cume of $8.5 million through Sunday. Additionally, the sequel has now surpassed the $25 million milestone, earning $26.4 million at the domestic box office, taking its total global haul to $34.9 million.
Armed with its returning cast and the prowess of writer/director Nia Vardalos, the feature tells a warm tale of love and the beauty that can be found in appreciating the culture of others. Adapting to the real-life passing of the actor Michael Constantine, the Portokalos family have returned to Greece after the passing of the family patriach, Gus – portrayed by Constantine within the franchise. Their mission home is simple or so they thought – deliver Gus' journal to his friends in the Greek village, where he grew up. However, upon arrival it quickly becomes clear that this simple task will be anything but straightforward.
The feature sees Toula making an unexpected discovery that her father had a son, Peter, who now has his own family. This discovery further expands the number of the Portokalos family members. This third installment of the franchise comes with its notable humor, nostalgia, and of course, a spontaneous wedding.
'My Big Fat Greek Wedding 3′ Continues to Showcase Culture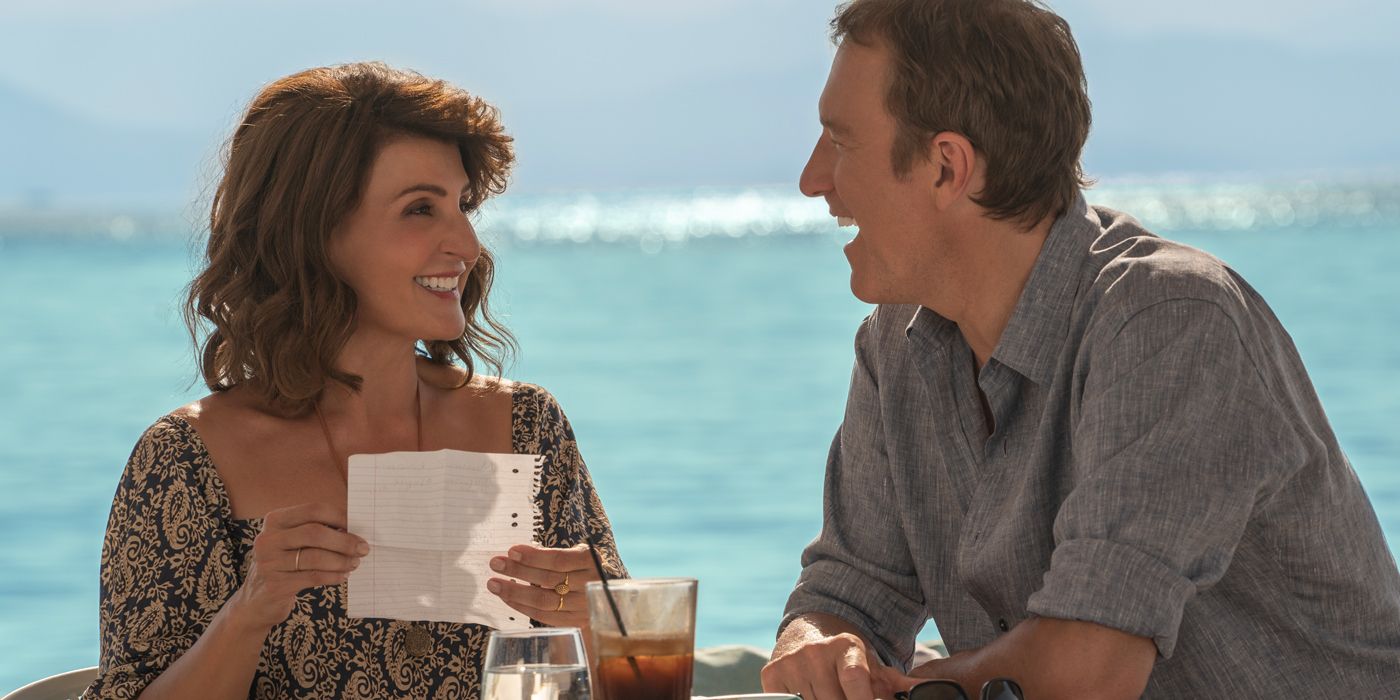 The movie also continues the trend of showcasing culture as with the previous movies. Set in Chicago, the first two movies offered a cultural exchange while telling immaculate love stories. Maintaining the franchise's trend of heartwarming love stories, My Big Fat Greek Wedding 3 being set in Greece offers a stunning and picturesque touch to the feature.
The returning cast members for My Big Fat Greek Wedding 3 includes Vardalos as Fotoula "Toula" Portokalos, John Corbett as Ian Miller, Louis Mandylor as Nick Portokalos, Elena Kampouris as Paris Miller, Lainie Kazan as Maria Portokalos, Andrea Martin as Theia Voula, and Gia Carides as Cousin Nikki. Further rounding off the cast are Joey Fatone as Cousin Angelo, Maria Vacratsis as Theia Freida, Elias Kacavas as Aristotle, Gerry Mendicino as Uncle Taki, and Melina Kotselou as Victory.
My Big Fat Greek Wedding 3 is currently playing in theaters.