The Big Picture
Michael Giacchino is a composer-turned-director who is working on a remake of the 1954 film Them!.
During a Q&A following Collider's screening of Werewolf by Night in color, Giacchino spoke about getting the remake greenlit and gave an update on the production process.
A screenwriter is currently being sought for the project after a pause due to the writer's strike, but now it's back on track.
Michael Giacchino's career has evolved in surprising ways. After becoming one of the world's most respected composers, last year he tried his hand at directing and helmed the much-appreciated Werewolf By Night, a standalone Marvel special that recently got a re-release — now in color! Now, Giacchino hopes to jump into directing a full-length feature with his highly anticipated remake of Them!.
Giacchino spoke to Collider's Editor-in-Chief Steve Weintraub during a Q&A following our recent screening of Werewolf By Night in color, and the composer-turned-director revealed how he got involved in Them!. Instead of coming up with a pitch to sell Warner Bros. on why they should remake the movie, Giacchino was asked what he wanted to do, and this remake is what came to his mind. "They were like, 'Well, what would interest you?' And I was like, 'Well, you know what? You do have a little movie that you made in the '50s. It was called Them!'" Giacchino said at the screening. "I was like, 'Yeah, I really think there's a fun take to be had with that,' and they were just like, 'Okay, let's do it. Let's make it.'" He sees the themes of the 1954 movie as extremely timely:
"'Them!' was a film in the 1950s about giant ants. It was sort of discussing the oncoming nuclear age that we found ourselves in and were woefully unprepared for as human beings, and so I thought there's so much going on in the world—that was clearly a lesson that we didn't learn as humans—and it feels like it's a story that could be told again today with a lot of the shit that's going on in the world. I love that movie dearly. It's a very special film."
'Them!' Is Looking For a Screenwriter, Giacchino Reveals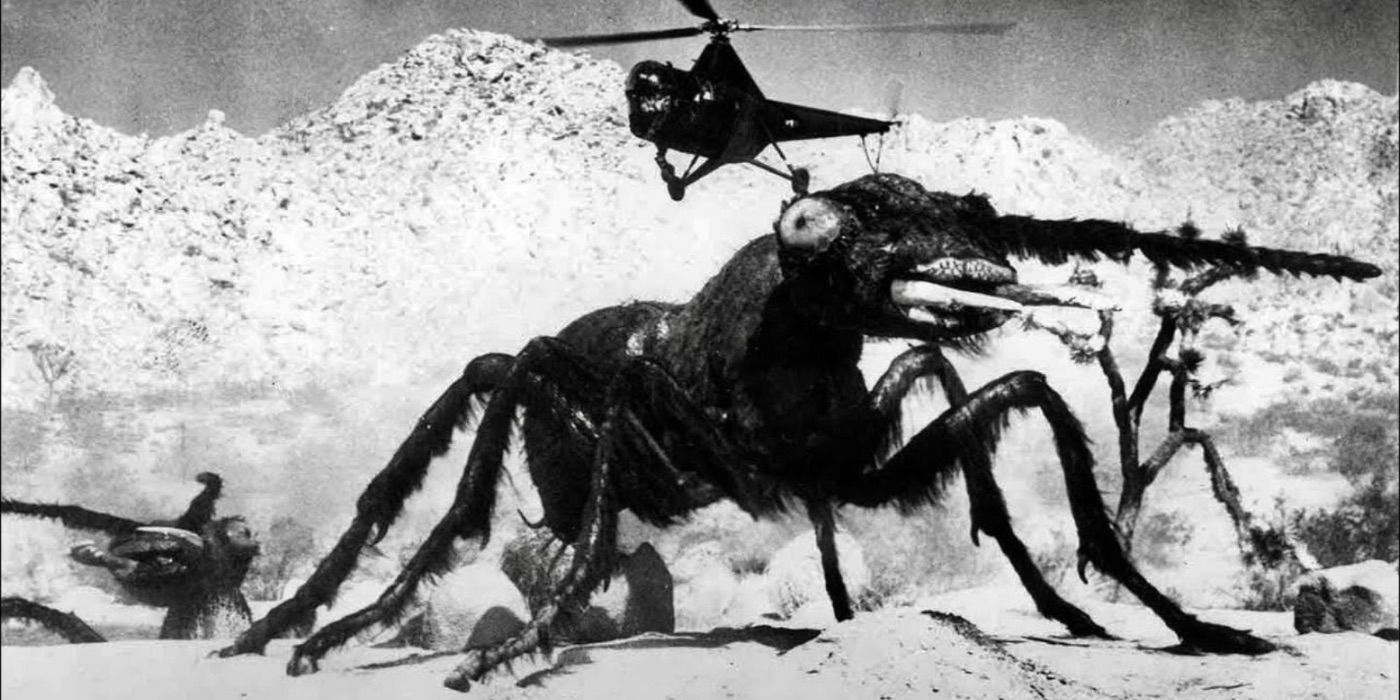 Giacchino also added that he intends to keep the name Them! because "it feels wrong not to keep it." He also revealed that they had a screenwriter in mind with a nearly completed deal in the books before the strike started. Thankfully, the WGA landed a historic new contract so Giacchino can resume the search. "So, anyway, the development we're in right now, we're about to find our writer. We were about to make the deal, and then the writer's strike happened," he said. "So then that went on pause, and we waited for 140-whatever days it was. So now we're just starting up again."
The original Them! was directed by Gordon Douglas (In Like Flint) and it was nominated at the Oscars for Best Special Effects. Of course, it was a completely different era, but the remake still has the potential to wow us in that department. Considering that the movie is about giant ants, the remake could be weird and even scary enough to stand out and resonate with audiences, and it certainly will be a title worth checking out.
Stay tuned at Collider for future updates, and don't miss our full Q&A with Giacchino when it goes live. For more on Them! you can watch the original trailer below.