The Big Picture
David Fincher's meticulous attention to detail is legendary, as collaborators like Mark Ruffalo and Ben Affleck have experienced on set.
Michael Fassbender never blinked on camera throughout the entire shoot of Fincher's new film, The Killer, showcasing his commitment to his role.
Fincher praised Fassbender's dedication and willingness to push himself, comparing him to Daniel Craig and highlighting his precise technical skills and insightful ideas about behavior.
Director David Fincher's meticulous attention to detail is the stuff of legend. Over the years, many of his collaborators have narrated stories about how exacting the filmmaker can be on set — from Mark Ruffalo recalling how Fincher quietly asked a background player to move an inch to one side on Zodiac, to Ben Affleck trying (and failing) to catch him off-guard by messing with the camera ever so slightly on Gone Girl. The latest anecdote comes from Fincher's cinematographer Erik Messerschmidt, who told Empire magazine (via IGN) that star Michael Fassbender never blinked on camera for the entirety of their new film, The Killer.
Based on the French graphic novel of the same name by Alexis Nolent, The Killer premiered at the Venice Film Festival recently, and will soon be released on Netflix. The thriller marks Fincher's first collaboration with Fassbender, who's coming off of a sabbatical of sorts. The director previously worked with Messerschmidt on his last film, the period drama Mank, for which the cinematographer won an Oscar.
He told Empire that Fincher's perfectionism can be "scary," but this is exactly the sort of behavior that he expects from a great artist. "I believe that you have to be impossible to deal with to be any good at this — you have to be completely uncompromising, to the absolute limit, or you'll never make anything good," Messerschmidt said, adding, "And that's scary. I see these masters of their craft, fighting for every inch." He described Fassbender as "the perfect actor for David," and mentioned to Empire that his "focus puller highlighted something remarkable: the actor didn't blink on camera for the entire shoot."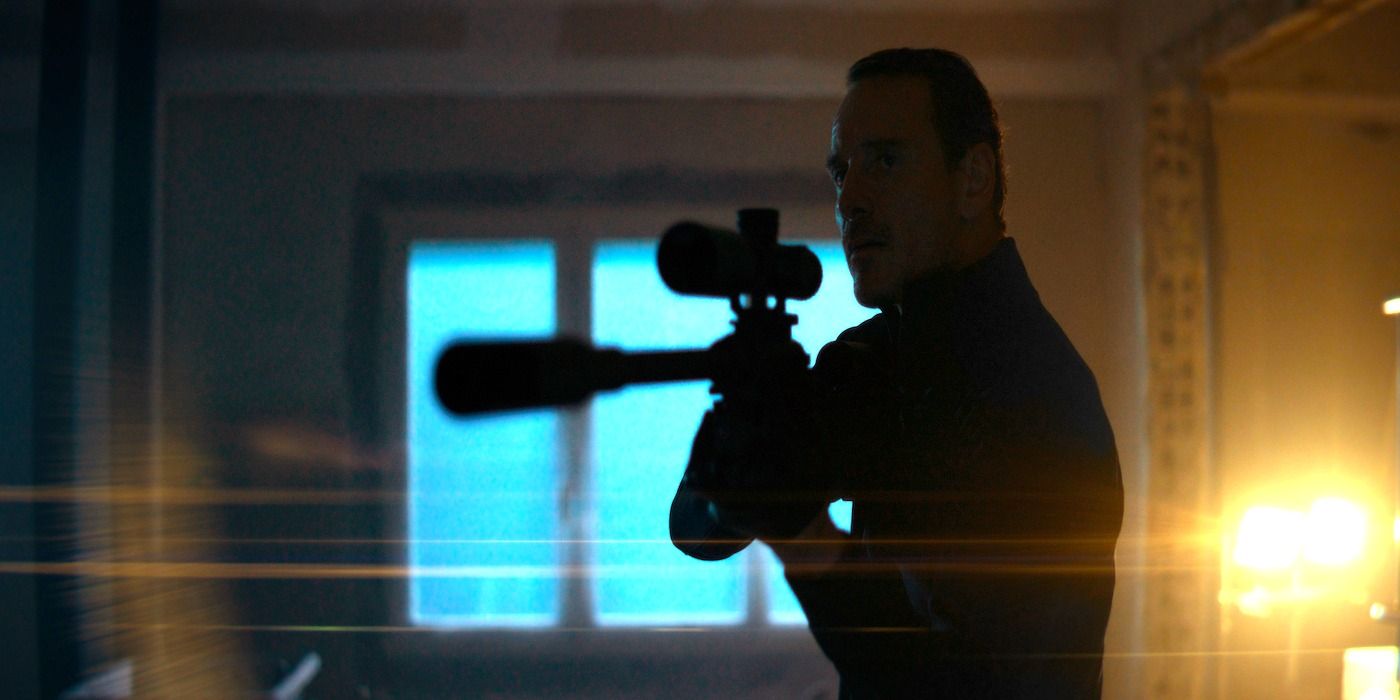 Turns Out Fassbender Is Just As Obsessive As Fincher
Fincher compared Fassbender's willingness to push himself to Daniel Craig's determination to excel on The Girl with the Dragon Tattoo. Revealing that The Killer is essentially his return to the genre that he is most closely associated with, Fincher said that the protagonist has a mantra that he repeats to himself, which is his "way of demeaning his prey, so he can feel better about ostensibly being a serial killer for hire." And Fassbender's clinical performance communicated this inner-turmoil perfectly. "Michael's eyes betray a lot," Fincher said, adding, "He can hold a lot of conflicting things in his mind and his eyes allow you access to it." He gushed:
"He's like Daniel Craig in that way, saying, 'I can do it better.' Tell him to stop one third of an inch shorter, and he can fine-tune that technical stuff, while on top of that, he's got really good ideas about behavior… He has this gift as an actor, but clamped on top of it is this incredible discipline about how he subdivides his next move."
Widely regarded as one of the finest living American filmmakers, Fincher is best known for genre masterpieces such as Se7en, Fight Club and Zodiac. Over the last decade and a half, he has attracted major Oscars attention with films such as The Social Network, The Curious Case of Benjamin Button, and most recently, Mank. The Killer reunites him with writer Andrew Kevin Walker, with whom he most famously collaborated on Se7en. Also starring Tilda Swinton, Arliss Howard and Sophie Charlotte, the film will debut on Netflix on November 10. Stay tuned to Collider for more updates.